Iceland is a world of wonder any time of the year, with terrific activities and fascinating sights year-round. Visiting Iceland in April provides an excellent opportunity to travel on a low budget, avoid crowds, and experience a bit of every season.
April is one of the cheapest months to visit Iceland. It's also a month full of stunning sunsets that marks the epic start of summer, where the seasons seem to be fighting a war. There are so many incredible adventures and things to do in Iceland in April, and here is our ultimate guide.
What to Expect When You Visit Iceland in April
April in Iceland offers fantastic opportunities. The weather is primarily chilly, but with increasing daylight hours and some warm days, nature is springing back to life.
Visitors can often witness fabulous contrasts: the budding leaves of spring, snow-capped mountains, and the Northern Lights still paint their bursts of color above the frosty, snow-dusted scenery.
Iceland awakens from its winter slumber a bit later than mainland Europe, with grass and leaves appearing in mid or late April. Sometimes the snow doesn't melt until May, but spring can arrive earlier in April in more fortunate years.
Spring is a time for renewal. The snow melts, and life returns. The landscape is primarily brown as it slowly reveals itself under the snow. Snowfall isn't uncommon this month, and the weather is somewhat unpredictable.
Migratory birds return to Iceland in April, along with springtime travelers. You can still do winter activities, such as ice caving, Northern lights watching and skiing at the beginning of spring. These options become unavailable as the weather improves and darkness disappears from the night. As the snow melts, the roads become safer for driving.
April is a slow season in tourism. Flights to Iceland are cheaper than the rest of the year, and visitors can also score lower prices and terrific deals on accommodations and car rentals. The lower prices make the season an ideal time for budget travelers to discover the country.
If you prefer to avoid the tourist crowds and have a quieter vacation, visiting Iceland in April could be for you.
The Weather in Iceland in April
April is the first month of spring in Iceland, but it still feels like winter more than spring. Temperatures barely reach over freezing but can go as high as 5–8°C (41–46.4°F), while Northern Iceland remains colder. The wind speed continues to weaken as summer gets closer, and the precipitation is considerably less than during the winter.
Around the second part of April is when spring finally comes along. The winter temperatures rise as high as 8 degrees (46.4°F) on some days, but snow and frost aren't uncommon, and the weather is notoriously fickle. Like in winter, expect the unexpected in spring: pleasant days with bright sunshine or gloomy days with sudden snowstorms.
Rainfall and wind in April in Iceland
April can get pretty wet, although it's supposed to be better than March. Both rain and snow are possible, accumulating up to 58 mm of rainfall and about 12 days of rain. The average sunshine in April lasts 4-5 hours per day, so you have time to take some sunny pictures.
However, the wind is the biggest issue concerning April weather. The wind makes everything feel much colder, especially with rain or snow. Prepare yourself and pack accordingly for Iceland in April!
April Weather Statistics
| | |
| --- | --- |
| Typical Temperatures in Populated Areas | -2°C and 6°C (28.4–42.8°F) |
| Average Wind Speed | 20 km/h; 5.5 m/s; 12.4 mph |
| Average Precipitation | 58.3 mm (2.3 in.) |
| Number of Days with Precipitation | 12.2 |
| Length of Daylight in Reykjavík | 13.5–16.75 hours |
| Sunny/Cloudy Daylight Hours (%) | 31/69 |
The weather in Iceland in April

Daylight in April
From the middle of April, the daylight is so long that nights turn completely bright by the end of the month. Daylight periods are 13 hours long in the first days of April and are over 16 hours around the last days, with a noticeable change every day.
April is the month Icelanders say goodbye to dark winters and hello to the bright summer months. The Aurora Borealis also eventually disappears. Starting in mid-April, there's no longer any darkness at night. The white nights and the midnight sun replace the Northern Lights until the end of summer.
| | | |
| --- | --- | --- |
| Date | Sunrise/sunset time in Reykjavík | Daylength |
| 1. April | 6:64 – 20:18 | 13h 31min |
| 15. April | 5:57 – 21:00 | 15h 3min |
| 21. April | 5:35 – 21:19 | 15h 43 min |
| 30 April | 5:04 – 21:47 | 16h 43min |
Sunrise and sunset times in April in Reykjavík, the length of the days can differ in North Iceland. For other locations, check https://www.timeanddate.com/astronomy/iceland
Are Northern Lights visible in April?
Until around the 15th of April, it's possible to see the Northern Lights or Aurora in Iceland – if you're lucky. There's still some darkness at night; however, the sun sets very late and rises early, so dark periods occur well after midnight. As the days get longer, the night gets brighter until they stay almost entirely bright all night long, making it impossible to view the Northern Lights properly.
Read our complete Aurora Guide to learn more about your options and how to maximize your chances of seeing them.
Can you visit Ice Caves in April?
Glacial caves are short-lived and ever-changing wonders. They form in early winter and stay stable throughout the season but will most likely collapse or get filled up with meltwater during the spring. When the meltwater returns, it destroys everything. And once an ice cave collapses, it will never return to the same form, but another ice cave can form in the exact location next winter. How exciting is that?
If you want to visit an ice cave inside a glacier in April, you'll have to do so at the very beginning of the month. As temperatures rise, the ice caves can become unstable and too dangerous to visit. While most ice caves are closed in the spring, Myrdalsjokull glacier near the village of Vik has a cave that's still open during April.
Since ice caves are located on glaciers, you can only explore them with a certified guide, so you'll have to book a tour.
Are camping and hiking recommended in April?
There are better times for camping and hiking in Iceland than in April. The conditions in the mountains are still very wintry, making it challenging and unsafe to hike. The Highland roads are closed until late June, meaning that the most popular hiking areas are completely inaccessible.
Avalanches can occur in the mountains due to rising temperatures, while the paths can become muddy and slippery at lower elevations. The vegetation is especially fragile in spring, so authorities often close off whole areas for vegetation protection.
Camping in tents is not recommended due to wintry conditions and unstable weather. On the other hand, campervan camping is more comfortable and safe at this time of the year. Many campgrounds will open again after the long winter, although most campsites remain closed until May. Please note that staying overnight in a campervan or any other vehicle is forbidden outside the designated camping areas.
Driving and Road Conditions
Even though many minor and highland roads might still be closed in April, the main road, Ring Road, is kept open. The road to famous sights such as the Snaefellsnes peninsula, South Coast, or Golden Circle is easy to navigate during this month.
However, we advise you to use a four-wheeler for driving during this month. The roads can be very slippery and snowy, and closures are possible depending on what the weather decides to do. You can expect closures and difficult driving conditions if there's a storm. But sometimes, April can also be lovely, with things melting, fine weather, and passable roads. You just never know with April, so be prepared for both situations.
If you want to be extra safe, try joining a guided day tour or multi-day tour, where all you have to do is to sit back and enjoy the scenery!
How to Travel Around in Iceland in April
First, think about your preferred mode of transportation for exploring Iceland. Guided tours and rental cars are the most popular options, but you can also rent a car with a driver for a private tour.
Traveling with a local guide is always your safest option. When joining a group tour, your tour guide will take care of you and ensure you're well-equipped, well-informed, and entertained. You'll also meet new people and form new and meaningful friendships.
Meanwhile, solo/independent travelers have more room for spontaneous, flexible, and budget-friendly plans. You can also save money when traveling without a guide. However, this also means you'll have to plan, organize, and gather information about the destinations yourself. Self-drive exploration in April should only be done by those with experience driving in wintry conditions, and slippery roads.
Between these two options are tailor-made, self-drive packages. Your local travel advisor will create a full itinerary based on your preferences. They also take care of all your bookings, rental cars, lodging, and other activities. This is a perfect choice if you want to travel solo but don't have much time for planning.
Self-Drive and Road Tripping.
A customized self-drive holiday is perfect if you dream of exploring Iceland independently. All necessary bookings, such as rental cars and accommodations, are already handled while you can still enjoy the freedom and flexibility of driving around the country. Custom-made self-drive vacationing is rapidly gaining popularity among tourists.
Remember to check the road and weather conditions before your journey daily. You should expect all sorts of weather in Iceland in April; it can quickly change from one second to the next. The Iceland SafeTravel website is helpful; you should regularly check it for updates. Bad weather can cause you to restructure your plans for the day due to road closures, floods, avalanches, and other issues.
If a road is closed, don't drive through it anyway—it's closed for a good reason! Attempting to drive through closed roads puts you in danger and results in your needing to be rescued, which is also hazardous for the rescuers. Your insurance doesn't cover towing fees and hefty fines.
Consider a car with a driver's guide instead. Doing so allows you to go wherever and whenever you want with the help of an experienced local driver at the wheel. Any privacy you lose could be well worth it for convenience and safety.
Day Tours from Reykjavík
Many visitors use Reykjavik as a base and discover Iceland on day trips. This is a great way to explore the nation without extensive driving while still being able to return to your cozy and comfortable accommodation. You can reach most of Iceland's headline attractions through day trips, especially the south and west of the country.
We've compiled a list of the top day trips from Reykjavik to help you plan your next winter getaway.
Best Things to See and Do in April
Sightseeing and Exploration
Lots of places offer fantastic sightseeing opportunities during April.
The Golden Circle in April
You must visit the always-popular Golden Circle, which features some of Iceland's top natural attractions. April is an ideal time to explore the tourist route without dealing with crowds.
Thingvellir National Park is usually the first stop from the capital. Full of fascinating geological formations and scenic landscapes, it's home to the Silfra Fissure—the gap between the Eurasian and North American continental plates. Not only that but the fissure is also steeped in history – it's the founding site of one of the world's longest-running parliaments since 930 AD.
Make sure you stop at the Geysir Geothermal Area. Wafts of steam and bubbling water break the snowy ground, with the surrounding earth having striking bold hues. Watch in awe as the mighty Strokkur Geysir sends a powerful jet of hot water into the air every five to ten minutes.
Of course, don't miss the beautiful Gullfoss Waterfall, where the water cascades over two levels to enter a rugged scenic gorge. To learn more about the rest of the significant highlights and hidden gems, read our complete guide to the Golden Circle route and its wonderful attractions.
The South Coast in April
After the Golden Circle, the South Coast is the other most popular tourist route in Iceland, so it is definitely recommended to visit. You'll find several mesmerizing waterfalls, dazzling glaciers, striking black sand beaches, and a gigantic lava field. Don't miss the shimmering géacier lagoons dotted with small icebergs too. Again, April is an ideal time to explore these popular natural attractions without crowds.
Driving nonstop from the capital city to the lagoon would take around four and a half hours, but, of course, you'll stop plenty of times along the way to visit Iceland's most scenic places, such as the infamous Eyjafjallajökull volcano (known for its 2010 eruption that stopped flights), the epic Vatnajökull National Park, the giant Seljalandsfoss and Skógafoss waterfalls, the enchanting village of Vik, and the striking black sand beach at Reynisfjara, just to mention a few places. Here is an in-depth guide to the top attractions of Iceland's South Coast.
Lesser-Known Gems to Visit in Iceland in April
The gorgeous Reykjanes Peninsula and Snæfellsnes Peninsula are underrated regions, even though they offer fantastic natural attractions and landscapes.
The Reykjanes peninsula
The Reykjanes Peninsula is a fantastic place outside the capital with geothermal activity. It's where you'll find the Blue Lagoon, Iceland's newest volcanic eruption sites, and Keflavik International Airport!
Reykjanes, also known as the Smokey Peninsula, is where the Eurasian and North American continental plates meet. Because of this, more minor seismic activities and earthquakes are every day. You can also find hot springs spouting boiling water all around the peninsula.
Rough, dark lava with mossy tops cover the entirety of the peninsula. The colors are genuinely fascinating, ranging from dark grey to red to turquoise blue. Thanks to those colors, Reykjanes is a photographer's paradise. Its vast views and smokey mysteriousness genuinely add to the visiting experience.
The Snaefellsnes Peninsula
Due to its landscape diversity, this area is nicknamed "Iceland in Miniature." Some of its most famous attractions are Ytri Tunga beach which features a seal colony; the picturesque Londrangar basalt cliffs; the mighty Snaefellsjokull glacier, the quaint fishing villages of Arnarstapi and Hellnar; and the Kirkjufell mountain, among many others.
There's so much to see here that we've listed the main attractions in our guide for top places on the Snaefellsnes Peninsula.
The Highlands
April is still winter in the Highlands so accessing this area in springtime is only possible if you're on a Super Jeep tour. Tours use these vehicles to conquer the thick snow and icy rivers, with skilled drivers who can find their way around in the most challenging conditions.
Bathe in a geothermal pool or river
Bathing in naturally warm water is a centuries-old local tradition. Heated swimming pools and luxury spas eventually took over. However, some natural hot springs still exist and are considered local secrets. Soaking in mineral-rich geothermal water has many health benefits. It is a genuinely unique, rejuvenating experience that we highly recommend to anyone visiting Iceland.
Reykjadalur valley, 45 km (28 mi.) away from the country's capital city, features a warm river that winds through the center of the valley. If you prefer a more accessible location, consider the famous Blue Lagoon or one of the newer geothermal pools, such as the Sky Lagoon or Hvammsvík hot springs. So relax, unwind and recharge like a local! See the selection of geothermal tours here.
Snorkel or dive between the tectonic plates in the Silfra Fissure
Visitors can enjoy diving and snorkeling worldwide, but Iceland is where you can dive or snorkel between two continental plates. Silfra Fissure, a natural rift between the North American and Eurasian plates, is filled with fresh water.
Divers from all over the world come to Iceland to experience Silfra Fissure. It is uniquely located between two continental plates. It has the most transparent fresh water and the most outstanding underwater visibility in the world. It's no wonder that Silfra is on everyone's bucket list!
You only need to sign up for a diving or snorkeling tour. That way, you can safely experience the incredible sensation of being in a tectonic plate gap.
Go hiking or snowmobiling on a glacier
While you can hike an Icelandic glacier at all times of the year, April offers an exceptionally breathtaking adventure. As the snow melts from the glacier, it uncovers the naked, blue glacial ice, shimmering and sparkling in the sunlight.
There are two main glaciers you can enjoy hiking in April: Solheimajokull Glacier near Vík in the south and Vatnajökull further to the east. Go with an experienced local guide to discover many interesting facts about Iceland's fascinating geology.
One of the most exciting activities you can do in Iceland is snowmobiling. The country offers several incredible virgin ice caps, which you can easily explore at high speeds on a snowmobile without needing physical exertion.
Vatnajökull, Mýrdalsjökull, and Langjökull ice caps are the three top snowmobiling spots in Iceland. A visit to Langjökull is often combined with the Golden Circle sightseeing route, so you can do both in one day if you wish! Glacier snowmobiling is possible all year round in Iceland.
Lava Caving
Lava caving is another great year-round activity. The unusual caves are filled with impressive icicles and natural ice formations in winter that still lasts during the first weeks of April.
Water drips slowly through the porous lava rocks throughout the year. This water freezes when the temperatures drop over the winter, causing magical mini-stalactites to form. Some water drops that make it to the ground also freeze, creating enchanting ice shapes. The icy, glittering effect certainly makes for amazing photo opportunities.
You'll be provided a helmet and crampons for your tour, though you should be confident walking on slippery, uneven ground.
The spectacular lava caves at Raufarholshellir and Vidgelmir offer wide-open spaces that clearly define walkways for you to enjoy the sights. You won't need to climb or crawl. They are recommended for visitors who want to experience a lava cave but need to be more comfortable walking across the ice.
Ride an Icelandic horse
The Icelandic horse is the most famous four-legged resident of Iceland. This breed is well-known for its tiny stature, short legs, and muscular build. It's also renowned for its five gaits, its ability to resist the harsh Icelandic climate, and its reliability.
The Icelandic horse was once both an essential method of transport and a working tool, and it still holds an important place in the traditional Icelandic lifestyle. Today, these beautiful animals are used for leisure activities; exploring Iceland on horseback allows you to see areas you can't access on foot or by car. This is a true adventure that you should take advantage of. Find horse riding tours here.
Ride in a super jeep
Super jeeps or monster trucks, with their oversized tires, have been gaining popularity as they are the best way to drive safely in snowy, icy winter conditions.
With a regular car, you can't reach certain areas of the country in April. But with a super jeep, you can go to the most remote places in Iceland or even the more remote corners of the Icelandic Highlands.
There are super jeep day tours that go to many different locations. These tours suit everyone as they are safe and secure and employ expert guides.
Go whale watching
You can find over twenty species of whale, dolphin, and porpoise off the coast of Iceland, making the country a top destination for whale watchers. Boat tours leave from Reykjavík or Akureyri, but the most successful tours leave from Húsavík and Dalvík.
You can spot humpback whales, white-beaked dolphins, and harbor porpoises almost daily. A few lucky visitors will also have the chance to see other species, including orcas, fin whales, blue whales, or even narwhals. There are also a variety of seabirds, including skuas, Arctic terns, guillemots, and the colorful, cute puffin.
What to Wear in Iceland in April
How you cope with the unpredictable Icelandic weather largely depends on how you dress. As the saying goes, "There's no bad weather, only unsuitable clothing." While Icelandic weather can be hostile, it's better to prepare by bringing a good set of clothing.
Layers are essential regardless of what season you visit. Always wear a set of long-sleeved undergarments made of good quality material that dries quickly.
The second layer is your insulation. This should match your body heat to keep you warm. You'll need a fleece or woolen sweater in summer and an additional down jacket in winter. One layer of trousers should be enough in good weather, but if the weather forecast doesn't look very promising in the morning for that day, better to have a layer of long underpants.
Finally, the outer layer should protect you from the wind and rain. Your outer shell jacket and trousers must provide good water and wind protection while allowing your skin to breathe. In April, an insulated, waterproof jacket is the best choice. It doesn't have to be super warm. Still, it's crucial that it is comfortable and you can wear more layers under it, ensuring good insulation if the weather is terrible and avoiding overheating if the sun shows itself.
For footwear, always wear sturdy and waterproof boots. Leather hiking boots are always a great choice! Avoid wearing sneakers and high heels when you visit the countryside for natural attractions, as the terrain is uneven, muddy, or frozen in April.
Lastly, always pack a hat, gloves, and a scarf or buff, just in case you need them! And don't forget to pack your swimming gear.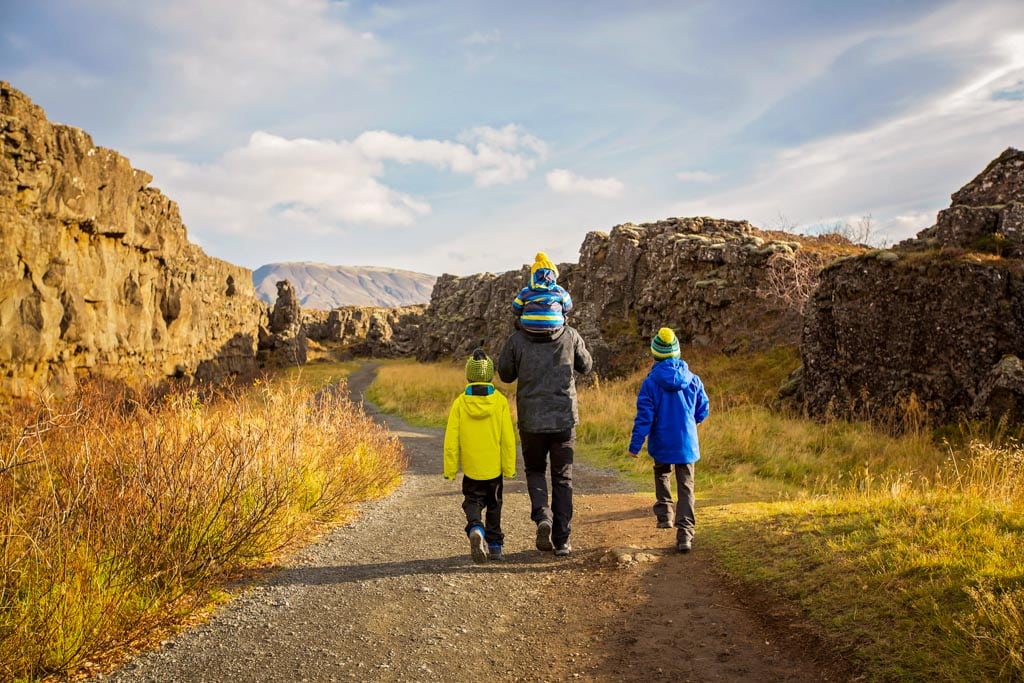 Packing List for Iceland Travel in April
This is what you should pack for your April trip to Iceland:
For Road Trips and Short Hikes
Long-sleeved undergarments (preferably merino wool)
A sweater (wool or fleece)
A down jacket or a winter parka (waterproof and windproof)
Waterproof boots
Warm socks
Insulated, water-repellent pants
A warm, windproof hat, gloves, and scarf
Sunglasses
Pajamas/nightwear
How to Dress for City Life
Generally, Icelanders are pretty easygoing regarding dressing, and dress codes are not very common. Locals won't mind tourists wearing outdoor clothing at the bar, but it's always nice to dress up a bit for a restaurant or an upscale place. Still, it is more like an unwritten rule around major holidays such as Christmas and New Year.
In Iceland, fancy clothing goes perfectly well with a big, warm parka and warm boots, especially in winter. You don't have to freeze to death just because you're visiting a restaurant!
It's good to avoid wearing functional hiking or skiing gear in downtown Reykjavík if you don't want to stand out as a tourist, but no one will give you any weird looks if you do.
Other Useful Items:
Reusable pocket warmers
Hand cream and lip balm
Reusable water bottle

Bathing suit and a towel
Events in Iceland in April
Easter is a time for celebration in Iceland, but there aren't many strange traditions, unlike Christmas.
Families gather for a meal on Easter weekend, and everybody eats way too much chocolate. Then, most Icelanders leave town for a short trip to the countryside.
Reykjavík Children's Culture Festival
Several events dedicated to children and young people happen throughout Reykjavik at the end of April. The Children's Culture Festival introduces youth to the arts via workshops and various performances. 
The focus is for the child to be an artist, so related activities are offered in schools, museums, libraries, and theaters. In addition, children and young people can join workshops to learn new skills such as rapping, DJing, hula-hooping, and kite-flying.
Art shows and family-friendly exhibitions are hosted in venues such as the National Museum of Iceland and City Hall. The festival concludes with a giant children's dance party where local artists produce the best dancing beats.
"Aldrei For eg Sudur" – "I Never Went South"
"I Never Went South," or "Aldrei For Eg Sudur," is a music festival held in Isafjordur during the Easter weekend. Started by the musician Mugison, this festival quickly became one of Iceland's most significant musical events.
Everybody will find something they prefer at "I Never Went South." Participating performers range from brass bands accordion players, heavy metal bands, and rappers. In addition, you'll hear an eclectic array of local artists performing, backed by some of the biggest names in the Icelandic music industry, such as Paul Oscar, HAM, Retro Stefson, Glowie, Emiliana Torrini, and Solstafir.
AK Extreme
The mountain Hlidarfjall, located next to Akureyri in North Iceland, is arguably Iceland's top ski resort. It hosts several skiing and snowboarding events throughout the year, the biggest of which is the AK Extreme.
This four-day combination of snowboarding and music festival attracts over 7,000 visitors to the northern town each year. Snowboarders worldwide come to the festival to join in friendly competitions.
Eve Online Fanfest
One of the most exciting things to do in Reykjavik is the EVE Online Fanfest. EVE Online is a sci-fi, massively multiplayer online role-playing game (MMORPG) set over 35,000 years in the future. CCP Games, an Icelandic game development, develop it.
Players can explore, trade, and fight throughout the 6,000 strange new worlds in the game. EVE Fanfest sees players and developers together in Reykjavik for a three-day celebration of the game.
The First Day of Summer
Spring in the Northern Hemisphere starts on March 20 and ends on June 21. However, in the old Norse calendar, there were only two seasons, summer and winter. The first day of summer is officially the first Thursday after April 18. The date is preserved in the Viking Sagas and manuscripts.
Traditionally, the day has brought wind, rain, and even snow, but the country still celebrates this day with local fairs and parades led by scouts bearing the Icelandic flag. It is an official bank holiday in Iceland, and people celebrate it by exchanging gifts, usually related to summer activities, like bicycles, balls, and outdoor sports equipment.
Final Thoughts
As you can see, there are tons to look forwards to if you come to Iceland in April. Since visitor numbers are still relatively low at this time of year, accommodation and car rental prices represent better value than in peak season.
Though some of the more remote parts of the country are best left until late May or June, the Ring Road is open. So, what's stopping you from taking that vacation you have promised yourself?