Are you planning to travel in Iceland? When traveling in Iceland, there are certain things that are good to keep in mind. For example:
Is it likely to snow while I am there?
How many hours of daylight will I have?
How cold/warm will it be?
What is the emergency phone number in Iceland?
Where do I get information about the local weather?
Where do I get information about driving conditions?
How do I get updated about possible closures, dangers or storms heading in?
Where am I allowed, and not allowed to drive?
Where do I leave my travel plan, when planning highland travel (or any travel!)?
Well look no further! This very handy info-graphic from Inspired by Iceland will answer most, or all, of your questions. (click image for larger view)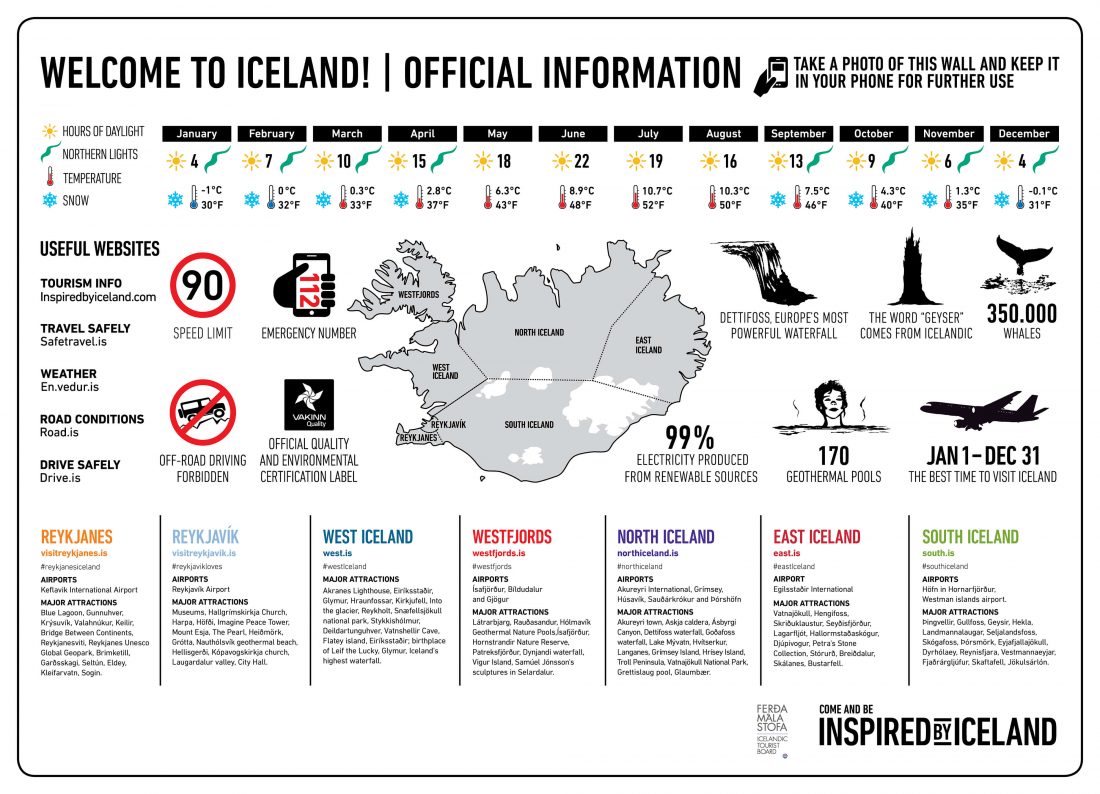 We can of course give you a long speech about all the above questions.
For example, will it snow – It might actually snow any month of the year, if you are lucky (or unlucky..?). Sometimes it snows in the highlands in July! But very rarely.
How cold/warm will it be? You are probably going to think it is cold, even though we think it is warm! Icelanders are notorious for stripping down to their underwear in +10°C temperatures, while the tourists are still wrapped cozily in their down jackets and wool socks. And that is perfectly okay!
The key to dressing in Iceland, no matter what season, weather forecast or destination of travel, is layers. Lots, and lots of layers! It may be sunny and warm when you start your travel in the morning, but by noon time, you may have gone through sleet, rain, storm-like winds and everything in between. If you don't like the weather in Iceland – wait five minutes!
Where are you allowed to drive? Make sure to ask your car rental about this, because not all rental cars have insurance on all our roads. But the key word to where you are allowed to drive is road. You are only allowed to drive on roads. No matter what social media posts, music videos or movies may lead you to believe, driving outside any marked and numbered road, is illegal and is subject to high fines.
If you have any questions, which you don't feel were answered in this post, please don't hesitate to give us a call; +3545336003, or send us an e-mail; info@activityiceland.is .