Iceland is considered by many to be the world's most beautiful country. The wide variety of natural wonders available on a tiny island is unsurpassable. Volcanoes, glaciers, lava fields, and black sand beaches, along with valleys and mountains, took right out of a fairytale, offering visitors breathtaking sites all within a short distance of one another.
Due to this, it can be difficult or even overwhelming to try and plan a trip to Iceland. What do you put on your itinerary, and what do you leave off? There are so many things to see and experience that finding a place for everything in one vacation may seem nearly impossible.
Some of the adventures Iceland offers are highly recommended, so you should consider including them in your plans. That's why in this article, to help you plan, we're going to share with you our recommendations for sites and activities that we consider the most exciting options to ensure that you don't miss out on anything during your trip to Iceland.
1. Drive yourself around the Golden Circle in an off-road buggy
One of the most popular routes in Iceland is the Golden Circle. But why not do something other than what all of the other tourists do? Rather than take a car around the route, you could drive it yourself on an alternative route that is only suitable for vehicles that can be driven off-road. This adventure is literally off-the-beaten-path and may be one of the most exciting adventures that Iceland has to offer.
With a partner, you'll climb into your two-seater all-terrain vehicle and drive off to explore the wild side of Iceland. The mountain tracks will lead you through lava fields, rivers, and desolate landscapes that will surely thrill you and that you will remember for a lifetime.
As these Highland roads are only open in the summer, it's highly unlikely that you would come across anyone on your journey. There are only two highly popular locations where you will probably meet other tourists: Gullfoss waterfall and Geysir.

The Best Time to Do This: In the summer
2. Descend down into a dormant volcano
Thrihnukagigur is the only volcano on Earth where it is possible to enter the magma chamber. Have you ever done that? If not, you should! This mind-blowing experience will take you on a journey 120 m (393 ft.) underground to a gigantic, colorful magma chamber, which is just waiting for you to explore it!
The last eruption at Thrihnukagigur took place about 4,000 years ago. Today, the interior remains an incredible attraction and a geological wonder. The magma chamber is big enough to fit the Statue of Liberty inside comfortably. But the size alone is not what makes this a must-see. The chamber is full of dazzlingly beautiful colors and out-of-this-world shapes. There is something extraordinary wherever you look.
The journey down 120 m (393 ft.) is exciting on its own, but when added to the incredible experience of exploring the magma chamber itself, this adventure will definitely be one you will remember for a lifetime.
The Best Time to Do This: In the summer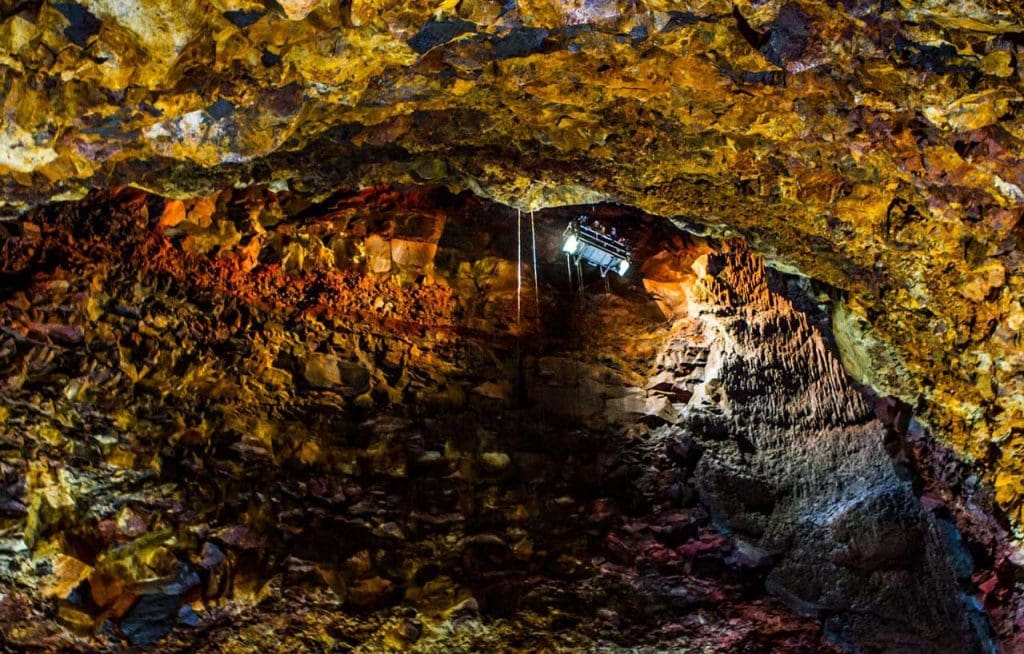 3. Bathe in a tub of geothermal beer in North Iceland
Enjoy a genuinely original experience at Iceland's first geothermal Beer Spa! It offers an original spa experience based on the exclusive use of natural ingredients, materials, and Iceland's natural geothermal water. Soak away the stress of modern life by relaxing in a warm beer bath.
Beer yeast is used in various ways; the most common is a tablet form, where the yeast's effects are very beneficial. Beer bath, where you bathe in both young beer and live beer yeast without showering it off until some hours later, has a potent effect on the body and skin. This treatment cleans the skin and has a very positive effect on health.
When taking a beer bath, bathe in a big tub filled with young beer, live beer yeast, water, hops, beer oil, and beer salt. The beer used for the bath is in the early stages of fermentation, and at that stage, it has a very low pH which will tighten and soften your hair follicles and is cleansing for your hair and skin.
The bath temperature is 37 – 39°C and is filled with a new blend after each guest. The Bathtubs are made from Kambala wood. It is available for people, one at a time or two together. There is no age limit for the beer bath because the bathwater is undrinkable, but there is a beer draught at every tub for anybody over 20 years of age—sixteen years and younger need to be accompanied by adults.
All the tubs also have a draft beer tap alongside so that visitors aged 20 and over can help themselves to a cold one while they bathe. Isn't this absolutely epic? Book your beer spa experience here!
The Best Time to Do This: All year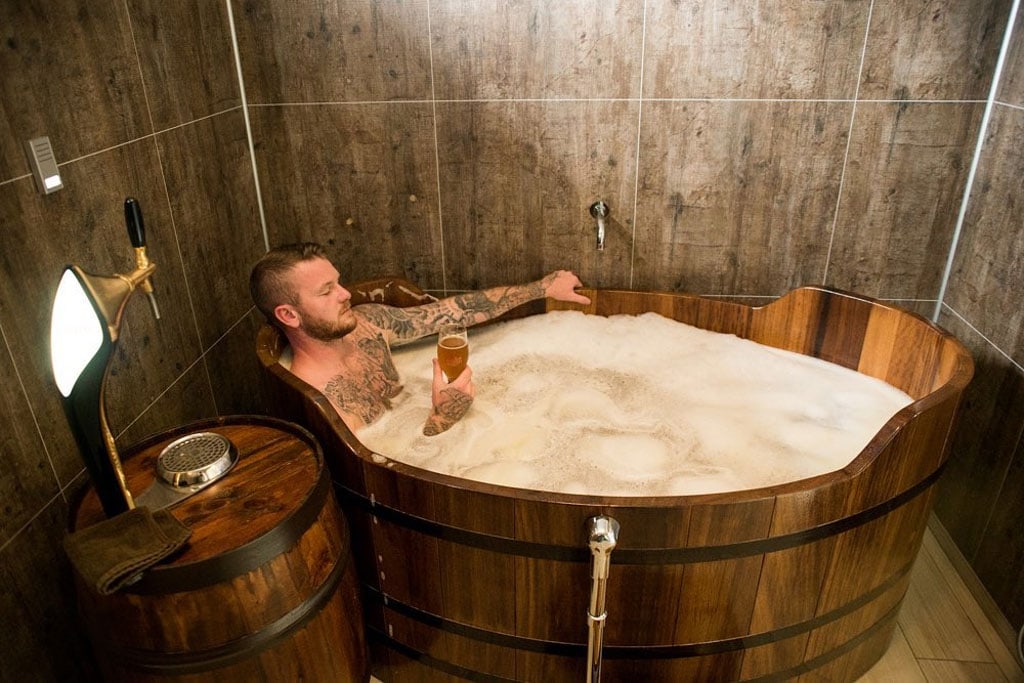 4. Go snorkeling or diving between the tectonic plates in the Silfra Fissure
Diving and snorkeling are activities that can be enjoyed worldwide, but Iceland is the only place on Earth where you can do so in the gap between two continental plates. Silfra Fissure, a natural rift between the North American and Eurasian plates, is filled with fresh water.
Divers from all over the world travel to Iceland just to experience the beauty of Silfra Fissure. Not only is Silfra unique for its location between two continental plates, but it has the clearest fresh water and the greatest underwater visibility in the world. It's no wonder that Silfra is on the bucket list of so many divers!
Another wonderful aspect of Silfra is its ease of access. There is no need to get in a boat and sail out somewhere or dive deep into underwater caverns to enjoy Silfra. The only requirement for healthy, adventurous people who know how to swim is that you sign up for a diving or snorkeling tour. Then you can experience the incredible sensation of being in the gap between the tectonic plates for yourself.
The Best Time to Do This: All year
5. Go for a swim in the Atlantic Ocean
While swimming in the cold North Atlantic might not seem too appealing at first, it's an activity that is steadily gaining in popularity. The Icelandic people have been taking dips in these waters for hundreds of years and the practice still continues.
Not only is swimming in the North Atlantic an invigorating adventure, but it's also rumored to be good for the immune system. In summer, the water can get up to 12-15ºC (53-59ºF), while in winter, it can go below 0ºC (32ºF).
Nautholsvik Geothermal Beach is one of the most popular locations to swim in the North Atlantic. Not only does this local paradise have golden sand and a great view, but it also has a hot tub and a steam bath. The small lagoon uses water from the hot tubs to warm its waters to a tolerable 15-17ºC (59-62ºF). The temperature can be a bit lower in the winter, though. You can grill your own lunch and swim in the freezing cold waters in one memorable afternoon! While the beach can get busy during the summer, locals use the Nautholsvik Geothermal Beach all year.

The Best Time to Do This: All year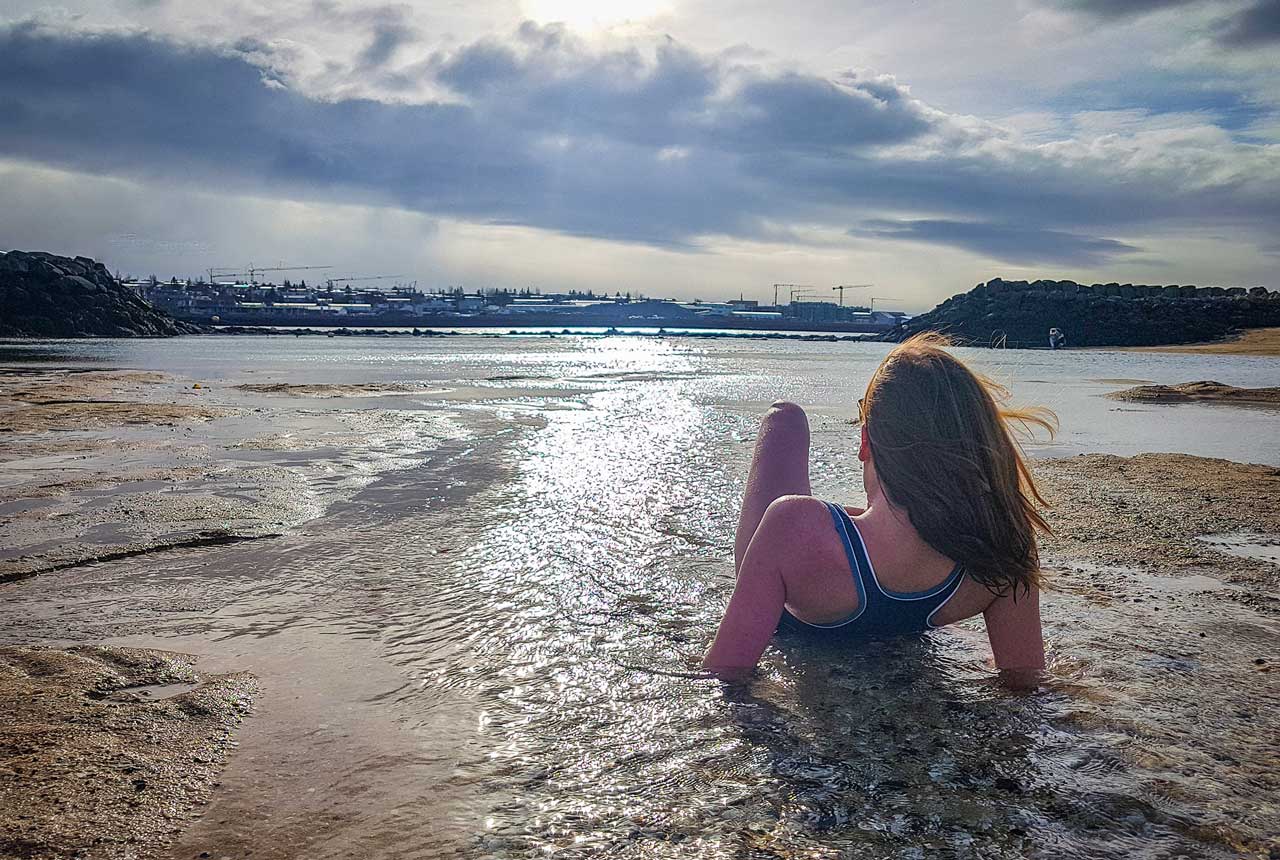 6. See Iceland from above from a helicopter
The country of Iceland may be relatively small, but it's packed full of things to see. Visiting Iceland in a vehicle can take days to see these beautiful sights. But, from above, all of Iceland's most attractive secrets can fit into one fantastic tour.
What better way to see Iceland from above than by helicopter? A helicopter tour will ensure you have access to the most impressive views and access to otherwise unreachable areas. You'll also get to do so while comfortably seated, out of reach of the crowds of tourists.
If you are having problems fitting everything you want into your trip to Iceland, this could be the perfect time-saving solution! The adrenaline felt while riding a helicopter is another perk to this fantastic experience. You can easily see the most deserted and hard-to-access parts of the country while leaving the beaten roads behind.

The Best Time to Do This: All year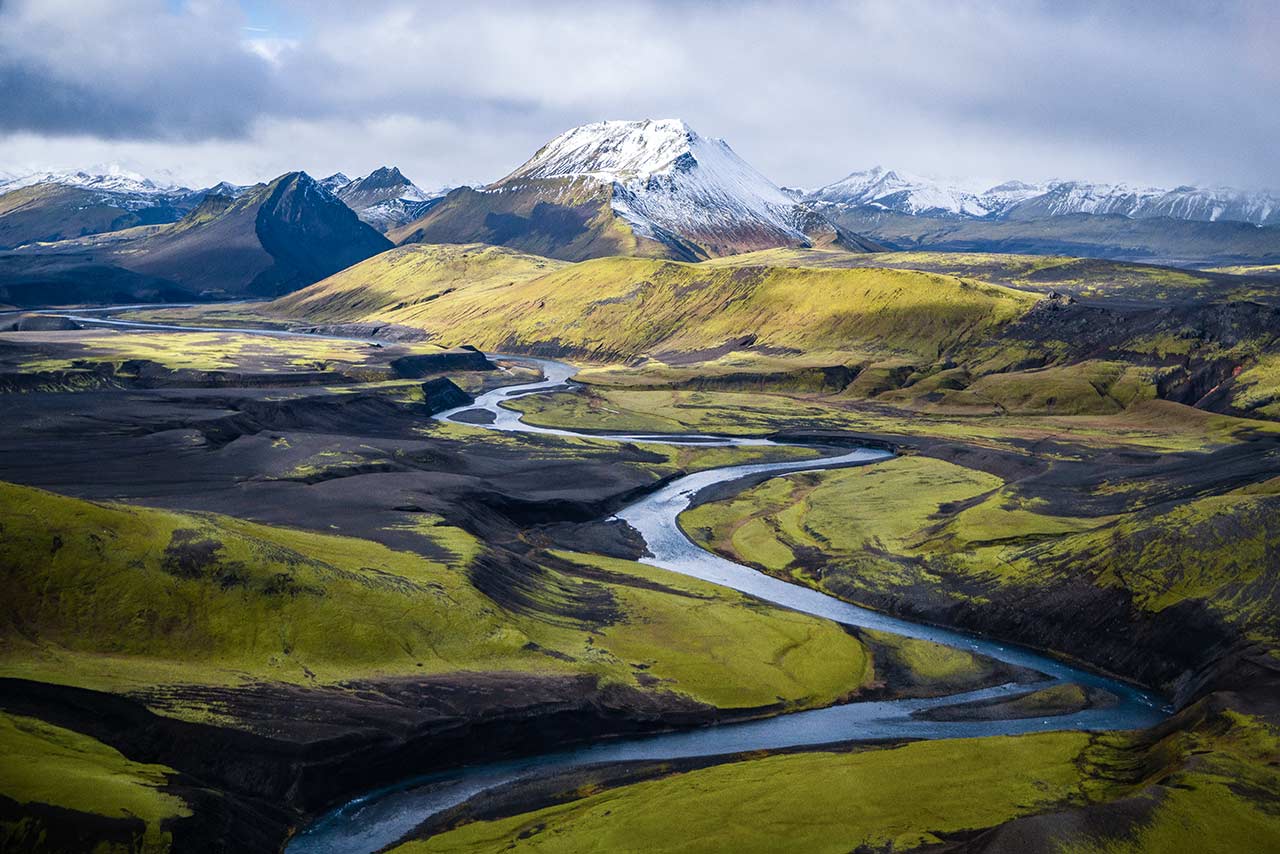 7. Go snowmobiling on a glacier
One of the most exhilarating activities that Iceland has to offer is definitely snowmobiling. The country has a number of incredible virgin ice caps on offer, which can be easily explored at high speeds on a snowmobile, without the need for physical exertion.
With a twist of the wrist, you can begin the unique experience of flying across the top of a breathtaking ice cap. The wind in your face, the sound of the motor, and the scenic views are sure to create a lifelong memory.
In Iceland, the three most popular locations for snowmobiling are the Vatnajökull, Mýrdalsjökull, and Langjökull ice caps. Snowmobiling on Langjökull is often combined with the Golden Circle sightseeing route so you can cross two things off your bucket list in one go!
The Best Time to Do This: All year
8. Visit the filming locations for Game of Thrones
For those visitors to Iceland who are also fans of the HBO series Game of Thrones, the country has an extra reason for you to visit. Iceland was the filming location for many of the epic TV series scenes, especially those that required snow and ice, such as north of the Wall.
Many of these filming locations are easy to access as they lie close to the Ring Road. These are popular spots often visited by tourists for non-Game of Thrones reasons. Some other locations, though, are not as easy to access. Some, like those filmed on glaciers or those that can be accessed only by using F-roads, are closed in winter and require a 4×4 to get close to them.
We have created a handy Google Map with all Game of Thrones filming locations to help you locate them. You can find it here:
The Best Time to Do This: To see the greatest number of filming locations, it's best to visit in summer as some of the sites are inaccessible in the winter.
9. Ride on horseback across a lava field
The most famous four-legged resident of Iceland is definitely the Icelandic horse. This isolated breed is known for its small size, short legs, and muscular body. It's also famous for its five gaits, ability to resist the harsh Icelandic climate, and reliability.
As an animal that was once both an essential method of transport and a tool used for working, the Iceland horse holds a significant place in the traditional Icelandic lifestyle. Today, these beautiful animals are mostly used for leisure activities and enjoying nature. Exploring Iceland on horseback will allow visitors to see areas that are otherwise not accessible on foot or by car.
There are farms all around Iceland which offer the possibility of riding on horseback. While you may have ridden other breeds of horses, the Icelandic horse is generally softer and more pleasant to ride. Experience the beauty of Iceland while feeling as though you are flying over it in a saddle on the back of one of these majestic creatures. This is a true adventure that you should not miss out on.
The Best Time to Do This: All year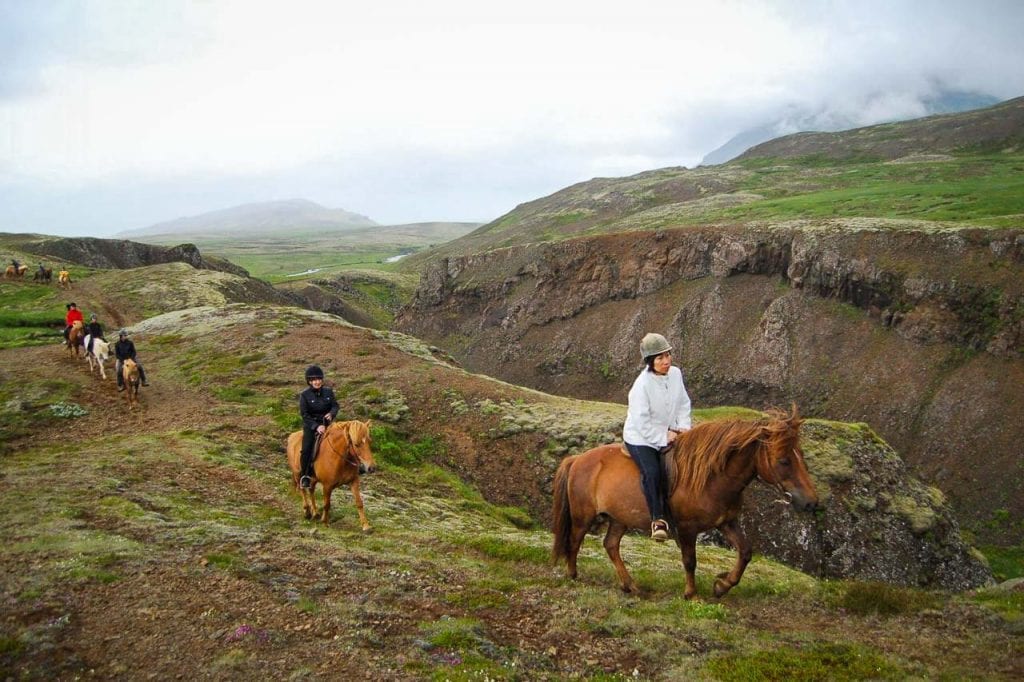 10. Explore the natural ice caves
Iceland is a country that is full of glaciers. For that reason, it's the perfect place to visit an ice cave, a natural phenomenon that forms in glaciers in summer. This unique experience will make you feel as if you're walking into the deep blue heart of the glacier itself.
In the summer, the melting ice caps give birth to glacial rivers, which carve ice caves into the glaciers' interior. In the summer, these caves are still filled with water, making them impossible to explore. But, in winter, when the temperatures are cold enough for the water to freeze and stay frozen, it is safe to visit these frozen jewels lying hidden under the ice. When you walk into a glacier cave, the perfect blue color of the ice will carve itself into a place in your memory.
Ice cave season is generally between November and March. But, if the conditions allow, one natural ice cave is accessible year-round near Katla volcano. While the interior of this naturally-formed cave is not blue, it will still allow summer visitors to visit an ice cave.
The Best Time to Do This: From November to March. The weather must be consistently cold for the caves to be considered stable enough to enter safely.
11. Ride in a super jeep
When you think of Iceland, one of the first thoughts to come to mind is probably not monster trucks. But, super jeeps, with their oversized tires, have been steadily becoming more popular in the country as they are the best way to drive safely in snowy, icy winter conditions.
With a normal car, it's impossible to access certain areas of the country in winter. This is especially true for the countryside. With a super jeep, you'll have access to some of the most remote places in Iceland, such as the glaciers or the more remote corners of the Icelandic Highlands.
If you don't feel comfortable driving one of these huge cars yourself, never fear! There are super jeep day tours offered, which go to many different locations. These tours suit everyone as they are safe, and secure and employ expert guides.
The Best Time to Do This: All year
12. Explore Ásbyrgi canyon
Ásbyrgi is a wide canyon in the shape of a horseshoe whose sheer cliff faces rise up to 100 m (328 ft.) above the canyon floor. The canyon measures 3.5 km (2.17 mi.) in length and over 1 km (0.62 mi.) in width. At one end lies a small pond, Botnstjörn, surrounded by lush thickets of birch, willow, fir, larch, and pine trees. Eyjan, a distinctive rock formation that measures 250 m (820 ft.) at its widest, rises up from the center of the canyon. The combination of cliffs, plateaus, and verdant vegetation make this area a photographer's dream.
As this type of landscape isn't a common sight in Iceland, it's not surprising that many myths about the Hidden People find their origins here. Ásbyrgi was initially thought to be the hoofprint left behind by Sleipnir, the god Odin's giant eight-legged horse. Considering the enormous size of the canyon, this seems a bit improbable. According to science, the canyon was formed by glacial bursts on the Vatnajökull ice cap. These bursts, one from 8,000 to 10,000 years ago and the other 3,000 years ago, caused catastrophic floods that carved out the canyon. The riverbed has steadily moved eastwards ever since.
One of Iceland's best camping sites can also be found in Ásbyrgi. As the canyon is connected to the Ring Road via Road 864, the same road that goes to Dettifoss waterfall, this is a perfect place to stay for a few days of adventure and exploration.
Ásbyrgi is part of the Diamon Circle tour route. Read more about it here.
The Best Time to Do This: All year
13. Visit the colorful mountains of Landmannalaugar
Innumerable magical landscapes are waiting for you to explore in Iceland. But there is only one place where you can find multicolored mountains, twisting trails of lava, lakes with crystal clear water, and relaxing hot springs all in one place.
This incredible place is Landmannalaugar. The peaks of the mountains here are made of rhyolite. This mineral-rich lava is known for the rainbow of colors it can create as it slowly cools, creating a unique array of mountain peaks standing proud in their finery against the Icelandic sky.
For those interested in hiking, one of the best trails in Iceland begins here in Landmannalaugar. The trail takes you over rainbow-colored hills, jet-black volcanic deserts, past mystical ice caves, and heavenly green valleys.
The Best Time to Do This: In summer, from June to September. The roads to Landmannalaugar are closed during the rest of the year, making it impossible to access the site.
14. Spend the night in an Icelandic church
In the village of Stöðvarfjörður in East Iceland is a tiny church. This gorgeous building, named Kirkjubaer, is no longer a church. It has been remodeled and is now being used as a hostel.
The building sets itself apart from the rest of the village so that you won't get lost on your way home! The church-turned-hostel offers guests everything they need for a comfortable stay, including a kitchen, bathroom, and shower.
This warm and welcoming accommodation is also very unique. The altar is still inside as well as some other sacral items. Keep warm and well-rested in a place unlike all others in the country.
The Best Time to Do This: All year.
15. Witness the Northern Lights
The Northern Lights, also known as the Aurora Borealis, are one of the biggest attractions for tourists visiting the country. This natural light display can only be seen in the winter in the world's northernmost countries. The Northern Lights are definitely something to be experienced in person, and Iceland is the perfect place to do so.
In Iceland, the Northern Lights can be seen for eight months of the year, beginning in late August and ending in April. No experience can match the sight of the dark night sky speckled by stars and decorated by a dancing wave of colors. These undulating strands of green, purple, and pale pink light are a must-see natural phenomenon.
Any remote place in Iceland is perfect for Northern Lights hunting. Even though light pollution can make the Northern Lights a bit more difficult to see clearly, even in the capital city of Reykjavik, there are places where they can be seen. These elevated, remote places are a great way to quickly escape the city's lights. You can even enjoy the Northern Lights while relaxing in one of the city's geothermal hot pools. Check the Aurora forecast website daily to help with your timing.
The Best Time to Do This: From September to April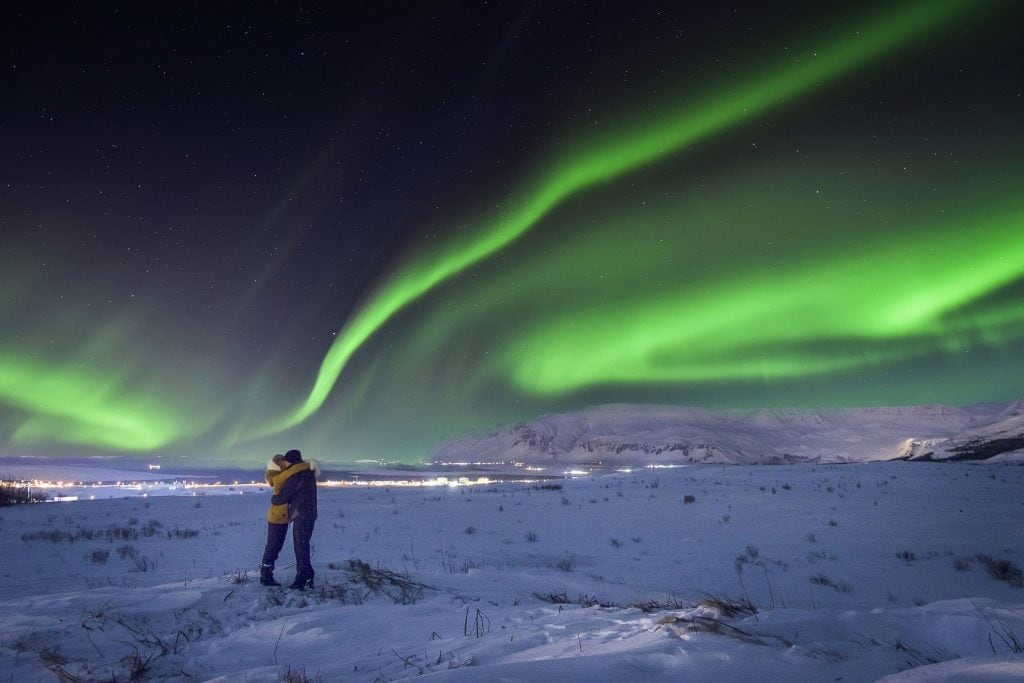 16. Take a scenic walk through Arnarstapi
Arnarstapi is one of the most scenic natural harbors in the country. The harbor is full of amazing columnar basalt and cliff formations. This small fishing village on the Snæfellsnes Peninsula is an absolute favorite for good reason. It is not as much of a tourist attraction as other places in the country, so it allows visitors to get a better idea of what true Iceland is like. While the summer is generally busier than the winter, the village is equally beautiful year-round.
The first thing to greet you upon arriving in the village is the sight of the giant rock statue of Bardur Snaefellsnes. This monument, a character from an ancient Icelandic saga, is the perfect location to start your exploration of the area. When you are facing the water, just to the left of Bardur lies Gatklettur, which means "arch rock". This is just one of the many breathtaking rock formations you can see during your visit to the village.
A hiking path runs along the coast from Arnarstapi to Hellnar, full of lava fields and stunning rock formations. The path, called Nedstavatn, is about 2.5 km (1.5 mi.) long and takes about one hour to complete in one direction. If you are visiting the Snæfellsnes Peninsula, this town is worth the stop. It is an absolute gem! Book a private Snaefellsnes tour here.
The Best Time to Do This: All year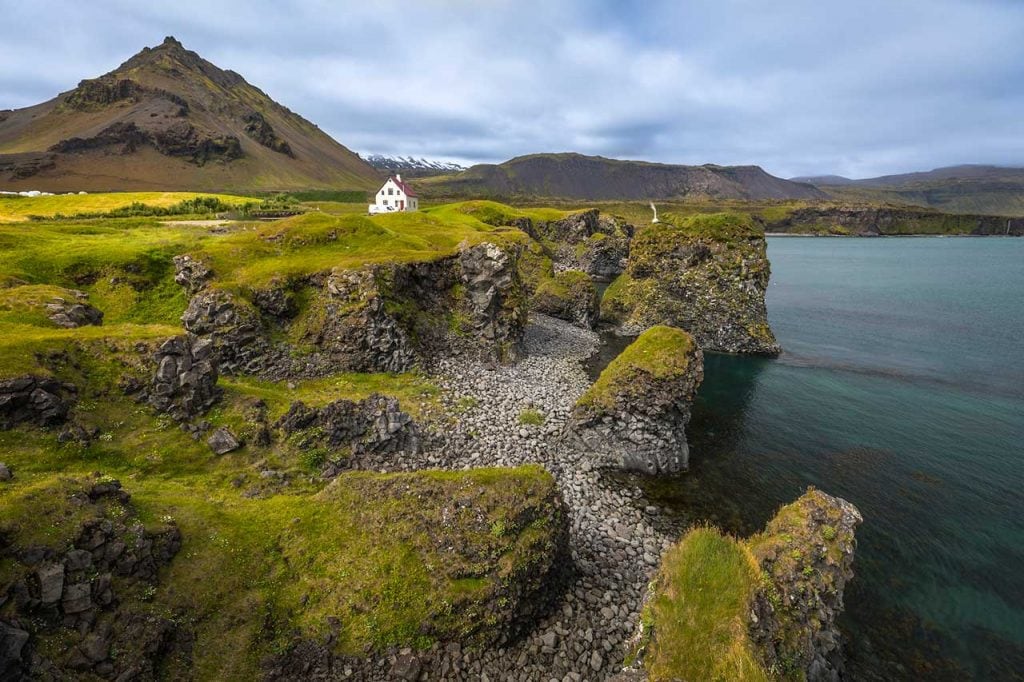 17. Go whale watching in North Iceland
Over twenty species of whale, dolphin, and porpoise can be found off the coast of Iceland. This is why Iceland is a top destination for whale watchers. Boat tours leave from ports in Reykjavík and Akureyri, while the most successful tours leave from the northern towns of Húsavík and Dalvík. In places like the Westfjords, it is possible to whale watch from the shore without setting foot on a boat.
Humpback whales, white-beaked dolphins, and harbor porpoises can be seen almost daily while a few lucky visitors will have the opportunity to see other species, including orcas, fin whales, blue whales, or even narwhals. Aside from the sea mammals, there are also a variety of seabirds, including skuas, Arctic terns, guillemots, and the colorful, adorable puffin.
When whale watching, you will be given the option of smaller powerboats or larger vessels. The smaller boats are for smaller, more intimate groups and can get closer to the animals because their motors are much quieter. On the other hand, the larger vehicles are for larger tour groups and have much better tracking technology to ensure better chances of seeing a whale.
The Best Time to Do This: All year
18. See the puffins in Borgarfjörður Eystri
One of the most emblematic animals in the country, the Atlantic puffin, is a big draw for tourists. These cute black and white birds, with their brightly colored beaks and webbed feet, can be found all over Iceland. This is because over half of the world's Atlantic puffins nest in Iceland each year, making Iceland home to the largest puffins in the world.
While it can be difficult to see puffins in the wild because their colonies tend to be far from shore, the best place to observe them is the small village of Borgarfjörður Eystri in East Iceland. Unlike many other places in Iceland, in this village, you can get up close to the birds quite easily.
Near the island is a rock formation with steps and paths that you can explore while the adorable puffins bustle nearby. Hundreds of birds busily surround these paths, flying, landing, hunting, flirting, or simply resting. The landscape here is very picturesque as well – as if the sight of puffins up close and personal wasn't enough to make you want to visit!
The Best Time to Do This: From late April to mid-August
19. Go kayaking among the icebergs in a glacier lagoon
One of the most famous of the spectacular sights Iceland offers is Jökulsárlón. This is a glacier lagoon that formed from the tongue of Breiðamerkurjökull glacier. Even if you aren't planning to travel Iceland's famous Ring Road, Jökulsárlón is worth visiting.
Jökulsárlón lies on Route 1 and is impossible to miss. While most tourists just go to the glacier lagoon to take pictures, you can take the adventure one step further and go kayaking on the glacier lagoon! This unique opportunity is a way to synchronize yourself with pure nature further.
Paddling around the glacier lagoon will allow you to experience the glacier from a new perspective. During this adventure, you'll have the opportunity to see the glacier from a new angle! If you're lucky, you might even come across some friendly seals while on the water.
The Best Time to Do This: From May to September
20. Try Iceland's most authentic Hot Spring Resort in the Whale Fjord
Hvammsvík Natural Hot Springs is the ultimate choice for those who want to try the most authentic Icelandic nature experience while having the opportunity to reserve your spot and shower, change and dine in comfort – things that aren't possible near wilderness hot springs.
Hvammsvík is a 1200-acre private estate that offers you complete freedom to explore and experience unspoiled Icelandic nature far away from the city life, hidden in a remote fjord, yet only a 45-minute picturesque drive from Reykjavik. No less than eight natural hot springs of various sizes and temperatures and a steam cave await curious explorers.
Surrounded by the ocean, mountains, and wildlife, these natural hot springs are in harmony with the tides and seasons. Some of the pools will fill up as they are submerged in high tide, giving you an ever-changing experience.
The place gives guests an authentic Icelandic nature experience. The area is rich in local wildlife, with over 30 different types of birds that reside in and around Hvammsvik. Wild sheep roam around in the summer, and if lucky, you might spot an Arctic Fox. Quite a few elves are said to reside in the rocks and hills of the nature resort!
At Hvammsvík, eight natural hot springs of varying temperatures, a steam cave, outdoor relaxation areas, and brand-new facilities await you. The design of the building, changing rooms, and pools were inspired by the history of Hvammsvik, which dates back to the 12th century. You can even try out our outdoor changing facilities, where you will shower under the open sky.
Geothermal water flows from a source 1400 meters underground, blending with seawater straight from the Atlantic ocean. The steady stream of this unique blend of water, between pools, over their edges, and back into the ocean ensures optimum water quality and cleanliness.
After a soak in the Hot Springs, we recommend you try some delicious, light dishes inspired by our surroundings at our bistro. The seafood soup is a favorite or our infamous algae/ginger shot!
Immerse yourself in perfectly warm hot springs all year round on the ocean's edge and recharge naturally!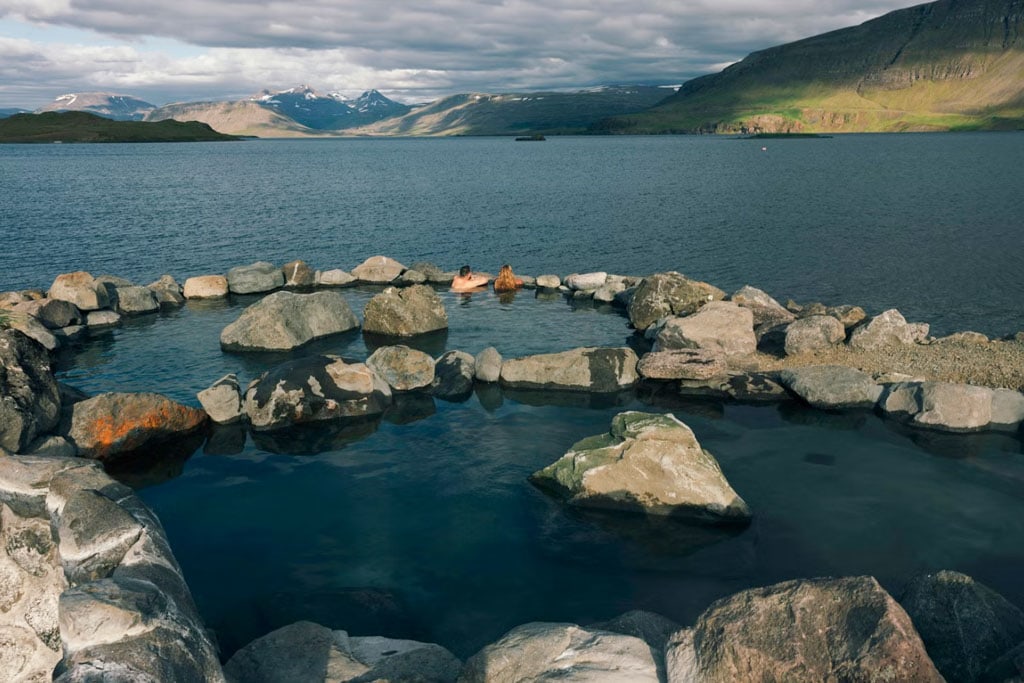 21. Bathe in a hot geothermal river in Reykjadalur
A large collection of hot springs and natural baths can be found all over Iceland, ranging from hot pools just next to the road to the world-famous spas built to enjoy the stunningly blue hot water. Reykjadalur valley, which lies just 45 km (28 mi.) from the country's capital city, Reykjavík, is filled with hot springs and mud pools. This should not be surprising as the valley's name means "steam valley."
The main reason many travel to Reykjadalur valley is not because of the hot springs or mud pools but rather because of the steaming hot river which winds through the center of the valley and in which you are allowed to bathe. Remember that there's a one-hour hike before you can refresh yourself in the delightfully warm geothermically-heated water. Good hiking boots are a must in summer, as the path can be slippery when wet. In winter, crampons are recommended, as the path can be dangerous when it's snowy or icy.
The water temperature in the bathing area tends to be 35-45ºC (95-113ºF), but is dangerously hot in the upper area, so be careful. As the temperature can be somewhat unstable, always test the water with your hand or foot before entering to ensure the temperature is safe. If it's too cold, go further upstream; the further upstream you go, the hotter it will get. Keep in mind that after heavy rain, the river generally gets colder than usual because the excess water in nearby creeks finds its way to the river to cool it down. Reykjadalur may be very popular with tourists, but there will always be room for you in the bathing area.
The Best Time to Do This: All year
22. Go for a soak in the Blue Lagoon
One of the largest and most well-known attractions that Iceland has to offer is the Blue Lagoon. This geothermal spa has world-famous milky blue waters, which can do wonders for your skin while helping you to relax and get rid of any stress you might be carrying around with you. This is why many tourists put a visit to the Blue Lagoon at the top of their Icelandic bucket lists!
The warm waters of the Blue Lagoon are hidden away in the middle of nowhere. Located on the volcanic Reykjanes Peninsula, the spa is surrounded by stark, haunting lava fields and otherworldly landscapes. The sight of grey moss stretching off into the distance while steam constantly escapes the ground is very visually impacting.
The Blue Lagoon is big enough to allow space for everyone that wants to visit. You can explore the different areas and take advantage of the pots of silica mud set out for you to slather on your face and body. They even have a swim-up bar! Book your ticket here.
The Best Time to Do This: As one of Iceland's most popular attractions, the Blue Lagoon tends to have its biggest crowds between May and September, with a peak in July and August. The winter months are generally calmer, particularly December and January.
23. Visit a spectacular lava cave!
Iceland is covered by huge lava fields as a consequence of numerous volcanic eruptions throughout the years. A plethora of spectacular caves and tunnels are hidden within the lava fields and await curious visitors to explore them. These natural caves feature an incredibly diverse and colorful scenery filled with distinctive features and curious rock formations such as stalagmites and stalactites.
In winter, you will likely see glistening natural ice sculptures in the cave, adding further beauty to the already otherworldly scene.
Get up close and personal and explore a lava cave from the inside; these incredible places offer a fascinating adventure into the earth! Visiting a lava cave can be done via guided tours; find your options here.