If you're thinking about Iceland for your next vacation destination, you will probably also be considering when is the best time to visit Iceland. With amazing attractions and activities all throughout the year, Iceland is an awesome destination at any time. Naturally, your preferences will almost certainly play a huge part in when you visit the Land of Fire and Ice.
Iceland's summer months see lush verdant landscapes and long, sunny days because of the famous midnight sun. In wintertime, the stunning Northern Lights dance across the dark skies. Do you prefer to see cascading waterfalls or icy landscapes?
We'll take you through the pros and cons of visiting Iceland at different times of the year, helping you decide on the best time for your vacation. Keep readings for expert tips related to seasonal activities and experiences, and find out when is the best time for you to plan your trip to the magnificent Nordic treasure.
The Travel Seasons in Iceland
There are three main travel seasons in Iceland: peak season, secondary peak season, and low season. The peak season is in the summer months (June, July, and August), and the second peak season is during the winter (November to March). Spring and autumn make up the low season, also referred to as the shoulder season.
While Iceland offers plenty of wonders all year round, every season has unique characteristics and diverse events and activities. There are advantages and disadvantages of each season in Iceland.
The Off Seasons: Spring and Autumn
Spring and autumn are the two shortest seasons in Iceland, each lasting for just two months. Spring is the months of April and May, while September and October are the autumn months. These four months comprise the low season in Iceland.
Flights to Iceland are cheaper than at other times of the year, and visitors can also score lower prices and terrific deals on accommodations and car rentals too. The cheaper prices make the low season an ideal time for budget travelers to discover Iceland.
The low season naturally sees fewer visitors than the high season. If you prefer to dodge the tourist crowds and have a quieter vacation, visiting Iceland in the low season could be for you.
April and October have nicer weather than in winter, though it isn't as pleasant as during the summer. Expect fairly chilly temperatures, rain, and darker days.
The shoulder months of May and September can be suitable for camping and hiking, although the changeable conditions mean that nothing is guaranteed. Typically, however, May and September experience relatively mild temperatures and lots of sunny days.
Over the low season, May usually sees the best weather, with the least amount of rainfall and wind. On the flip side, if you were set on seeing the Northern Lights, it won't happen in May—the nights just aren't dark enough. There are greater chances of seeing the marvelous Aurora Borealis in September or October, thanks to the darker night skies.
Puffins return to Icelandaround late April, so you'll be able to spot the cute seabirds in May. You won't see them, however, in the later off-season months of September and October. You will, though, be able to see whales during autumn.
The main disadvantage of Iceland in the low season is the unpredictable and quickly changing weather conditions. You can experience sunny days and mild temperatures, but rain, snow, and storms are common too. The road conditions aren't as safe as during the summer months; while usually fairly safe in April, roads can still have snow and ice.
In essence, visiting Iceland in the low season is great if your main priority is saving money and spending less on your vacation, though the tradeoffs will be poorer weather. You will also need to be more flexible with your plans.
The Summer in Iceland
The summer months of June, July, and August make up Iceland's peak travel season; this is the country's busiest time for tourism.
The weather is the most pleasant in the summer, with the highest temperatures, mostly sunny and bright days, and the least chance of wind, rain, and storms.
There are more hours of daylight over the summer. In fact, it never fully goes dark, thanks to the famous Midnight Sun. The skies take on gorgeous shades of red, orange, purple, yellow, and pink at nighttime, and there's enough light to be able to travel and even hike. Summer is the only period when visitors can sleep under canvas in tents, and it's also the most appropriate time to travel around Iceland in a motorhome or camper van.
Summer offers the best driving conditions in Iceland. It is possible to reach the nation's most remote corners by car, although some mountainous roads and destinations do still require the use of robust four-wheel-drive vehicles. Regular paved roads, including the Ring Road, are accessible by small cars and bicycles.
The summer is the prime time for hiking through Iceland's amazing landscapes. The hiking trails are fully accessible, there's lots of wildlife to spot, and the Highlands burst into bloom after the long, cold winter. You'll spot creatures like reindeer, sheep, Icelandic horses, and Arctic foxes roaming around Iceland's terrain, while whales and puffins are easy to spot near the coast.
Awesome summer activities include regular and glacier hiking, caving, and trying various water sports. There are plenty of sightseeing excursions too, along with a wealth of cultural events and music festivals.
The downsides of visiting Iceland in the summer are the prices, traffic, and crowds. Accommodations can be booked up far in advance and campsites can be crammed with tents and campervans, particularly places close to popular destinations and attractions. Well-known attractions can be incredibly busy, especially at peak times. There is little chance for spontaneity, as you must plan your trip in advance.
Summer is the most expensive time for an Iceland trip, with higher costs for accommodations, plane fares, and vehicle rentals.
Another disadvantage of a summer vacation in Iceland is that you cannot see the magnificent Northern Lights; the nights just aren't dark enough. Additionally, almost all glacial ice caves are closed to visitors in the summer.
The Winter in Iceland
Iceland has a second peak season over winter—November to March. Lots of people visit Iceland to see stunning winter landscapes, spectacular ice caves, and frozen waterfalls in addition to the famous Northern Lights. There are terrific winter activities, like snowmobiling, to try too.
The long, dark nights are ideal for spotting the Northern Lights in all their glory. In fact, there are some 19 to 21 hours of darkness each day to watch for one of nature's finest spectacles.
Iceland is full of festive cheer in December, and winter sees exciting firework displays and bonfires in the capital of Reykjavik.
Christmas and New Year aside, winter prices are usually lower than in the summer. It's easier to find bargain flights, and you may also find cheaper accommodation. You won't, however, be able to enjoy the cheapest accommodation option of camping, and touring by motorhome or campervan is also strongly discouraged.
Although popular, winter does see fewer visitors than in the summer, meaning that you don't need to plan your vacation quite so far in advance, and you won't get swallowed up in huge tourist crowds when visiting Iceland's diverse attractions.
You may spot reindeer and horses outside over the winter, but you are unlikely to see much other wildlife. Whales and many bird species head south for the winter, and sheep are protected inside farm buildings.
A major drawback of winter is the weather. Winter is the coldest time of year, with strong winds and rain as well as many storms. There may be snow and ice too. Iceland's roads can be difficult to drive in the winter, sometimes perilous, and there are lots of areas that are inaccessible with a regular car. The shorter hours of daylight also limit the amount of time people can realistically travel. December has the darkest days, gradually getting lighter, with March having more daylight than the depths of winter.
The Best Time to Visit Iceland
Iceland is a world of wonder at any time of the year, with terrific activities and fascinating sights all year round. That said, depending on your preferred experiences there may be a better time for you to visit. We've put together the most popular places, attractions, and activities and provided details of the best times to visit Iceland for each. This helps you plan your trip according to your wishes.
The Best Time to Visit Iceland in Good Weather
Summer experiences the best weather in Iceland. Between June and August is the perfect period for people who don't like cold conditions and love warm, sunny days with little wind. July and August are the warmer months, but August does generally have more rain (usually in the second half of the month) than July. Conversely, June is the driest month but also the coldest.
The Best Time to See the Midnight Sun
While there are light, bright nights between late April and mid-August, the height of the famous midnight sun is from May to July. The peak is on June 21st—the summer solstice, or the longest day.
Over summer the sun doesn't dip down below the horizon enough for darkness to fully fall, meaning that it's light (to a degree) all through the night. In good weather conditions the stunning hues of sunset and sunrise color the skies for many hours throughout the night. There couldn't be a better time to enjoy the start and end of each day and to take beautiful photographs.
In the south and around Reykjavik the sun sets just enough for you to experience sunset, before quickly rising again with glorious sunrise tones. In the north of the island, however, there is no true sunset.
The Best Times to Witness the Northern Lights
Many people visit Iceland with the primary intention of witnessing the awe-inspiring phenomenon that is the Northern Lights. Visible from late August to early April in Iceland, better weather conditions increase your chances of spotting the aurora. Regarding temperature, September and October are the mildest months. Of these two months, September is better when it comes to cloud cover and rain.
Even though the temperatures are colder, November and February are also good months for seeing the Northern Lights. The longer hours of darkness give more time to get out and try to spot the magical lights.
November and February usually have clearer skies than December and January due to the fact that they are drier with less precipitation. (September is, however, still the driest month during the Aurora-spotting season.)
The Best Time for Hiking and Camping
There are many spectacular hiking trails through Iceland's gorgeous mountains. Accessing these trails, however, really depends on the weather. As the weather is better in summer, with higher temperatures, drier conditions, and less wind, it follows that this is when you will find better trail conditions; the summer is, therefore, the best time to hike in Iceland. Furthermore, most of the country's well-known hiking areas can only be accessed over the summer, particularly those in Highland areas.
Mountain hiking trails are typically at their best between late June and late August. You might be able to enjoy coastal hiking trails, however, between May and September. Hiking is strongly discouraged during the winter, for safety reasons. Only strongly experienced hikers should attempt to hike in Iceland over the winter, and crampons should always be used.
The most popular and most comfortable time for camping in Iceland is during the summer. Temperatures don't fall below 0°C (32°F) over nighttimes. Wild camping isn't legal in Iceland, but there are more than 200 official campsites spread across the island. Most are open from the middle of May until the end of September. Winter conditions are not suitable for camping in tents.
The road conditions are at their safest and best from May to October, making this the best time to explore Iceland by campervan or motorhome. Some campsites remain open all throughout the year to cater to people who need a place to park their vehicles and sleep during the winter. Traveling on Iceland's roads during the winter can be tough for all vehicles, particularly larger vehicles like motorhomes and campervans; strong winds, snow, and ice can make winter driving in Iceland exceptionally hazardous and challenging.
The Best Time for Traveling Around the Ring Road
Exploring Iceland is magical at any time of year, though the limited hours of daylight in the winter are an important consideration when planning your trip.
If you are planning to take a self-driving vacation, keep in mind that the best driving conditions are generally from May to October. Driving in Iceland in the winter is usually difficult, especially if you have no prior experience of handling a vehicle in wintery conditions.
Guided tours are available at all times of the year, and can access places that you may not be able to reach independently. You can travel safely and conveniently to beautiful destinations under the care of an experienced local guide. Sometimes, groups travel in vehicles that have been adapted for the terrain and the conditions.
When considering the best time to travel around Iceland's famous Ring Road, think about the key things you wish to experience along your route. For example, are you keen to hike through nature and admire verdant landscapes and vibrant meadows filled with wild blooms, or are dazzling ice caves and frozen cascades more your thing? Midnight Sun or Northern Lights? Are you mainly interested in discovering the local heritage and culture? Perhaps you dream of relaxing in the warmth of charming guesthouses while you watch the snow falling and blanketing the ground outside? Your preferences will help you to decide the best time for you to travel around Iceland's Ring Road.
The Best Time to Visit Iceland's Must-see Places: The Golden Circle and the South Coast
Although you can access Iceland's most famous natural sites all throughout the year, the majority of visitors opt to experience them in the warmer summer months. This is when you'll find the best weather and road conditions, but this also means that the roads have the most congestion and the attractions have the biggest crowds. If you prefer a quieter vibe with fewer people around, visit in the shoulder months of May or September.
If your time is limited in Iceland and you just have a few days' vacation, the South Coast and Golden Circle are likely to be high on your travel wishlist. It's possible to drive to these destinations at any time of year, though the weather means you'll need to plan your trip(s) that bit more. The natural sites are stunning in the winter, although do keep in mind that they look different to in the summer.
The Best Season for Whale Watching
It's possible to spot whales all year round in the waters off Iceland's coast. The best time to spot these magnificent sea creatures is over the summer. Migratory whales return to Iceland around the beginning of April. Although migratory whales depart again at the end of autumn, some whales, those who aren't breeding, remain through the winter months too.
Female whales reach maturity in around five to seven years. When mature, whales breed once in every two to three years, and spend more than a year nursing their young. When not breeding, whales don't need to make the long migratory journey and so remain in Icelandic waters.
Orcas (also known as killer whales), however, breed all throughout the year. Their migratory patterns depend on food supply. Since there are many fish, such as herring and capelin, in the cold winter waters, the distinctive black and white orcas are drawn to Icelandic waters to feed.
Especially great for nature lovers, you can watch beautiful sea creatures on a whale-watching trip. Head out to sea for a few hours to observe whales in nature. Northern Iceland's Húsavík is a top spot for seeing whales in the wild, and Snæfellsnes (on Iceland's northern peninsula) is a great place to see orcas.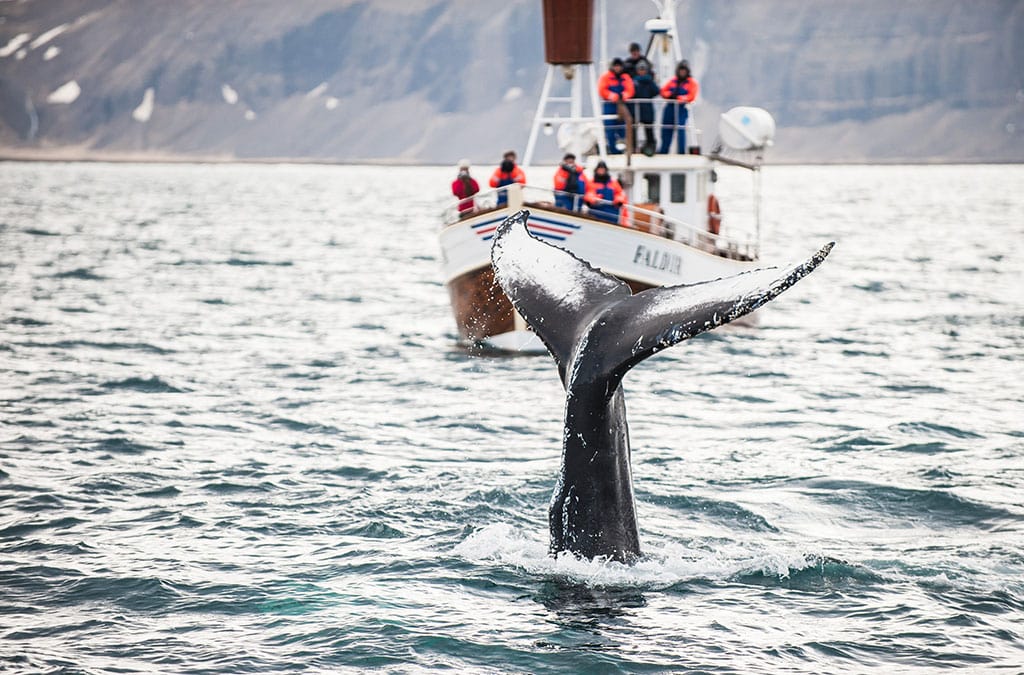 The Best Time for Puffin and Bird Watching
You can spot various bird species in Iceland throughout the year, including blackbirds, ducks, swans, oystercatchers, and gyrfalcons.
Many avian species are migratory, though, meaning they are only present in Iceland at certain times of the year. This naturally results in some months being better than others for birdwatching. Plus, if there are particular bird species that you're keen to see you should plan your trip around when they are at their largest numbers in Iceland.
Migratory birds generally start to return to Iceland in April. If you wait until May, however, the numbers are greater and thus the chances of fruitful bird-watching experiences are higher. The numbers of migrating birds are highest from May until the middle of August. That said, the best time for birdwatching in Iceland is considered by enthusiasts and experts to be from the latter half of May and the first three weeks in June.
After the winter, the first bird to come back to Iceland's shores is the golden plover. It makes its arrival towards the end of March, signaling the eagerly awaited arrival of spring. Known as the lóa in the native language, the golden plover is the county's most celebrated type of bird. After the golden plover returns, other birds too start making their comeback, eventually, their warbling, tweeting, whistling, and chattering creating the enchanting natural summertime soundtrack. Most Icelanders know a catchy poem-cum-folk song about the birds' return, which includes the message: "The golden plover has arrived to banish the snow, to banish the boredom, that it can do. … It has told me to wake up and work, and full of hope welcome the summer."
Lots of visitors wish to see the famous Atlantic puffins around the coast of Iceland. The puffins return in April and are abundant through the summer. With around 8 to 10 million puffins calling Iceland home in the summer months, it's little wonder that Iceland is sometimes referred to as the puffin capital of the world! Puffins leave Iceland in September, following most other species who depart around mid-August.
The Best Time for Glacier Adventures
Iceland offers an exciting array of glacier activities, such as ice climbing, glacier hiking, and snowmobiling. As Iceland's magnificent glaciers are accessible in all their beauty all year round, visitors can therefore enjoy incredible glacier adventures at all times. You will need to consider the weather, however, to make sure you dress appropriately for the conditions.
For hiking on glaciers and ice climbing, it is particularly important to ensure you dress for the conditions. You'll be provided with all the necessary safety equipment, but you'll wear your own clothes underneath. If you don't have appropriate clothes though you can normally rent them from the tour companies. For snowmobiling adventures, you'll be given gloves, a balaclava, and a helmet for both safety and warmth, as well as a protective overall to keep you warm and shield you from the wind and rain.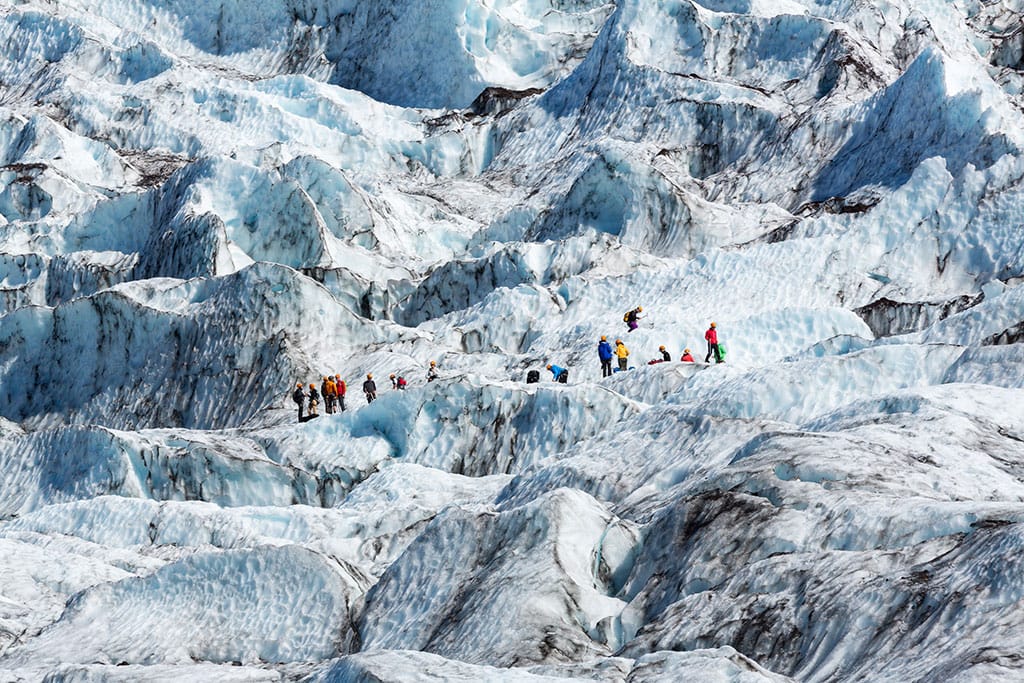 The Best Time to Visit Iceland's Natural Ice Caves
Winter is the best time to explore spectacular ice caves in all their ethereal beauty. Every October, tour companies go on scouting missions to find new caves, with tours starting up in early November. Iceland's ice cave season runs from November until late March / early April (weather dependent). This is when it is safe to visit the country's ice caves.
Throughout the five or so months of the ice cave season, some periods are better than others for adventures. Fewer tours are available in December and January, largely because of the limited hours of daylight.
As the days become lighter in February and March, more ice-caving tours operate. There are more hours of daylight to explore the ice caves and it's a great time to get the best photographs of your adventures.
The Best Time for a Family Vacation
A family trip to Iceland will probably depend on existing time availability, such as holidays from work or school. There will probably be certain experiences that you're keen to enjoy—you can look above for inspiration and ideas. For example, would your family prefer to experience the Northern lights or the midnight sun? Are you an active family that wants to spend time outdoors and spotting nature, or are you captivated by wintery landscapes?
Many families choose to visit Iceland in the summer, as this is when you will find the most child-friendly activities and things for people of all ages. The range of activities help to enhance any family vacation, providing educational and cultural understanding and education to complement and richen sightseeing around Iceland.
Driving around the island is one of the most convenient ways for families to fully make the most of their time in Iceland. Rent a car or book a self-driving package and discover Iceland at your leisure. You can choose which places to add to your itinerary, how long to spend at each place, where to stop to eat, when to take bathroom breaks, and so on. You're completely in control of your holiday. Travelling at a slower pace is recommended for families, especially in the winter months when you'll need to have some flexibility and may need to make last-minute changes to plans if roads are closed etc.
The Best Time to Visit Iceland for Honeymoon
Iceland is the perfect romantic destination for a honeymoon. Lovebirds can explore the nation's gorgeous landscapes, discover the creative culture, and enjoy a diverse selection of tours and activities.
While you might already have set your honeymoon dates if you are able to choose when to take your honeymoon we really recommend a visit in the low season. Prices are lower and there are much fewer crowds to interrupt your newly wedded bliss.
The best time for an Icelandic honeymoon, however, does largely depend on what you are expected to see and do.
Summer is lovely, with plenty of lush greenery and endless sunny days. On the flip side, it's the busiest tourism time, with the highest prices and biggest crowds. Autumn is brilliant, with smaller crowds and lower prices, not to mention the possibility of witnessing the Northern Lights and attending cool music festivals.
Visiting Iceland in the winter can be really romantic, with the chance to make many magical memories of your first vacation as a married couple. Many major attractions are still accessible, but without the large crowds, and the snowy landscapes are enchanting. You can still spot the Northern Lights and then return to a cozy accommodation to relax and snuggle up.
How Long Should your Icelandic Vacation be?
In a nutshell, the more time you can spend in Iceland, the better! You can scratch the surface of Iceland's famous attraction in a shorter trip of a few days, but you'll truly get the most out of your holiday if you can stay for at least a week. With a week's vacation, you can tick off the most popular places, enjoy typical activities like snowmobiling and hiking on a glacier, and take a relaxing dip in an enticing geothermal pool. And all at an unhurried pace.
With ten days or more you can travel more extensively around the island and visit some off-the-beaten-track gems and remote countryside treasures. This is a great way to get away from the masses and enjoy relative peace and quiet.
If you want to understand Iceland more like a local, plan to stay for at least two weeks … longer if possible. As well as headline attractions you can spend long days hiking in picturesque nature, stroll around lesser-visited seaside communities, marvel at remote fjords, and escape the tried-and-trodden path in places like the Eastfjords, Westfjords, and the north. There will be more opportunities to relish local cuisine, interact with locals, and learn more about the unique Icelandic culture.
Have you decided on the best time for your trip to Iceland? Or perhaps you're still looking for a bit more guidance? In any case, contact our expert Iceland travel consultants to start the ball rolling in planning your amazing vacation.