A trip to Iceland promises to be amazing at any time of the year, but there's something extra special about the winter months. Snow and ice blanket the landscapes, the spectacular Northern Lights dance in the skies, and the cold temperatures make it a great time for cozying up in front of roaring log fires after days of exciting explorations.
Visiting Iceland in January provides a terrific way to experience the best of Icelandic winter without the crowds and revelry of Christmas and New Year. The country quietens again, leaving travelers free to explore the winter wonderland in relative tranquility.
January is one of the county's quietest months for tourism. It is also one of the coldest and darkest months in Iceland. You can expect just a few hours of sunlight each day, along with icy roads and landscapes covered in thick snow. Far from being something to deter you, these factors help make Iceland so amazing during January!
The Weather and Road Conditions in Iceland in January
Although Iceland typically experiences cold winters with plenty of snow and ice, the temperatures don't drop as low as many people expect. Average lows are just below the freezing point. Strong winds, however, can make it seem much colder than it actually is. And, January is the country's windiest month of the year.
In the capital of Reykjavik, temperatures commonly range from -10°C to 3°C (21.2–37.4°F). As well as snow there may be rain and sleet. Storms are fairly common too.
In the north of the country, snow is all but certain. Places at higher altitudes also have lots of snow throughout January. Elsewhere around the country, though, rainfall is the norm. Dressing appropriately for the conditions is essential.
Because of Iceland's northern latitude, there are very few hours of daylight during January. The exact amount of daylight depends, however, on the location around the island. In Reykjavik, early January usually has around four to six hours of daylight, increasing to almost seven hours near the end of the month. There are places that only see two hours of sunlight on a typical January day, while some destinations remain dark throughout the day with the sun hidden behind towering mountains.
| | |
| --- | --- |
| Temperatures in populated areas | -10 to 3°C (21.2–37.4°F) |
| Average Wind Speed | 7.2 m/s (16.1 mph) |
| Average Precipitation | 75.6 mm (2.9 in.) |
| Number of Days with Precipitation | 13.3 |
| Sunny/Cloudy Daylight Hours (%) | 15/85 |
| Length of Daylight in Reykjavík: | 4.5–7 hours |
The Weather in Iceland in January
How to Travel Around in Iceland in January
When starting to plan your January trip to Iceland, it's important to think about how you will travel between different places. Organized tours and self-drive tours with rental vehicles are the two most popular means of traveling around Iceland. Renting a car with a private driver is also possible and popular.
Although public transportation connects with Iceland's major cities and towns, there are no services to many of the popular natural attractions. Furthermore, there are often only one or two long-distance bus services each day. Using public transport to sightsee in Iceland really isn't feasible.
Travelling by Car
Rental cars are perfect for those who want to explore Iceland independently at their own pace and on their own schedule. There are several rental agencies in both of Iceland's main airports as well as in the center of Reykjavik.
As winter driving can be challenging in Reykjavik, you should only consider renting a car if you have plenty of previous experience driving in icy and snowy conditions. Your vacation isn't the time to try and learn new skills!
Four-wheel drives are highly recommended for driving in January. Although cars don't come with chains, you can ask for studded tires; most rental companies can provide these, but you may need to request them a few days in advance.
You should also learn a bit about the driving etiquette in Iceland before beginning your trip. You might be surprised to discover local driving habits vary according to the diverse landscapes.
Check the road and weather conditions each day prior to setting out on your journey. The Iceland SafeTravel website is an excellent resource. Bad weather might make you rethink your day's plans, and certain roads may be closed because of floods, avalanches, fallen trees, and similar.
If a road is closed, don't try to attempt to drive it anyway—it's closed for a very good reason! Attempting to drive along closed roads could put you in danger and result in your needing to be rescued, which is also hazardous for the rescuers. Your insurance won't cover the substantial towing fees and you could also receive a hefty fine.
If you want to travel around Iceland independently but without the hassle of making all the necessary arrangements, a self-drive package could be perfect. All essential bookings, such as rental car and accommodations, are taken care of for you, leaving you to drive yourself from place to place and spend your daytimes as you like. Read our article on Iceland planning tips to help you choose which option you would prefer.
You could also consider renting a car with a driver. This gives you the independence of going where you want to and when you want to, but with an experienced local driver being the wheel. What you forego in privacy could be well worth it for the convenience and safety aspects.
Day Tours from Reykjavík
Lots of tourists choose to maintain a base in Reykjavik and enjoy a variety of day trips from the capital to explore nearby areas. You can reach most of Iceland's popular hotspots on day trips, although southern and western Iceland are the most accessible and offer some of the best sights.
Day tours can be a terrific option for travelers who want the comfort and convenience of exploring Iceland without the hassle of driving themselves, and who also enjoy returning to the same familiar accommodation to relax and rest each night after a fun-filled day out.
Top Things to See and Do in Iceland in January
Although Iceland is cold, dark, and snowy throughout January, the country still offers a plethora of exciting things to do and see. Plenty of tours still operate in January. Indeed, some tours are best in the winter, for example, observing the Northern Lights and exploring an ice cave.
Aim to maximize your experiences during the hours of daylight and you'll find plenty of amazing things to enjoy in January. Plus, there are plentiful ways to have fun in the darker hours too.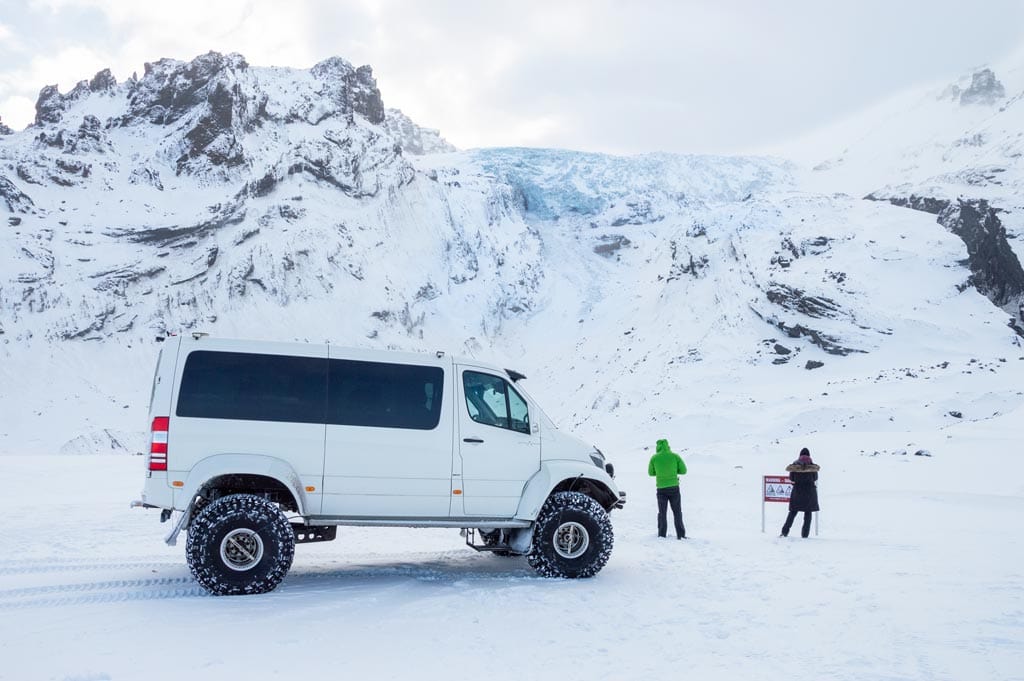 Experiencing the Northern Lights
Anyone traveling to Iceland between September and April has a good chance of spotting the awe-inspiring Northern Lights. January, with its fewer hours of daylight and longer hours of darkness, is a particularly good month for those wanting to go aurora hunting.
Although you can often spot the lights from the capital, try to get away from the light pollution of the city for the best chances of admiring the magical phenomenon. There are much better views when you see the lights in total darkness. Thingvellir National Park is a great place close to the city to watch the natural light show.
A number of operators run Northern Lights tours too, using both buses and super jeeps. Bus tours are usually cheaper, whereas tours by jeep can go deeper into the countryside. Northern Lights cruises offer a more unusual way to enjoy the lights, with cruises available from Reykjavik and Akureyri. It's really very magical seeing the lights both in the skies above you and reflected on the shimmering waters beneath you.
If you have a rental car, you can also drive into the countryside yourself to try and spot the lights. Make sure that the aurora forecast has a rating of 3 or higher and that there isn't too much cloud cover.
Snowmobile Tours
With a dense cover of fresh gleaming snow, January is a terrific time for having fun on a snowmobile. Although snowmobile tours are available all year round, there's nothing quite like experiencing the gorgeous fresh powder of January. Explore stunning terrain and experience a thrilling tour through a winter wonderland.
Many snowmobiling experiences are located at Langjokull, the nearest glacier to the capital.
Glacier Tours
While many glaciers are open for excellent year-round hiking, the fresh ice in electric blue hues adds an ethereal appeal to the glaciers in January.
With tours operating every day and located just a few hours outside of the capital, Solheimajokull is a top place for glacial hiking. Situated along Iceland's south coast, it's one of the easiest glaciers to access and to hike when staying in Reykjavik.
If you're in the southeast of Iceland, other terrific tour options include visiting Svinafellsjokull from Skaftafell Nature Reserve and hiking the outlet glacier of Breidamerkurjokull at the mighty Vatnajokull glacier.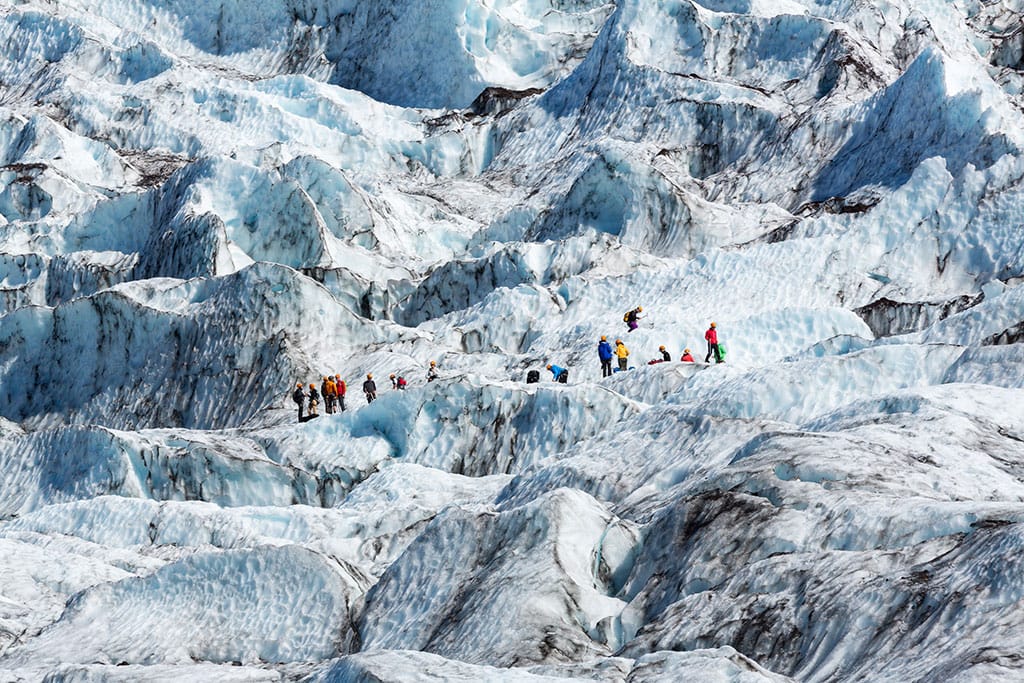 Skiing and Snowboarding
Avid fans of snowsports seeking a lesser-enjoyed European destination will be pleased by Iceland's skiing and snowboarding opportunities. Less popular and not as well-known as other places around Europe, Iceland's ski resorts aren't as crowded and the smaller resorts offer a more intimate atmosphere. Plus, there are next to no trees to accidentally run into!
You'll find terrific downhill skiing and snowboarding opportunities, as well as amazing cross-country and backcountry skiing. Go to the top of mountains by snowcat, ski down to the ocean, and enjoy thrilling heli-skiing. No matter your level of experience, you'll generally find that resorts cater to both advanced skiers and learners.
The Icelandic ski season runs from the middle of November to May, although many resorts don't open until December and are closed again by April. Most resorts have lighting on the pistes to allow for nighttime skiing.
Bláfjöll ski resort, in the west of Iceland, is the country's biggest resort. You'll also find Skálafell ski resort in western Iceland. In the Westfjords, Dalirnir near Ísafjörður is a great choice. If you're traveling in eastern Iceland, Stafdalur and Oddsskarð offer awesome skiing and snowboarding, while in the northwest you'll find Tindastóll, located close to Sauðárkrókur.
Overall, northeast Iceland is the best place to stay if you are mainly interested in skiing and snowboarding. Akureyri is a great base with plenty of local amenities and within easy access of several ski resorts. Hlíðarfjall is the most popular ski resort in Iceland and also offers the highest slopes.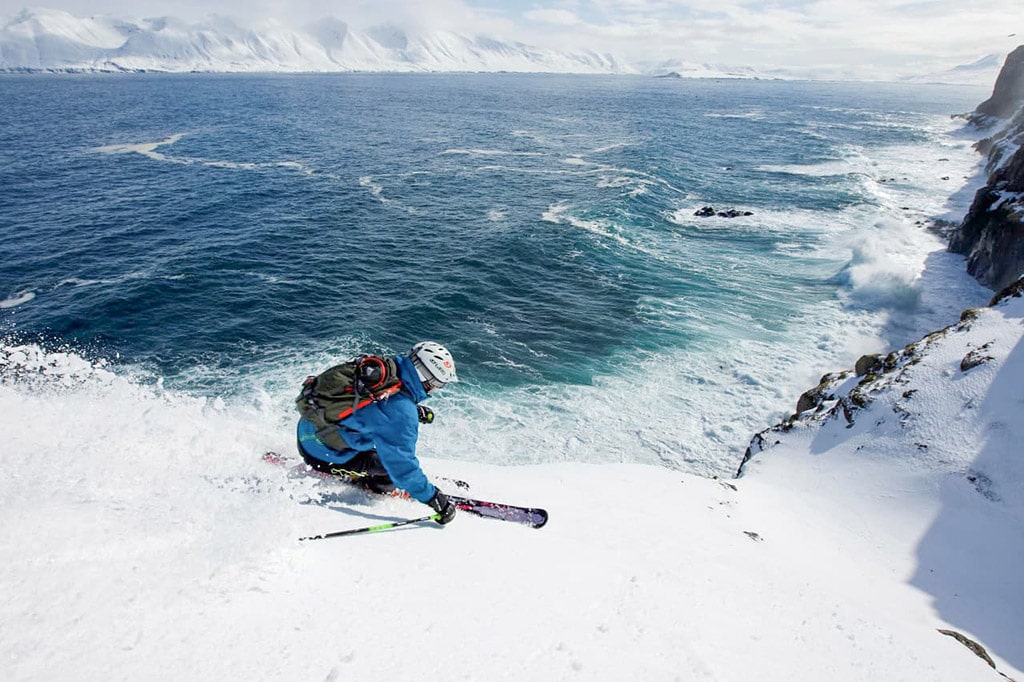 Ice Cave Tours
January falls right in the middle of Iceland's ice-cave season, which runs from the middle of October until March. The low winter temperatures maintain the caves' structure, making them accessible until the warmer weather comes to melt the ice and they flood.
Because of ongoing glacial movement, the ice caves change each year. This means that even if you've already been ice-caving in Iceland, you'll find something new in the following years.
There are several stunning ice caves around Iceland, with those underneath the Vatnajokull glacier especially recommended.
Whale Watching
Iceland's amazing wildlife-spotting opportunities draw many visitors every year. Renowned for being the best place in Europe for whale watching, tourists are often excited at the prospects of glimpsing the more than 20 species that live in the waters around Iceland.
While the warmer summer months are the best time to see species like minke whales, fin whales and humpback whales, as well as seabirds, dolphins and porpoises, winter is the best time for anyone wanting to catch sight of magnificent Grundarfjördur orcas, AKA killer whales. It is also possible to see a range of other species over the winter.
You might have luck on your side and see a whale (or other marine animals) from dry land, but the prime viewing opportunities are on a boat trip.
There are two main departure points for whale-spotting tours: Reykjavik and northern Iceland's town of Husavik. Both offer excellent chances of spotting whales in their natural habitat, and the latter has earned the nickname of the whale-watching capital of Europe.
That said, during the winter Reykjavik departures offer more convenience. Plus, many operators cease operations over the winter in Husavik.
In the capital, the majority of whale-watching trips leave from the Old Harbour. You can book at one of the kiosks or arrange a tour in advance. Trips typically last for between two and four hours.
Also in Reykjavik, the Whales of Iceland exhibition offers even more fascinating insights into Icelandic aquatic life. You can enjoy an interesting immersive experience, see more than 20 life-sized models of whales that have been found in the waters around Iceland, and learn more about majestic whales. The exhibition is conveniently located close to the harbor, perfect for a visit either before or after a boat trip.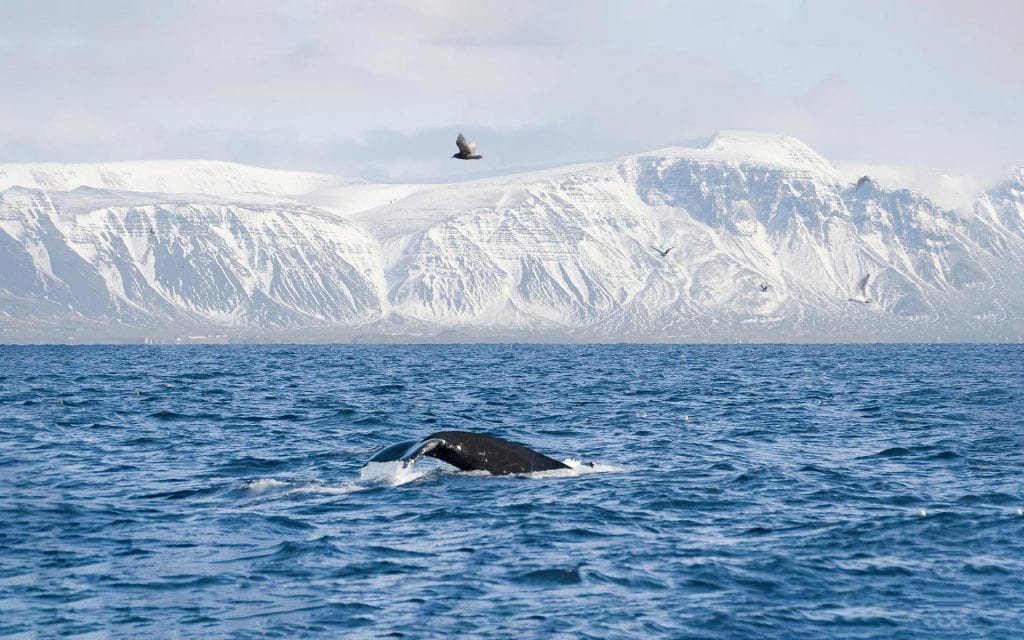 Horseback Riding
Horseback riding is possible all year round and is a popular adventure with both locals and tourists alike. As well as exploring gorgeous wintry landscapes you can get to know more about the native Icelandic horse.
Famous for its relatively small stature, the Icelandic horse is also known for its inquisitive and curious nature and higher-than-average intelligence. It's a popular equine for dressage and other events due to having five gaits (many other breeds just have three or four).
Horseback adventures can be arranged in Reykjavik, and it's common to combine horse riding with other cool activities, such as whale-watching, quad-biking, caving and Golden Circle tours.
Diving and Snorkeling in Silfra
You may be dubious about taking to the water for a spot of snorkeling or diving in January, but with good-quality dry suits, it's a thrilling experience.
Most diving and snorkeling tours take place at Silfra in Thingvellir National Park. The natural spring is located in a gaping fissure between two tectonic plates. Surrounded by marvelous natural formations, the water here never freezes over.
Having been filtered through porous lava rocks over several years, the water is exceptionally clear. Indeed, you can expect to be able to see for more than 100 meters (328 feet).
The unique location combined with amazing visibility and incredible underwater scenes make this one of the top ten diving sites across the globe.
Amazing at all times of the year, in January the chasm is fringed with snow and stunning natural ice sculptures, adding to the dramatic beauty. It's a particularly great spot for fans of underwater photography.
You can arrange winter diving and snorkeling trips from Reykjavik, and it's possible to combine the magical experience with other terrific activities, such as caving and exploring natural gems around the famous Golden Circle.
Soaking in the Blue Lagoon or other Geothermal Pools
When the weather is cold, one of the most amazing things to do in Iceland is to don your bathing suit and take a dip in one of the many geothermal pools. Heated naturally, many complexes feature both indoor and outdoor pools.
There are geothermal pools all around the country, meaning you'll never have to look too far to take a relaxing soak in nature.
Loved by locals and visitors alike, there's something special about bathing in delightfully warm waters while feasting your eyes on frosty surroundings.
The Blue Lagoon is one of Iceland's most famous hot pools, easily located between the capital and main international airport, though you'll also find plenty of public pools around the nation.
Exploring Reykjavík
The capital city of Icelandic and the country's cultural heart, Reykjavik boasts a wealth of fascinating museums, pretty parks, stunning art, and interesting cultural hotspots. Most attractions are open all throughout the year, offering a great way to spend time inside and escape inclement weather while learning more about the nation's history and traditions.
Common themes include local history, art, folklore, and maritime heritage, as well as beautifully preserved historic buildings.
The city center is easy to explore by foot, with many of the main attractions within close walking distance. You can also get around by rented car and public transport.
Top attractions in Reykjavik to add to your bucket list include the National Museum of Iceland, Perlan Museum, Arbaer Open Air Museum, Hallgrímskirkja Church, Saga Museum, the Maritime Museum, Harpa, the Settlement Museum, Reykjavik Family Park, Reykjavik Art Museum, and Whales of Iceland.
Although most attractions are open during the winter, operating hours may be reduced; check opening times in advance to avoid disappointment.
Wander through the streets and spot a striking array of street art and enjoy a wide assortment of shops, bars, cafes and restaurants.
Foodies should definitely consider taking a food tour while in the capital. Of course, you should try the famous national dish of hákarl (fermented shark). There are plenty more delicacies to tempt you too, including succulent lamb, fresh seafood, flatbreads, and geothermally grown vegetables, to name just a few. The yearly Food and Fun Festival is also held over the winter. Lasting for a week, it's the biggest food festival in Iceland.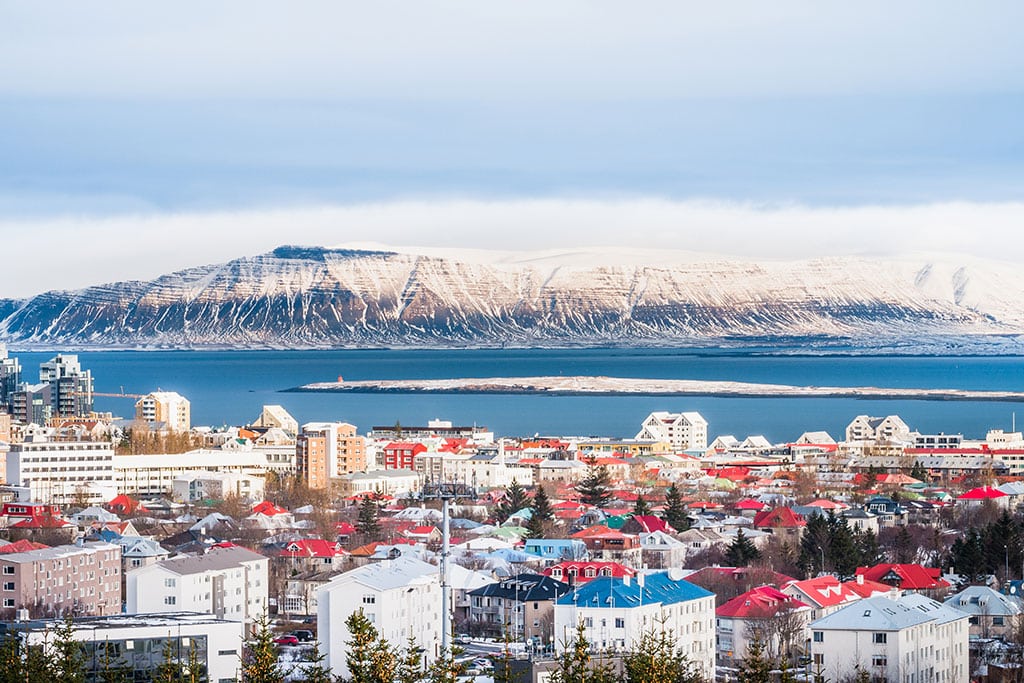 Visiting the Golden Circle
The iconic Golden Circle is home to some of Iceland's most famous natural attractions. It's a must-visit when in Iceland, with the landscapes even more beautiful during the winter when covered with ice and snow.
Thingvellir National Park is often the first stop from the capital. Brimming with interesting geological formations and scenic landscapes, it is also home to the Silfra Fissure—the rift between the Eurasian and North American tectonic plates. And, if that wasn't enough, it was also steeped in history, being the site where one of the world's longest-running parliaments was formed back in 930 AD.
Stop at the Haukadalur Valley to explore the marvels of the Geysir Geothermal Area. Wafts of steam and bubbling water break up the snowy ground, and the earth has striking bold hues. Gaze in awe as the mighty Strokkur Geysir sends a powerful jet of hot water into the air; eruptions are regular, occurring around every five to ten minutes.
See the beautiful Gullfoss Waterfall, where water cascades over two levels to enter a rugged scenic gorge. In January, the surrounding rocks are clad in ice, creating an even more otherworldly vision.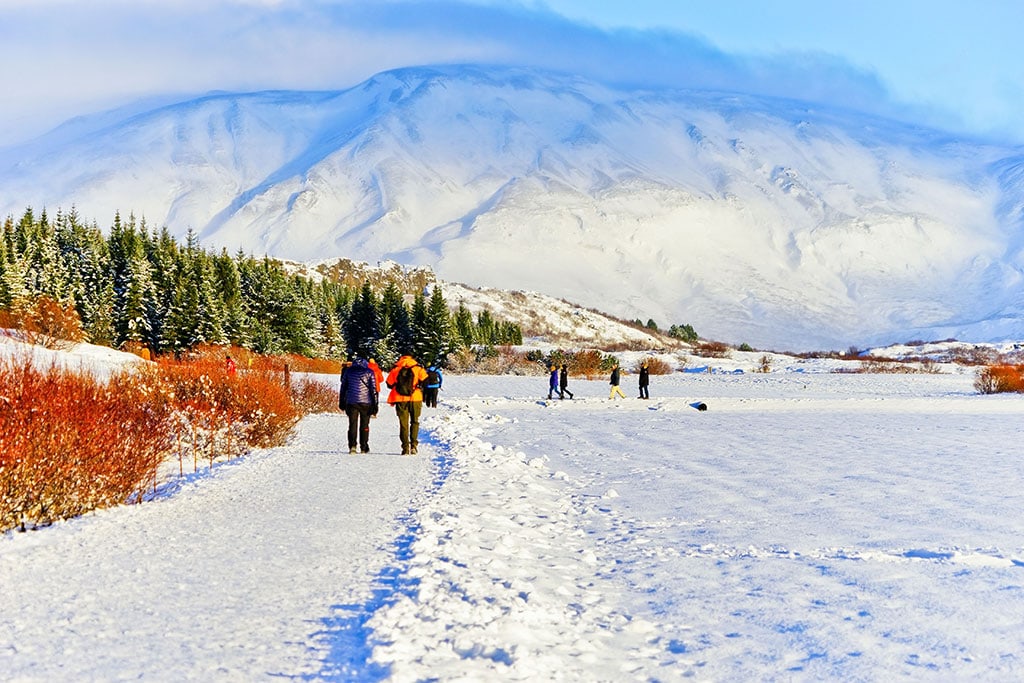 Visiting the Snaefellsnes Peninsula
Nicknamed "Iceland in Miniature" thanks to its varied landscapes and striking natural features, the Snaefellsnes Peninsula is an amazing place to visit at any time of year.
Stretching for around 90km (56 miles) along the coast, the peninsula offers plenty to see and do, including the well-known Mount Kirkjufell, which is featured in the popular series Game of Thrones. Shaped somewhat like an arrow, the unusual mountain is around a five-minute drive from Grundarfjordur village.
Another top spot is the Snaefellsjokull glacier and volcano, which is featured in the Jules Verne novel, "Journey to the Centre of the Earth". Elsewhere around the peninsula, the fishing villages at Arnarstapi, Stykkisholmur, and Hellnar are well worth visiting, as well as the seal colony at Ytri Tunga, Budahraun lava fields, the beach at Djupalonssandur, and Londrangar basalt towers.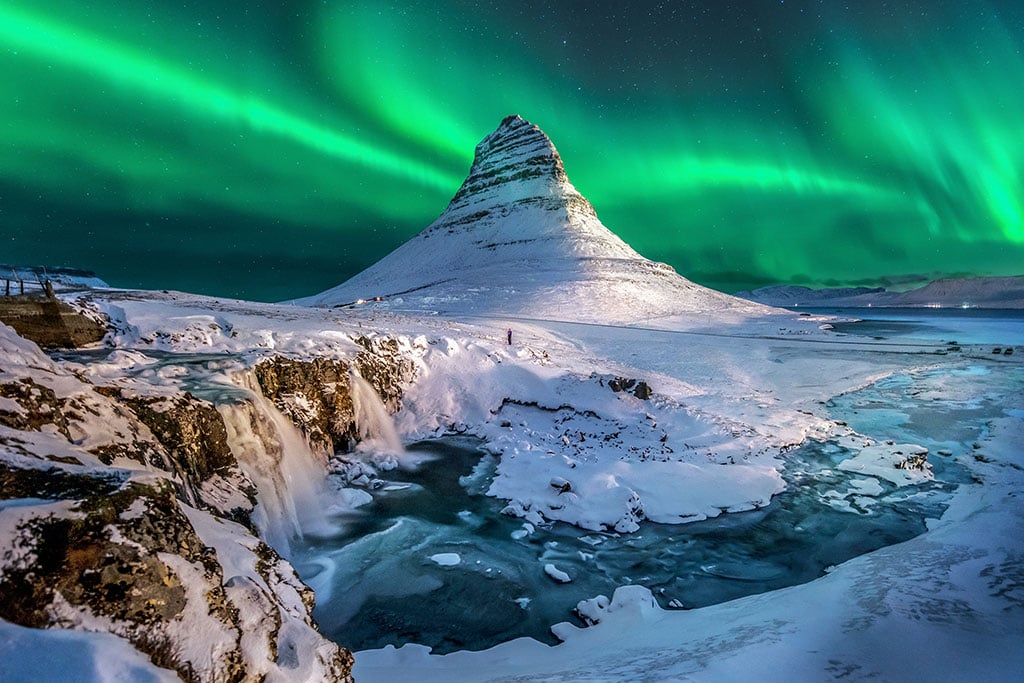 Exploring Iceland's South Cast
Traveling around the south coast between Reykjavik and Jökulsárlón Glacier Lagoon is another stunning tourist route.
In the southeast part of the country, you'll find several awe-inspiring waterfalls, dazzling glaciers, brooding black sand beaches, and a gigantic stretch of lava field. Don't miss the shimmering lagoon dotted with small icebergs too.
Most major attractions along the South Coast can be visited all throughout the year, but may be temporarily closed during the winter due to floods, road closures, bad weather, etc.
Without stopping, it takes around four and a half hours to drive from the capital city to the lagoon. They are some 372km (230 miles) apart, connected by Route 1. There are many cool places to visit along the way, including Eyjafjallajökull volcano (famous for its flight-stopping eruption in 2010), Vatnajökull National Park, the waterfalls of Seljalandsfoss and Skógafoss, the charming village of Vik, and the black sand beach at Reynishverfi.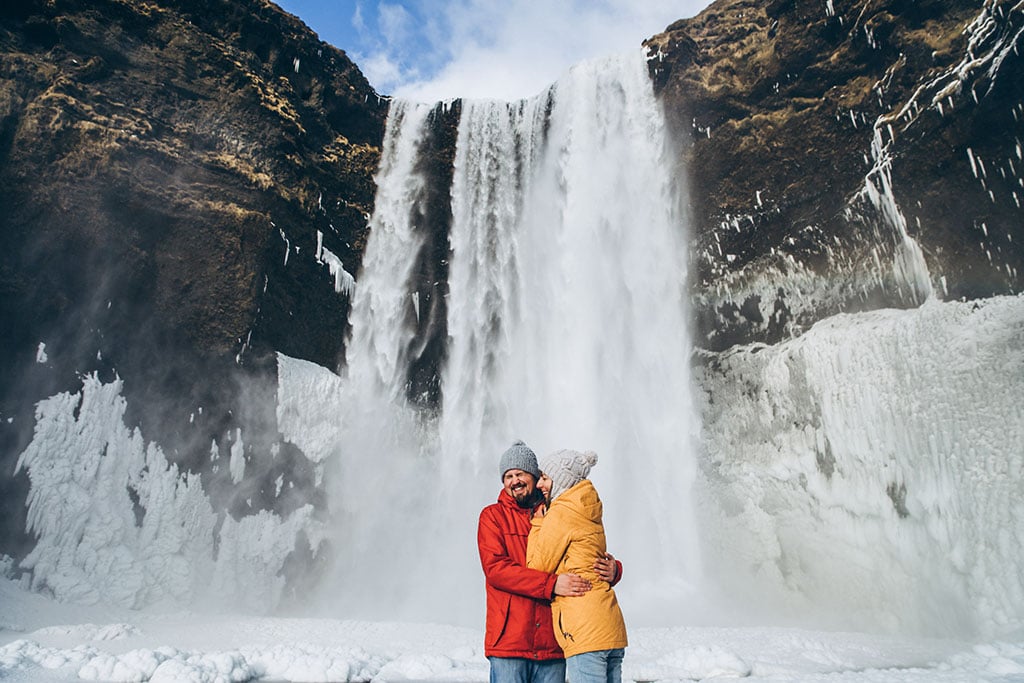 What to Wear in Iceland in January
Plenty of warm layers are essential for visiting Iceland in January. Plan your packing list accordingly!
Pack for cold weather, while keeping in mind that conditions can vary a fair amount during the winter months and between different locations around Iceland.
Be sure to pack extra warm clothing if you plan to do outdoor activities, such as ice caving, hiking or hunting for the Aurora Borealis. Crampons can come in very handy when walking through ice caves or along icy paths and streets.
It's somewhat easier to pack for a city break, as you can always pop into cafes, shops and restaurants to escape the chill outside.
This is what we recommend packing for your January trip in Iceland:
Warm winter pants
Warm winter jacket
Warm sweater (though you can always purchase one locally too)
Thermals
Hat
Scarf
Gloves
Warm socks
Waterproof hiking footwear
Bathing suit and towel
Crampons
Camera
Events in January
Iceland hosts many events all year round in various places around the nation. Although the summertime typically offers more in the way of festivals and events, there are still a few exciting cultural events to add to your calendar for a January trip.
New Year's Eve
Heralding the start of a brand new year, celebrations for New Year's Eve take place on 31st December. The country is alight with amazing firework displays, with locals putting on their own explosive shows.
Head to Hallgrimskirkja to be wowed by the colorful skies and vibrant patterns. The most active celebrations are held in Reykjavik.
Þrettándinn – January 6
Prettándinn signals the end of Iceland's Christmas season. Celebrated on the 6th of January, it is referred to as the 13th day of Christmas. The 13 Yule Lads pack up and leave the city and there are many bonfires and fireworks.
There are also strong folkloric and spiritual elements to celebrations too, with local beliefs that, on this day, the lines are blurred between the physical and supernatural worlds. There are tales of animals being able to speak and of dreams foretelling the future.
Þorrablót (late January to mid-February)
The midwinter festival of Thorrablot can trace its roots back to the times of the Vikings. The date changes each year, but it always falls somewhere in the old Norse month of Thorri (from late January to the middle of February).
It's a time when locals enjoy an abundance of traditional fare, including fermented shark, lamb heads, and the unusual delicacy of pickled ram's gonads!
Reykjavík International Games
If you love sports you should try and time your Iceland trip to coincide with the Reykjavik International Games. Held in the city's Laugardalur Park, the large event contains a variety of sporting competitions.
Pro athletes and sports people come from far and wide to compete in fields like skiing, figure skating, badminton, dancing, martial arts, powerlifting, cycling, bowling, and fencing.
Myrkir Músíkdagar (Dark Music Days)
Myrkir Músíkdagar, AKA Dark Music Days, is a contemporary music festival. Music aficionados are sure to enjoy grooving away to all the latest beats and musical trends. Held at the sleek Harpa concert hall, the cool music festival features both national and international performers.