In December, Iceland is a perfect paradise for fans of wintertime. The combination of awe-inspiring scenery, exciting activities, chilly climate, and seasonal cheer definitely make up the ingredients needed for an unforgettable vacation. If you're planning to visit Iceland in the month of December, we've put together lots of handy tips and information to make your trip absolutely amazing.
Reasons Why Iceland Is Worth Visiting in December
There are many reasons why December is a fabulous time to discover Iceland's many delights.
December is the country's darkest month, with just a few hours of daylight each day. You'd be wrong to think, though, that the darkness makes the winter bleak … there's a great chance of spotting the magnificent Northern Lights in the darker months!
With Christmas just around the corner, festive magic is found all throughout the country. The capital of Reykjavik is particularly enchanting, with an abundance of Christmas lights and decorations. There's certainly plenty of seasonal joy to experience! Many Icelanders try to make their homes bright and cheery and the first Yule Lad makes an appearance in the middle of the month. Yule Lads traverse the streets in the following 12 days leading up to Christmas Day, with young children hopefully placing their shoes in their windows, wishing for a special treat.
Come New Year, fireworks burst and bang, illuminating the skies in a riot of dazzling colors to bid farewell to the previous year and herald in the next.
Weather-wise, December is one of the best times of year to marvel at beautiful mountains topped with gleaming snow and glistening icicles hanging from ethereal waterfalls. The winter months are also the only times when you can venture into a natural ice cave in Iceland.
Despite the wintry allure, Iceland sees relatively few tourists during December. This means that those who do plan a winter vacation to the Land of Fire and Ice can explore the cities and nature without the large crowds that summer usually sees. That said, the Christmas and New Year period is popular with travelers. Hotels and flights usually increase in price and can book out fast. Make Christmas/New Year reservations as far in advance as possible, and also consider even reserving tables in restaurants to avoid disappointment.
The Weather in Iceland in December
Winter temperatures in Iceland typically hover around freezing, ranging somewhere between -1° and 4°C (34°F and 39°F). Furthermore, December is one of the wettest months in Iceland, with an average rainfall of 97 mm (3.8″).
Snow is pretty common in December, although you're unlikely to experience a thick blanket of white in the capital; Reykjavik has a higher temperature than other parts of the nation and usually only experiences heavy snow cover from time to time from January to April.
As well as being cold and wet, Iceland is also very windy throughout December. Strong, biting winds howl along the streets and around the corners.
You should make sure to pack appropriately for the winter weather conditions for a December holiday in Iceland. Always wear warm clothes in layers along with sturdy footwear. Don't forget to accessorize too—hats, scarves, gloves, and earmuffs can make a world of difference! Thermal undergarments and wind-and water-proof outer layers will also help to keep you warm, dry, and comfortable.
You can easily keep up to date with local weather conditions via the website of the Icelandic Meteorological Office. Check all your planned routes in advance too, in case of road closures, hazards, or obstructions. For example, it can be extremely dangerous and windy along the coastal stretches of Route 1, and other roads may experience avalanches. Be prepared to be flexible with your routes and plans.
| | |
| --- | --- |
| Temperatures in populated areas | -10°C to 3°C (21.2–37.4°F) |
| Average Wind Speed | 25 km/h; 6.9 m/s; 15.5 mph |
| Average Precipitation | 78.7 mm (3 in.) |
| Number of Days with Precipitation | 13.9 |
| Sunny/Cloudy Daylight Hours (%) | 8/92 |
The Weather in Iceland in December
Daylight in Iceland in December
Iceland's high altitude means that winter days see less and less light. December is the country's darkest month. The longest day in December, which falls in the middle of the month, has a maximum of five hours of sunlight. Sunrise occurs at around 11 am, with sunset taking place just a few hours later between 3 and 4 pm.
The darkness, coldness, and wetness can be pretty gloomy and disheartening. Combat the winter slump like locals and try to stick to a fixed schedule when it comes to waking up in the morning and going to bed each evening. The beautiful lights (both of Christmas and the natural Aurora) are sure to keep you in good spirits, though!
| Date | Sunrise/sunset time in Reykjavík | Daylength |
| --- | --- | --- |
| December 1. | 10:46 – 15:46 | 5 hours |
| December 15. | 11:16 – 15:29 | 4 hours 12 minutes |
| December 21. | 11:22 – 15:29 | 4 hours 7 minutes |
| December 31. | 11:20 – 15:41 | 4 hours 21 minutes |
Sunrise and sunset times in December in Reykjavík
How to Travel Around in Iceland in December
Firstly, think about your preferred mode of transportation for exploring Iceland in the winter. Guided tours and rental cars are the most popular options, but you may also wish to consider renting a car with a driver.
Hiking and cycling around Iceland in the winter are not recommended; road conditions can be dangerous and the weather can be unpredictable.
Day Tours from Reykjavík
Lots of visitors use Reykjavik as a base and discover Iceland by day trips. In the winter, this is a great way to explore the nation's beauty without needing to drive yourself. Plus, you can always return to your same cozy and comfortable accommodation every evening. You can access most of Iceland's headline attractions on day trips, with the south and west especially recommended.
We've listed some of the top day trips from Reykjavik to give you plenty of inspiration for your winter getaway.
By Car
If you dream of exploring Iceland independently, a customized self-drive holiday is a great idea. All of the necessary bookings, such as hire car and accommodations, are taken care of for you, but you can still enjoy the freedom and flexibility of driving yourself around the country. Self-drive travel is rapidly gaining popularity among tourists.
Do check road and weather conditions each day before setting off on your journey.
Our winter self-drive holidays are a terrific way to discover Iceland under your own steam.
Road and driving conditions in Iceland in December
When driving yourself around in Iceland during December, or the winter months in general, do keep in mind the shorter hours of daylight. It would be a shame for you to miscalculate and arrive at a hotspot after the sun has gone down.
Update yourself regularly with the daily weather conditions too and plan your day accordingly. It's also wise to check road.is regularly for updates on the road conditions.
You should expect all kinds of weather in Iceland over the winter. And, remember that the weather can quickly change from one second to the next. Rent a vehicle that is equipped to deal with wintry conditions; roads can be icy, snowy, and slippery, particularly outside of major urban areas.
Always stick to the speed limit—it's there for the safety of all road users—and keep plenty of space between you and other vehicles. Look ahead and always err on the side of caution.
Things to see and do in Iceland in December
Although it's cold and lots of Iceland's roads may be inaccessible, December still offers plenty of terrific things to see and do. Reykjavik is bursting with seasonal fun and entertainment in the build-up to Christmas. Additionally, there are many tours into the countryside too.
These are some of the highlights to look forward to on a December vacation to Iceland:
See the Northern Lights
Around the winter equinox, Iceland has just four hours of daylight each day. With some 20 hours of darkness, this is a terrific time to go hunting for the magical Aurora Borealis. When it's dark, there are just two other conditions necessary for spotting the lights: clear skies with no cloud cover and high levels of solar activity. When these conditions are met, there's a good chance of seeing the spectacular natural phenomenon.
In this article, you can read about how you can maximize your chances of seeing the Northern Lights when visiting Iceland.
Go on a Sightseeing Tour or a Road Trip
There are many places that offer awesome sightseeing opportunities in December, as well as at other times of the year. You can enjoy the always-popular Golden Circle route, complete with top natural sights such as Gulfoss Waterfall, Thingvellir National Park, and the geothermal wonders of Geysir. You could also experience the incredible beauty of the south coast and Jökulsárlón glacier lagoon. Furthermore, the gorgeous Reykjanes Peninsula and Snæfellsnes Peninsula are both typically accessible in December.
It's generally not possible to access the highlands unless joining a day trip to Landmannalaugar. Tours use Super Jeeps to conquer the thick snow that blankets the roads, and experienced drivers can navigate the roads even when the signposts are completely covered.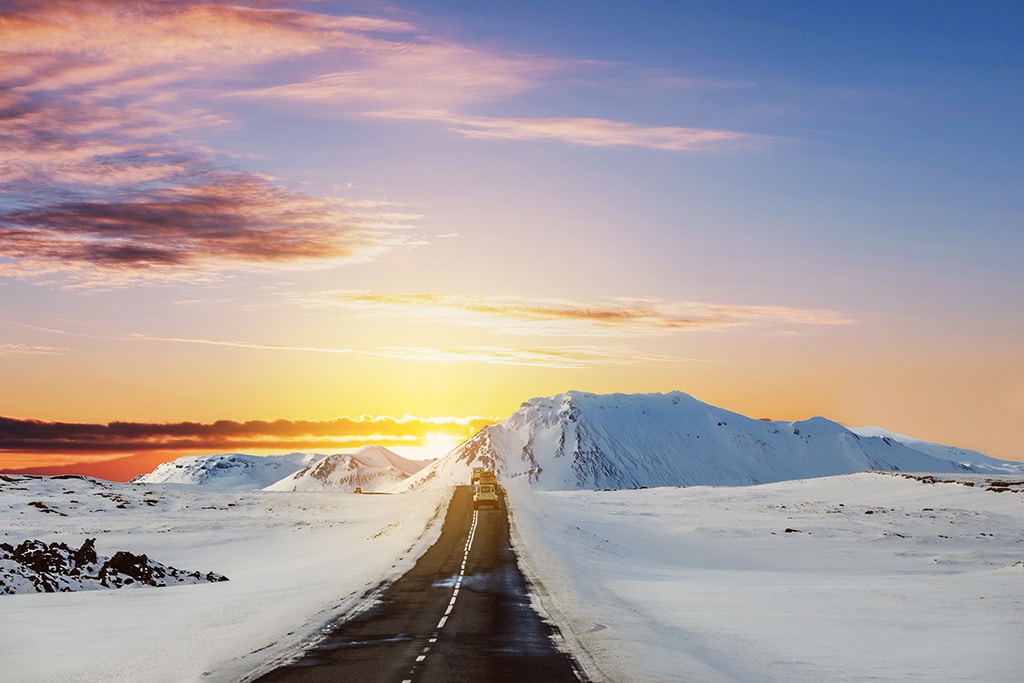 Go on a Glacier Adventure
Glacier hiking is a cool winter adventure, offering splendid vistas and a sense of achievement. Professional guides ensure safety and also provide tons of interesting information about the glaciers, such as how they were formed and how they may become extinct in the future.

It's relatively easy to hike both Sólheimajökull and Skaftafellsjökull during December. Both lie along the South Coast. Sólheimajökull is an outlet of the gigantic Mýrdalsjökull Glacier and Skaftafellsjökull is part of Skaftafell Nature Reserve. Both offer unbeatable views and lots of adventure and excitement.
Go Snowmobiling on a Glacier
Going snowmobiling on a glacier is certainly among the most exciting things you can do on any winter trip to Iceland. There are several glorious ice caps where you can feel the adrenaline rush as you whizz about at speed, all without needing to break into much of a sweat. Simply flick your wrist and you're off!
It's definitely a thrilling and unique experience, as you race across the ice with the wind whipping through your hair, the sound of the roaring motor in your ears, and the achingly scenic vistas all around you.
There are three particularly popular destinations for glacial snowmobiling in Iceland: Vatnajökull, Mýrdalsjökull, and Langjökull. If you opt to visit the latter ice cap (Langjökull) you can also combine a trip around the stunning Golden Circle sightseeing route.
Explore a Natural Ice Cave
Tunnels form under glaciers in the winter months, created by flowing water. Visitors can step inside a wondrous ice cap for a truly unique and memorable experience. Three Icelandic glaciers open up to visitors in December: Vatnajökull, Mýrdalsjökull, and at Skaftafell Nature Reserve.
Vatnajökull is the biggest glacier in all of Europe. It's an incredibly popular wintertime destination because of the many scenic splendors close to hand.
Mýrdalsjökull is the closest option to the capital. You can step inside a fascinating ice cave within the magnificent ice cap that covers Katla, one of the nation's most active volcanoes.
In the winter, Skaftafell Nature Reserve boasts striking bright blue ice, a marked change from its usual colors of white and black (from the snow and ash). It's also just a short hike to reach the marvelous glaciers once you enter the sublime nature reserve.
It's important to always remember that, as natural features, there are sometimes risks associated with exploring ice caves in Iceland. The caves usually flood after heavy rains, for example, which can change the structure and strength thus making them unsafe for visitors. You should only enter ice caves with an experienced and professional guide as part of an official tour group.
Discover a Magnificent Lava Cave
Although lava caving is possible at all times of the year, there's something extra special when visiting the stunning lava caverns in the winter. Water seeps through the porous rocks and, in the colder temperatures, freezes to create eye-catching ice formations. Frozen stalagmites and stalactites help to create a magical subterranean winter wonderland that inspires plenty of awe.
There are three lava caves in particular that are the easiest to access in December (as well as at other times of the year): Leiðarendi (on the Reykjanes Peninsula), Víðgelmir (part of the Hallmundarhraun lava field), and Raufarhólshellir (near Hveragerði). Each offers plenty of natural beauty, adventure, and amazing photo opportunities.
While lava caving is not generally dangerous, it's still important to have all necessary equipment, including a helmet, torch, and crampons. You should also be sure to dress appropriately and wear sturdy footwear. You'll also need to visit Iceland's lava caves with an experienced guide.
Go Snorkelling or Diving Between the Tectonic Plates
Although you can enjoy snorkeling and diving in many places around the planet, Iceland is the only place across the world where you can experience the wonder of water sports in the chasm between two mighty tectonic plates. It's definitely a truly unique adventure!
The Silfra Fissure is a natural gap between the Eurasian and North American continental plates. The divide is filled with fresh glacial run-off water from the Langjökull Glacier. The visibility in the clear water is amazing, and it's no surprise that underwater enthusiasts travel here from far and wide to experience the dazzling natural beauty.
You may think that the winter months would be too cold to snorkel and dive in Iceland … thankfully, though, that's not true!
As well as being filtered as it passes through the lava fields, the clear water maintains a temperature of two degrees Centigrade at all times; the water doesn't freeze until it reaches Þingvallavatn Lake.
Don your wet or drysuits, depending on your preference, get kitted out, and enjoy one of the world's most magnificent watery sites with your experienced scuba instructors. Be awe-struck by the vast underwater spaces and shimmering blue waters. Plus, you'll gain the bragging rights of having taken to the chilly Icelandic waters in the middle of winter!
Ride in a Super Jeep
Huge trucks probably aren't the first things that spring to mind when you think about Iceland. However, super jeeps, complete with gigantic tires, are becoming more and more popular in Iceland. As well as offering one of the safest ways to drive in the ice and snow, super jeeps also open up parts of the country that would be inaccessible in a regular car during the winter.
Head into the picture-perfect Icelandic countryside, visit magnificent glaciers and discover remote parts of the sublime Icelandic Highlands.
While you can rent a super jeep for a self-drive tour, many people find the thought of handling such a beast rather off-putting. If you fall into this camp, don't worry! There's no need to miss out; you can join an organized tour to a variety of destinations, with expert drivers and guides.
Recommended Things to Do in Reykjavík in December
Wander around a Christmas Market
There are plenty of Christmas markets around Iceland during December to put you right in the festive spirit. Just outside of Reykjavik, the yearly Christmas market at Heidmork Nature Reserve is a terrific way to immerse yourself in the local culture and get a glimpse of Christmas Icelandic style. The wooded location helps to set the scene, and you may even see the Icelandic Yule Lads dancing around the Christmas tree. Stalls boast an array of festive offerings, from locally made handicrafts, decorations, and unique gifts to delicious food and traditional clothing. Pop into the cafe for a bit to eat and enjoy the jovial live music.
Visit a Cozy Café
Reykjavik is home to many cool cafes, perfect for taking a rest at any time of year. The cafes are, however, particularly enticing in December, providing an opportunity for people to come inside out of the cold and relax with a steaming warm beverage and maybe even a sweet treat. You won't find any large chain cafes in the capital; rather, you'll find a host of charming locally run establishments offering a warm Icelandic welcome. Could there be a better way to casually hang out with friends? Check out our list of the top cozy cafes in Reykjavik to help you choose which one(s) to add to your wish list.
Enjoy a Concert
Iceland is home to many incredible musicians. In December, many put on hugely popular concerts and shows. Join the locals for a lively evening out and experience music the Icelandic way. You'll find performances in every type of venue, from concert halls to local pubs. If choral performances are more up your street look out for the many choir concerts for plenty of Christmassy vibes.
Walk around Downtown Reykjavik Searching for the Yule Lads
The curious Yule Lads are among Iceland's coolest Christmas traditions. There are 13 folkloric Yule Lads in total. The creatures come from local mythology, said to come down from the mountains each December to commemorate Advent. It's said that they visit one by one over the last 13 nights before Christmas. Youngsters are especially excited by their arrival, as they are believed to leave small gifts inside shoes that kids place hopefully on their window ledges.
Since 2010 the capital city has celebrated the nation's storytelling traditions by including the Yule Lads among the city's festive decor. Dress up warm and set out for a wander around the city center to spot the 13 holographic figures spread throughout the streets. They're often hidden in plain sight, adorning buildings and windows.
Go Shopping in Reykjavik
Reykjavik is the top place in Iceland for shopping all year round, and you'll find plenty of terrific gifts and souvenirs to take home for yourself and your loved ones. From clothing and local handicrafts to nicknacks and edible goodies, the shops are sure to tempt you in out of the cold for some retail therapy. Even window shopping is a joy in December, as many stores feature colorful Christmas decorations in their windows. As an even bigger incentive to shop till you drop, the opening hours are even longer during December!
Experience Thorlaksmessa
Thorlaksmessa, or Saint Thorlak's Day, falls on the 23rd of December each year. St. Thorlakur was both a revered bishop and an archivist, who looked after important Icelandic Christian texts. Canonized in 1984, locals celebrate the late bishop with merriment. Now an important part of the local festive traditions, it's common for families and friends to meet up for a meal. Many also make the most of the cold conditions and go skating. The 23rd is also the final day of Christmas preparations, so it's normal to see people downtown doing their last few bits of Christmas shopping, and meeting friends for pre-Christmas drinks and revelry.
Eat Fermented Skate
Across the globe, eating plays a big part of Christmas celebrations. And Iceland is no exception. Traditionally, Icelanders feast on kæst skata, or rotten stingray. Don't let the name put you off though; it truly is tasty, albeit unusual!
After rotting and fermenting, the skate has a strong smell that's rather like ammonia. The odor clings to everything, even your hair and clothing. But, you should definitely dine like a local if you get the opportunity!
The tradition started many years ago, rooted in the fact that locals needed some way to preserve ingredients. Nowadays it's still a time-honored custom to dine on skate while indulging in shots of snaps, AKA black death vodka. The rotten fish is typically dished up with potatoes, rye bread, and butter.
Take a Dip in a Swimming Pool
It might sound a bit counterproductive, but one of the best ways to warm up on a chilly December day in Iceland is to plunge into one of the nation's swimming pools.
You'll find both indoor and outdoor pools, though all are pleasantly heated to warm your bones as soon as you enter the soothing water. Most pools also have a sauna and a hot tub for even more warming bliss. In fact, Icelandic pools are more akin to a luxurious spa than what you probably think of when you imagine a communal swimming facility.
If you want to spend time in nature, check out the delightful geothermal waters near Reykjavik Beach. Alternatively, if you simply want to soothe your feet, the small foot bath of Kvika, near Grotta Lighthouse, is perfect.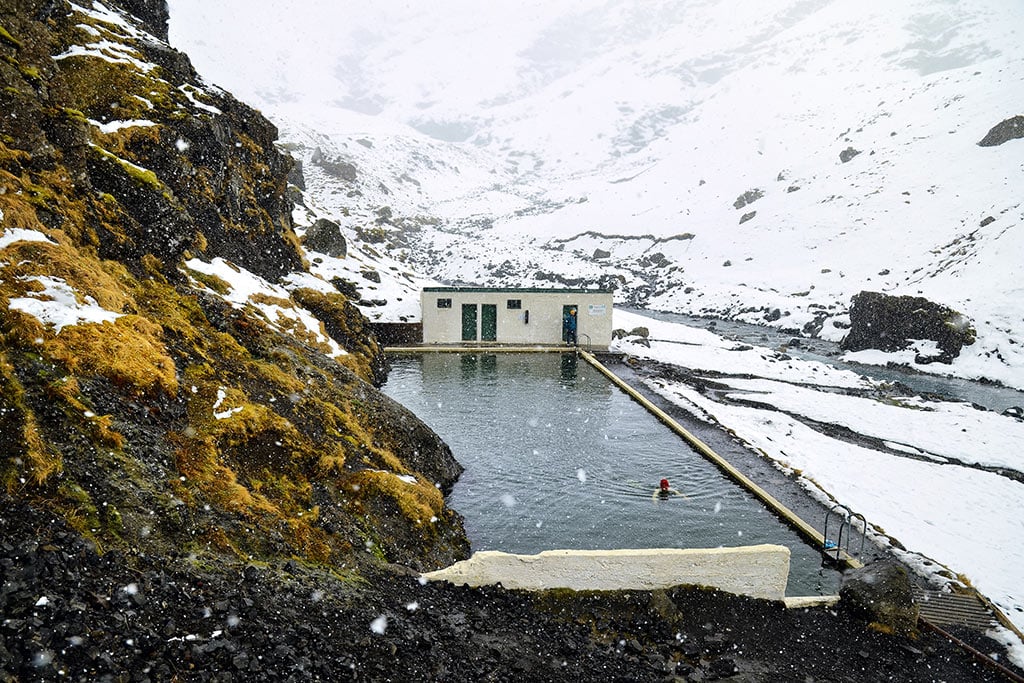 Go Ice-skating
Reykjavik's ice skating rink is one of the city's most popular December attractions, drawing many locals and visitors alike. Located at Ingolfstorg Square in the city center, each winter the area is transformed into an amazing wintry wonderland, with twinkling lights and festive decorations. Strap on your skates and have some fun!
What to Pack for a December Holiday in Iceland
When planning your packing list for a December vacation in Iceland, there's one main thing to remember: layers! And, warm layers at that. Of course, you need to plan for cold conditions. But keep in mind also that the conditions can vary quite a lot in December. You can also encounter different weather in different locations. Be prepared! While roaming around the city is easy to deal with (you can always step inside shops and cafes to warm up), you'll need to pack extra warm clothes if you're planning to enjoy outdoor activities, such as hunting for the Northern Lights, glacier hiking, or ice caving. Crampons are also really useful for walking along ice-covered roads and streets, as well as when exploring ice caves.
This is what we recommend packing for your December getaway in Iceland:
Warm winter pants
Warm winter jacket
Warm sweater (though you can always purchase one locally too)
Thermals
Hat
Scarf
Gloves
Warm socks
Waterproof hiking footwear
Bathing suit and towel
Crampons
Camera (essential!)
You may also want to bring a spare pair of shoes to leave in your window in case the Yule Lads come calling!
Events and Festivals in Iceland in December
It's no secret that Icelanders love a good celebration; there are cool events almost every month of the year! December's line-up is, however, exceptional, with the run-up to Christmas seeing even more celebrations and festive events, many steeped in rich traditions and culture.
Here are some of the best festivals and events to experience during December in Iceland:
Heiðmörk Christmas Market
Located just a 20-minute drive from the heart of the capital, Heiðmörk hosts a fabulous Christmas market each year. Set in a woodland area, the market opens each weekend from the 25th of November up until Christmas. As well as a great selection of goods to browse and buy, the market also boasts live music, food and drink, festive decor, and plenty of seasonal cheer. Many people come here to buy their Christmas tree, and you'll likely also spot the 13 Yule Lads. A great place to enjoy fine Icelandic Christmas customs, younger guests are often particularly enthralled by the Christmas stories. If you're there around 2pm you'll see a small bonfire too.
Yule Town at Ingólfstorg Square in Downtown Reykjavík
Situated in the heart of the city, the star of Yule Town is definitely the lively ice skating rink. You can hire ice skates for a glide across the ice and the ambiance is super festive, thanks to Christmas music and seasonal decor. Open between the middle of December up until Christmas, Yule Town also features a terrific Christmas market, complete with handicrafts, trinkets, decorations, and delicious food.
Christmas Village in Hafnarfjörður
The quaint Christmas market at Hafnarfjörður (a charming port town south of Reykjavik) features a market each weekend during the month before Christmas. A Christmas tree stands proudly, decked out with colorful lights, and you can pay a visit to Santa Claus and his helpful elves. The cute Christmas houses are often a hit too. Of course, you can also pick up an array of awesome Christmas goods, arts, and crafts.
The Children's Christmas Workshop
A great idea for people visiting Iceland with kids, the Children's Christmas Workshop is held at Reykjavík City Hall between early December and early January. Youngsters typically love exploring the enchanting Christmas Cave, and the whole family can have fun making their own unique Christmas decorations.
Jólakrás Street Food Christmas Market
Sample the finest Icelandic Christmas fare at Jólakrás Street Food Christmas Market, held over the last weekend before Christmas. The opening hours are from 1pm to 7pm and the market takes place at Fótgetagarðurinn (by Aðalstræti) right in the center of Reykjavík. A great place for a festive lunch or dinner, as well as to soak up the atmosphere, many of Reykjavik's best restaurants collaborate to offer fabulous fine-dining street food with both plenty of traditional favorites and mouth-watering signature dishes.
Yule Lads Bath at Myvatn Nature Baths
It's said that the 13 Icelandic Yule Lads only bathe one time a year, and the chosen spot for the annual dip is Mývatn Nature Baths in the north of the nation. You can join them for fun in the water, although don't be surprised if the Christmas characters appear to be a bit irritable; they dislike water! Local vendors also attend, laden with hand-made crafts and other goods. The Yule bath takes place two weeks before Christmas at around 5pm.
Christmas Eve
In common with almost every other Christian country, Iceland celebrates Christmas Eve. Typically shops and other businesses close at around midday so that people can get together with their families to swap gifts and enjoy tasty food. The official start of Christmas is heralded by the sound of bells ringing throughout the city's churches, including the striking Hallgrímskirkja.
Jólabókaflóð is a long-time Christmas Eve tradition in Iceland. The name translates as Christmas Book Flood. It's customary for people to gift books to their nearest and dearest to read on the night before Christmas. The tradition stems back to World War II, when there were many restrictions on importing foreign goods. While the paper was inexpensive in Iceland, the relatively small population meant it wasn't feasible to maintain a publishing industry all year round. The lack of other Christmas gifts led to local publishers printing many books in the run-up to Christmas; they flooded the market!
Christmas Day
Christmas Day is a big affair in Iceland, with influences both from Christianity and age-old folklore. An ancient legend provides that any Icelander who doesn't receive a new garment of clothing for Christmas will be eaten by the gigantic black Christmas Cat! Although today taken mostly in jest, it's still common for most Icelandic people to get at least a few new clothes at Christmas.
When it comes to mealtimes, popular festive dishes include rjúpa (rock ptarmigan) and hamborgarhryggur (glazed rack of ham). While hangikjöt (smoked lamb) has been the usual Christmas meat for hundreds of years, roast turkey is also becoming popular in modern times.
With more tourists visiting Iceland over Christmas, it's becoming more common for hotel restaurants to remain open. However, other amenities and services, such as museums, public transportation, shops, swimming pools, and attractions, are generally closed.
Boxing Day
Boxing Day, or the day after Christmas, is another big holiday. People typically spend the day with family and rest after all the Christmas excitement. Some people, though, have to return to work, and there are more public services available than on Christmas Day itself.
New Year's Eve
There are many firework displays around Iceland, particularly in the capital, for New Year's Eve. They aren't funded by the city; rather, locals organize the fabulous displays themselves. Locals buy fireworks from ICE-SAR, the national Search and Rescue Team, which sells the fireworks to help raise important funds.
There are many spots around the city from where you can get great views of the displays, with Hallgrímskirkja being one of the best. Local firework displays usually start at around 10.30 pm, continuing up until the clock strikes 12.
Don't plan on seeing the Northern Lights for New Year when in the capital; the combination of smoke and bright flashes from the fireworks renders them almost invisible.
New Year's Eve Run
The final day of the year is marked with the yearly New Year's Eve 10K Run, which is a great way to run off some Christmas indulgences and get the blood pumping in preparation for the nighttime celebrations. Some runners don fun costumes, with some bordering on the outlandish. Frilly tu-tus, Santa outfits, cartoon characters, superheroes, and retro disco gear are just a few examples. It's certainly a sight to behold as they run along Iceland's dramatic roads!