Despite the lingering winter chill and long hours of darkness, February is an exciting month in Iceland. It's a time when Iceland starts to look forward to longer days and the coming of spring. It's almost a time of reawakenings and transformations when the country starts to spring back into life after the cold dark winter.
Tourists can enjoy the beautiful snowy scenes and landscapes that resemble winter wonderlands with relatively small crowds. February can be an exciting time to visit the Land of Fire and Ice.
Although the temperatures are still cold in February, careful packing means that you can have a terrific time discovering the best of Iceland. You can always take a warming dip in the many naturally heated pools and hot tubs, not to mention the plentiful cozy cafes that beckon people inside out of the cold.
This handy guide will take you through everything you need to know for a fantastic time in Iceland in February.  
The Weather in Iceland in February
Iceland's weather in February is known for being highly unreliable and unpredictable. You'll likely experience rain, wind, and snow during a February trip.
Throughout February, the average temperature in Reykjavik is 33.8 F (1 C). February is also one of the wettest months in Iceland, with an average rainfall of 3.3 inches (83 millimeters).
Nights are long and dark, and there are still limited hours of daylight during February. Each day, however, gains an extra nine minutes of light. So, for a week-long trip, you'll have just over an hour's extra sunlight on your last day as compared with your first.
The dark nights are ideal for spotting the amazing Northern Lights. On crisp clear nights, dress up warm and head outside to gaze at the skies.
| | |
| --- | --- |
| Typical Temperatures in Populated Areas: | -10 to 3°C (21.2–37.4°F) |
| Average Wind Speed: | 25 km/h; 6.9 m/s; 15.5 mph |
| Average Precipitation: | 71.8 mm (2.8 in.) |
| Number of Days with Precipitation: | 12.5 |
| Sunny/Cloudy Daylight Hours (%): | 25/75 |
| Length of Daylight in Reykjavík: | 7–10 hours |
Driving and Road Conditions
The roads in Iceland are generally maintained well, but driving conditions over the winter months can still be dangerous. Ice, snow, heavy rains, and strong winds are among the road hazards, along with long hours of darkness that make it more difficult to see when driving.
Four-wheel-drive vehicles are highly recommended for winter driving in Iceland. Further, it's important that visitors only rent a car if they already have experience of driving in difficult conditions along countryside roads.
While you can't get cars with chains on the wheels, rental cars will come with winter tires. Many rental companies also offer studded tires, which provide better traction and grip on the roads.
February is a quiet month in terms of tourism. This is great if you want to explore major sites in relative peace and quiet. It does mean, however, that if you have an accident or experience car problems in the countryside that you will likely have a substantial wait until somebody spots you. You could potentially end up stranded in rural areas for hours, or even days. It's important, therefore, to make sure you always carry adequate supplies in your vehicle, such as drinking water, food, blankets, and a mobile phone with a full charge.
You might also wish to register your travel plans so that you can be found with relative ease in the case of something happening.
Always check the road and weather conditions before setting out on any journey and, if necessary, be prepared to adapt your route or postpone your plans. Check each morning, even if staying in the same area; some places can experience changes pretty quickly overnight, for example, avalanches.
Watch where you park; if you get stuck in snow most tow companies charge a substantial fee to pull you out. And, these costs typically are not covered by insurance policies.
Never attempt to drive along a closed stretch of road, don't cross cordons, and never take your vehicle off-road. While dangerous in the summer months, not to mention illegal with the possibility of hefty fines, doing so in the winter is incredibly dangerous. It may even lead to fatalities.
Many roads through the Highlands and Westfjords are closed over the winter months. Roads that are classed as "F-roads" are only open over the summer, when conditions make them safer for drivers.
Best Things to See and Do in Iceland in February
As long as you're prepared for the cold, you'll find plenty of awesome things to do and see in Iceland in February. Furthermore, some activities are only possible in the wintertime, meaning this could be your last opportunity to enjoy things like ice caving before the spring thaw. Winter is also the best time to spot the incredible Northern Lights. Some activities, such as snorkeling in Silfra and bathing in natural hot springs, are made all the more amazing in the ice and snow.
While many inner parts of Iceland and the rugged Westfjords are not accessible over winter, there are still numerous hot spots open to visitors. It is also possible to still complete a full loop around the Ring Road, both as part of a tour group or on your own in a rental car.
The wealth of stunning natural sites that beckon February visitors definitely won't disappoint. Here are some top recommendations to add to your list for a February trip to Iceland:
Watching the Northern Lights
Between September and April, approximately, there's a good chance of seeing the awe-inspiring Northern Lights dancing across the dark skies. On a clear February night, therefore, you may be lucky and witness one of Mother Nature's most spectacular performances.
It's important to keep in mind that nature is unpredictable; you might not always spot the lights, even when all of the conditions seem to be strongly in your favor. Try and plan for at least a few nights to hunt for the lights to increase your chances of success. And definitely don't blame your guide (if using one) if the lights don't materialize–they cannot control nature!
There are two ways that you can go out looking for the Aurora Borealis: independently and with a guide.
If you have a rental vehicle and enjoy exploring on your own timescale, track the lights' visibility and strength and drive out into the country to watch the skies. Make sure there are no natural features, such as mountains, that could obscure your views.
As part of a guided tour, you'll be taken to places where there's a high chance of spotting this natural phenomenon. Guides check the forecasts in advance, meaning all the work is done for you. If you don't spot the lights, many companies offer a second night's attempt for free. Also, guides don't want to waste their time on a fruitless mission, so tours generally only head out when there's a decent chance of seeing the lights.
Soaking in Geothermal Pools and Hot Tubs
Iceland's awesome hot pools and hot tubs are inviting all throughout the year, but the chilly February conditions make them that much more appealing. Plus, there's something really special about slipping into deliciously warm waters while gazing upon surrounding snowy and icy landscapes.
You'll find a public swimming pool complex in each town around Iceland, almost all of which have a hot tub as well as an outdoor heated pool. Larger complexes, particularly those in the capital, may have several hot tubs at varying temperatures to choose between.
There are also hot pots around the country, heated by natural geothermal energy. Most are in spectacular natural surroundings and some are fairly remote. Many are free to enjoy.
Alternatively, there are a number of larger lagoons around Iceland, most of which are set up for tourist visits. The Blue Lagoon just outside Reykjavik is perhaps the most famous, with bathing and a spa in lunar-like surroundings. In the north, Myvatn Nature Baths offer a similar experience, while elsewhere around the nation you can take a dip in Kopavogur's Sky Lagoon Spa and the somewhat hidden Secret Lagoon. Although you'll need to pay to experience the lagoons, the facilities and experience make the cost more than worth it for a once-in-a-lifetime unique activity.
Ice Caving
With an abundance of glaciers, it's little surprise that Iceland also boasts some marvelous ice caves. Formed in the summer, when melting ice causes glacial rivers that carve through the interior of the glaciers, it's possible to enter the caves in the winter months. This is when the caves are frozen solid enough to pose fewer risks. The structure is also more stable.
Dazzling hues of icy blue surround you as you walk inside an actual glacier to explore natural ice caves. It's definitely among the most unique experiences available during a winter visit to Iceland.
Iceland's ice cave season typically runs from November to March, making February a great time to enjoy the natural wintry splendor. One ice cave is open all year round, conditions permitting. Located near Katla Volcano, this particular ice cave doesn't boast the same vibrant blue shades as others, but it's still very impressive.
For safety reasons, it's only possible to enjoy an ice cave as part of an organized tour and with an official guide. Some tours also include other majestic natural sites, such as Skaftafell Nature Reserve and the Jökulsárlón glacier lagoon.
Snowmobiling on a Glacier
As you would probably imagine, winter activities, such as snowmobiling, are heaps of fun in February. The excitement of whizzing through the gorgeous natural surroundings on a high-speed vehicle is unbeatable.
There are several amazing ice caps to explore by snowmobile and, even better, you get to marvel at natural beauty without needing any physical exertion. Simply turn the accelerator and soar across an ice cap.
The most popular destinations for snowmobiling in Iceland are the ice caps of Vatnajökull, Mýrdalsjökull, and Langjökull. Snowmobiling tours to the latter often include sightseeing at popular attractions around the Golden Circle too.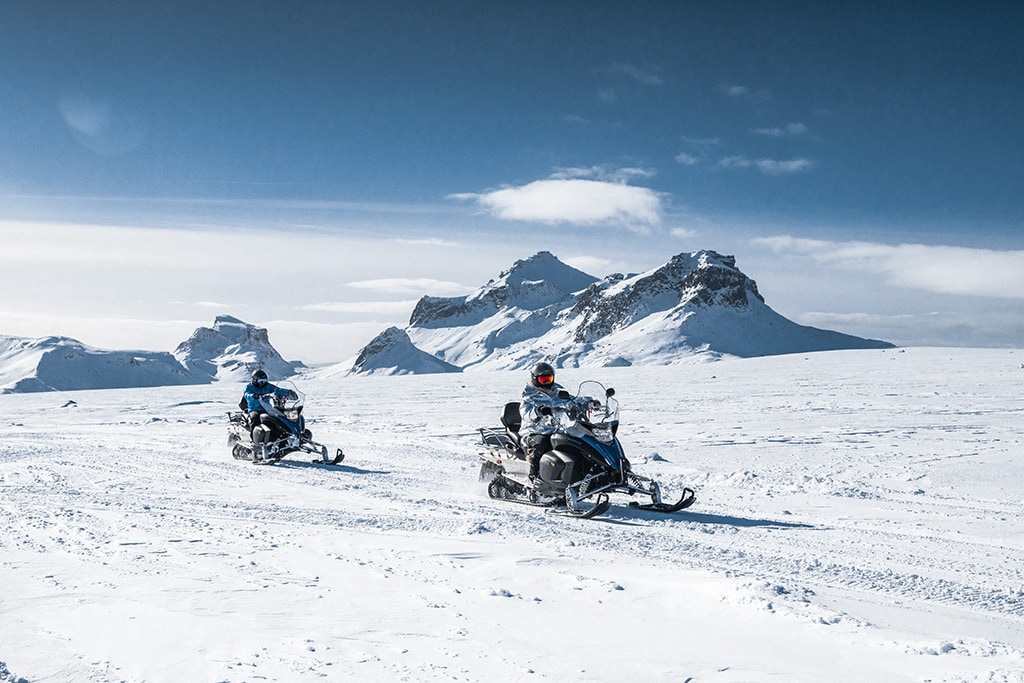 Glacier Hiking
It's possible to hike on an Icelandic glacier at all times of the year, but February offers an especially breath-taking adventure. Ice covers the glaciers, shimmering and sparkling in the sunlight. That's not all, though; the ice is electric blue in color! Ice caves stretch through some of the glaciers too, adding to the wonder.
There are two main glaciers where you can enjoy hiking in February–Solheimajokull Glacier and Svinafellsjokull Glacier–both of which are located in the south of the country. Hike with an experienced local guide and discover lots of interesting facts about Iceland's fascinating geology too.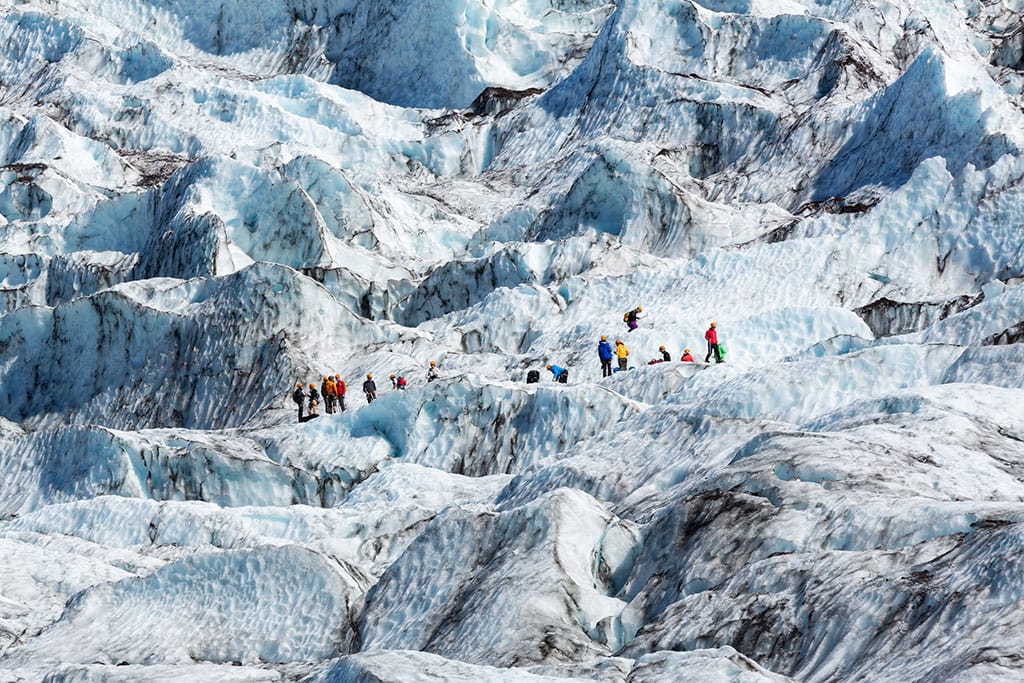 Lava Caving
Lava caving is another cool year-round activity that takes on more special appeal in February. Over the winter the unusual caves are filled with striking icicles and natural ice formations.
Throughout the year, water slowly drips through the porous lava rocks. When the temperatures drop over the winter, this water freezes, creating magical mini stalactites. Similarly, trickles that make it to the ground also freeze, creating enchanting shapes from ice. The glittering effect of the ice certainly makes for amazing photo opportunities.
You'll be provided with a helmet and crampons for your tour, though you should be confident walking on slippery uneven ground.
Leidarendi lava cave offers the ultimate thrill, with small spaces that you need to scramble through and, after heavy snow, a narrow entrance chute.
Alternatively, the lava caves at Raufarholshellir and Vidgelmir offer easier February explorations, with wide-open spaces that have clearly defined walkways from where to soak up the sights. You won't need to climb or crawl, and they are recommended for visitors who want to experience a lava cave but aren't comfortable walking across ice.
Snorkeling and Diving between Continents
While water sports in February, in Iceland, may sound ridiculous, drysuits keep you warm and dry enough for a comfortable adventure in the water.
Located in the famous Thingvellir National Park, snorkeling and diving adventures take place at the Silfra gap, a naturally formed chasm that rips down between the Eurasian and North American tectonic plates.
Accessible all year round, Silfra is often named as one of the top ten places across the world for diving. Sparkling clear spring water fills the rift, and visibility stretches for more than 100 meters (330 feet). Observe awesome underwater geology and gain A+ bragging rights by swimming between two tectonic plates, in the winter nonetheless.
During February, the surrounding terrain is blanketed in snow and ice, enhancing an already amazing experience.
Note: Snorkelling is possible for anyone, physical conditions allowing, but people can only dive at Silfra if they are qualified drysuit divers or have completed ten official drysuit dives in the preceding 24 months.
Exploring the Golden Circle
The Golden Circle is the most visited and most popular tourist route in Iceland. There are three major places of interest, namely the crashing Gulfoss Waterfall, the spectacular Geysir Geothermal Area, and the UNESCO-listed Thingvellir National Park. These places are famous for good reason! Each offers a world of wonder and raw natural beauty.
No matter what time of year you visit Iceland, the Golden Circle should be on your bucket list.
In February, the rugged rocks around Gullfoss Waterfall are covered with frosty shards that glint next to the cascading water. Keep your fingers crossed for a rainbow to make your visit even more magical.
In contrast, you'll find little snow and ice at Geysir Geothermal Area; the underground heat prevents the ground from freezing. Stroll across the multi-colored earth, making sure to stick to marked paths, and watch billows of steam and bubbling pools. The area's most amazing spectacle, however, is Strokkur, a reliable geyser that erupts every few minutes. Hot water spurts high into the air–get your camera ready! According to local legends, the geyser has been erupting for more than 10,000 years, so it's definitely a strong feature of Icelandic history.
As the only UNESCO World Heritage Site in Iceland, Thingvellir National Park holds much significance for locals and tourists alike. It's not only important in terms of nature, geography, and geology, but also in terms of culture, history, and heritage. Visit the spot where Iceland gained independence from Denmark back in 1944 and see where the early Icelandic parliament met in times long gone by. The national park is beautiful at all times of year but is especially stunning when covered in a fluffy layer of snow. You will also notice that several features, including Oxarafoss Waterfall, are partly frozen too.
Visiting the South Coast
The South Coast is, after the Golden Circle route, one of the most-visited places in Iceland, thanks to its rich diversity of landscapes and natural attractions. Popular places are accessible all year round, including in February.
Explore the wonder-filled Skaftafell Nature Reserve and marvel at Jokulsarlon Glacier Lagoon. Feast your eyes on the waterfalls of Seljalandsfoss and Skogafoss and admire the dazzling glaciers of Solheimajokull and Vatnajokull. The area is home to the well-known volcano of Eyjafjallajokull, which famously brought European air travel to a standstill in 2010, as well as other mighty volcanoes, such as Katla and Hekla. A wrecked U.S. naval plane lies abandoned at Solheimasandur and the black sandy shores of Reynisfjara Beach take on an ethereal beauty in the winter.
Do take extra care when visiting the wild Reynisfjara Beach. The powerful waves can appear without warning and carry people out to sea, sometimes fatally. Always pay attention to warning signs and keep a safe distance away from the sea.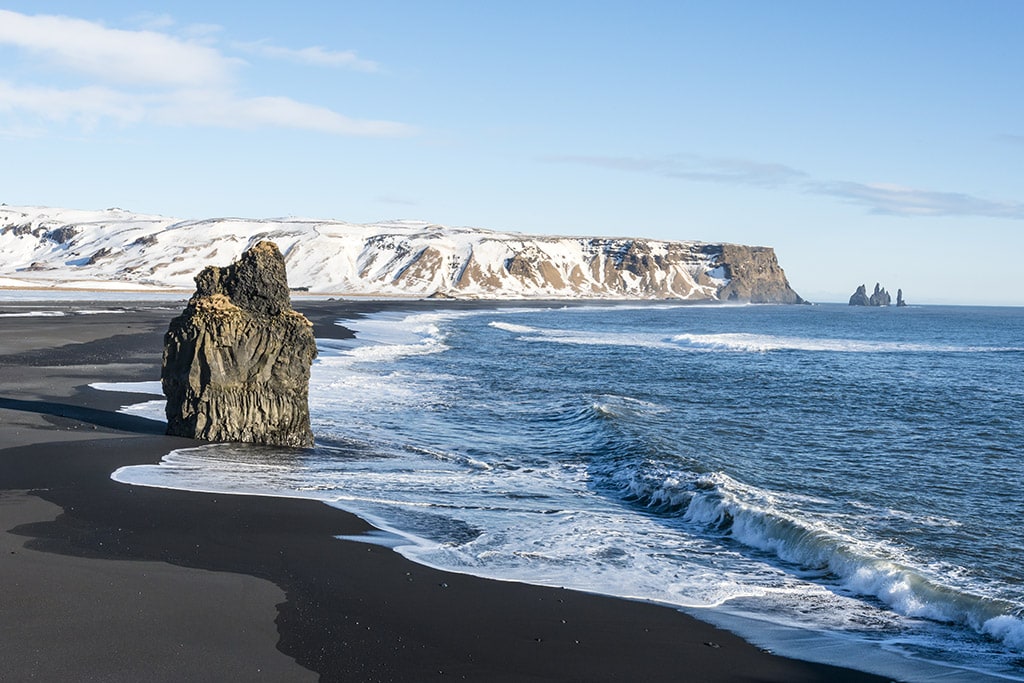 Exploring the Snaefellsnes Peninsula
Often referred to as "Iceland in Miniature", the stunning Snaefellsnes Peninsula is home to awe-inspiring natural attractions and diverse landscapes. Running for approximately 56 miles (90 kilometers) along the coast, the peninsula certainly packs a punch when it comes to exciting things to see and do
Snaefellsjokull National Park featured in the famous 1870s novel "Journey to the Centre of the Earth", by French writer Jules Verne. Boasting a glacier and volcano, the park is a prime spot for photography and hiking. See the stone towers of Lóndrangar, which featured in "Game of Thrones", admire the usual Budirkirkja Church, and, conditions permitting, climb the windy path around Saxhóll Crater.
Fans of "Game of Thrones" shouldn't miss seeing the unusual arrow-shaped Mount Kirkjufell, just a short drive from the village of Grundarfjordur. Animal lovers are sure to be delighted at Ytri Tunga, home to a colony of seals. Other top spots around the peninsula include Djupalonssandur Beach, Budahraun lava fields, Okelda Mineral Spring, and quaint fishing villages such as Hellnar, Stykkisholmur, and Arnarstapi.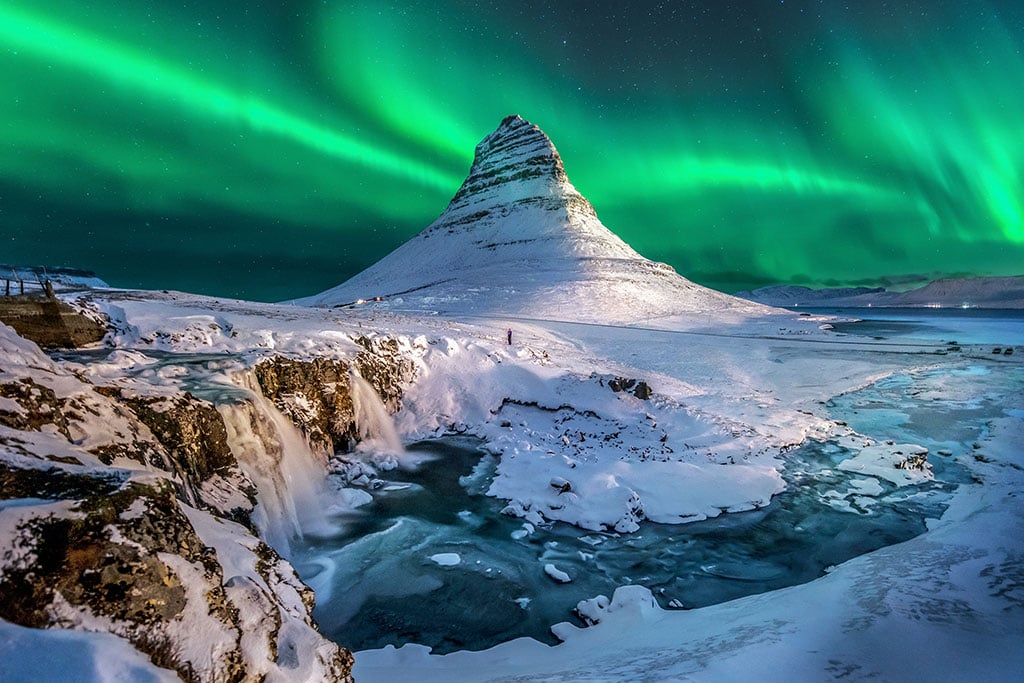 Whale Watching
Available from Reykjavik all throughout the year, joining a whale-watching trip in February offers the chance to glimpse majestic aquatic life in its natural habitat. The waters around the island are home to more than 20 species of marine mammals, with many creatures remaining in Icelandic waters during the winter months.
Keep your eyes peeled for orcas, beaked whales, and pilot whales, as well as the commonly spotted playful white-beaked dolphins. You may also spot minke whales; some remain behind and don't migrate, and migrants return in February. Harbor porpoises are resident year-round, though they can be rather elusive and difficult to spot.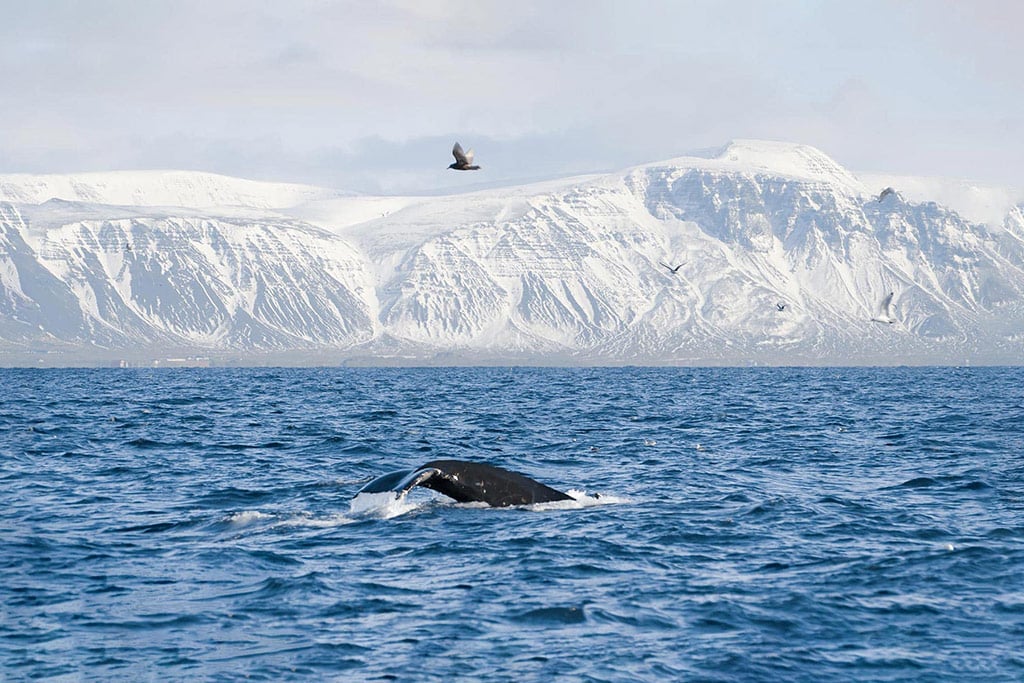 What to Wear in Iceland in February
As you would expect, when traveling to Iceland in February, you should take plenty of warm clothes with you. Plan your packing list accordingly!
Be sure to pack extra warm clothing if you plan to do outdoor activities, such as ice carving, hiking, or hunting for the Aurora Borealis. Crampons can come in very handy when walking through ice caves or along icy paths and streets.
It's somewhat easier to pack for a city break, as you can always pop into cafes, shops, and restaurants to escape the chill outside.
This is what we recommend packing for your January trip in Iceland:
Warm winter pants
Warm winter jacket
Warm sweater (though you can always purchase one locally too)
Thermals
Hat
Scarf
Gloves
Warm socks
Waterproof hiking footwear
Bathing suit and towel
Crampons
Camera
Events and Festivities in Iceland in February
The Winter Lights Festival
The Winter Lights Festival is a fun February festivity in Reykjavik, lasting for three days and loved by locals and visitors alike. It's a time for people to revel in the pleasures of winter as well as celebrate the coming of longer days. Many buildings around the capital are illuminated, including Harpa Concert Hall and the attractive Hallgrímskirkja Church, and you can follow the Winter Lights Walking Path for bursts of sparkling color and enchanting light displays. There are plenty of cultural events to enjoy too, such as Museum Night and Pool Night.
Rainbow Reykjavík
Although the main pride celebrations in Reykjavik are held in August, there's also a smaller pride event near the start of the year. Rainbow Reykjavik falls in either February or March and offers a more intimate and low-key way to celebrate and stand in solidarity with members of the LGBT community. In countryside areas, people enjoy the Northern Lights and wintry landscapes, while in the capital, events like the Pink Masquerade Ball and the welcome party are lively, vibrant and heaps of fun.
Bolludagur
Falling six weeks before Easter, Bolludagur is the country's "bun day". People dine on an array of round foods, such as meatballs, fish balls, and, of course, buns. Filled with lashings of cream, buns are available in many restaurants, cafes, and bakeries, with a huge variety of colors, sizes, and flavors.
Sprengidagur
Sprengidagur is the day following Bolludagur. Traditionally a day of feasting before the fasting season of Lent, it is rather like the local equivalent of Mardi Gras or Shrove Tuesday. Today, people sink their teeth into an abundance of rich foods, though you can still enjoy a hearty bowl of the traditional lentil soup, complete with vegetables and salted meat.
Öskudagur
Celebrated 40 days before Easter, Öskudagur is the day after Sprengidagur. Iceland's equivalent of Ash Wednesday, it shares some similarities with Halloween, inasmuch as kids don costumes and receive candy when they sing songs for people. Unlike Halloween, however, costumes, while inventive and wacky, don't have a ghoulish theme.
Valentine's Day
Unlike in many other countries, Valentine's Day is not typically celebrated in Iceland. It is, nonetheless, becoming more and more commercially popular, with several upmarket hotels and restaurants offering special romantic packages for around the 14th of February.
Women's Day
Women's Day is an important event in Iceland. Celebrated on February 24th, it coincides with the first day of the month of Goa according to the traditional Norse calendar. It's a day when men spoil their special women, with things like fancy meals out and gifts of flowers or chocolates. Don't worry–there's a Men's Day too, although by February you'll already have missed it by about a month.