Most Iceland visitors tour Reykjavík, the Golden Circle, and the country's famed South Coast, then leave again. They'll have a wonderful time, to be sure, but are also missing out. A stone's throw from the Arctic Circle, North Iceland offers a remote grandeur that makes it well worth feeling like you're at the edge of the world. Epic snow-capped peaks, lush pastures lining fjords, dramatic waterfalls and canyons, exciting volcanic history, and waters alive with dolphins, seals, and whales are yours to discover if you travel just a little further.
North Iceland's capital is Akureyri, a delightful little city once deemed "The Best Place to Visit in Europe" by Lonely Planet. But most of the region is sparsely populated by around 40,000 people and many more sheep and horses.
Read on to find out how the weather of North Iceland differs from that in the south, about the geology that formed its unique landscape, and what are the best things to do in the region. In a separate article, we've listed the 20 most exciting attractions you shouldn't miss out on when visiting North Iceland.
How to Get About
Nordurland, as the area is known in Icelandic, is easily reached from Reykjavík via just one road: the Ring Road, which circles the country. Reykjavík to Akureyri is a trip of around five hours if you drive non-stop, but as you'll certainly want to pull over frequently for photos, it's best to plan a whole day for the journey. The route to North Iceland is lined throughout by glories and attractions you can't possibly ignore.
You'll need at the very least three days to feel like you've discovered most North Iceland has to offer. For those wanting to spend less time in a car and more time exploring, it's best to plan for four to five days. Whether you hire a campervan, car, or motorhome or take a multi-day guided tour, you'll make the most of being in this glorious region.
Guided Tours
As buses to Akureyri run just once a day and don't make stops at the natural attractions, public transport isn't an option. So group tours with a guide are a great choice if you don't want to drive. These tours aren't much more expensive than traveling by public transport, with the bonuses of more stops accompanied by invaluable information delivered in English. Another great advantage of guided multiday tours is that accommodation and meals are included, simplifying your planning and removing the hassle and uncertainties of booking accommodation.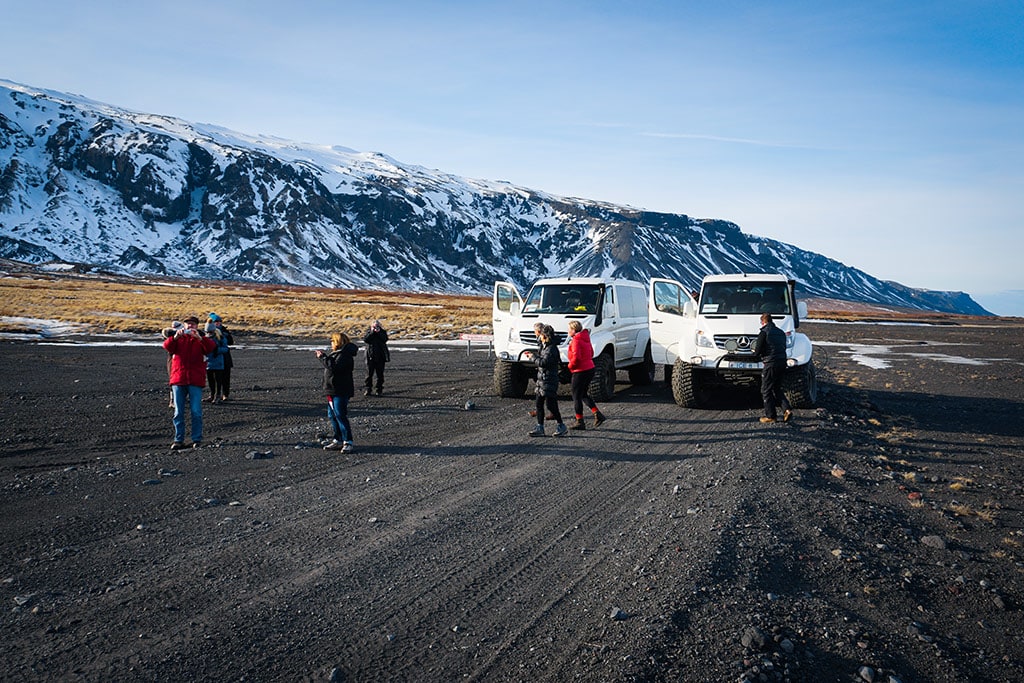 Tours to North Iceland depart from Reykjavík and last a minimum of three days. Or, if you prefer, you can join an "around Iceland" tour of the entire island lasting anywhere from six to twenty days. When deciding on the length, bear in mind that the longer tours provide an opportunity to capture both sweeping and intimate pictures of it all.
There are also many shorter guided activity tours you can book after you arrive. You can try exciting physical activities like Superjeep tours or horseback riding. Incredible whale-watching tours depart regularly from Akureyri, Dalvik, and Húsavík. Being the largest northern city, Akureyri offers many day tours, as well as multi-day trekking tours into the stunning Highlands area. Guesthouses, tourist information centers, and most other tourism facilities can offer detailed information to help you choose.
Self-Drive Tours
If guided tours aren't your thing, you can, of course, plan your trip, requiring you to rent and drive your vehicle and journey around the North Iceland region without direct assistance. This takes some planning but is entirely doable. Remember to include a minimum of three to four days just to travel from Reykjavík to North Iceland and return, and plan for as many more days as you can spare in North Iceland for the most memorable experience possible.
We can make it easier for you here and create your custom self-drive itinerary, including accommodation and activity bookings and anything you need for a perfect plan! If you need our help, don't hesitate to contact us!
Infrastructure and Road conditions
The sparse population of North Iceland, mostly in small villages, of course, means there can be somewhat limited options when it comes to food shopping or eating out. Akureyri is the country's second-largest city; however, it has a vibrant variety of city activities, cafés and restaurants, food, and other shopping, all with that unique Icelandic style and vibe.
Of the larger towns in the region, Dalvík, Húsavík, Siglufjörður, and Varmahlíð are the best known. They do contain some lovely places to eat, shop, and stay. But consider that options for countryside accommodation and shopping are more limited than those in the cities, so it's advisable to plan and book ahead of time.
Iceland's main Ring Road is easily navigated and in good condition. However, while it benefits from year-round maintenance, in winter, the weather conditions can change swiftly so that even that road can see closures for short spells. The smaller roads in fjord areas can be less well-maintained and tricky to drive on during that season.
It's best to rent a four-wheel drive vehicle if choosing to explore North Iceland from November to April (or any time of year if approaching the region from the Highlands). If you're not experienced in driving through the wintry conditions you might encounter during that period, it's safest and best to join a guided tour instead. But you don't have to worry about that during the summer months: driving around North Iceland in any kind of vehicle should be a breeze, provided that you stick to paved roads.
North Iceland Weather
Average temperatures in the north are slightly cooler than in southern and western parts of the country, its proximity to the Arctic Circle sometimes feeling quite evident. Winter arrives sooner, and spring arrives later there than in Reykjavík.
Winter nights in the north are long and extra-dark, the daytime lasting as little as three hours. This makes the region the most statistically-probable place for clear winter skies. So if the aurora borealis, or northern lights, are what you're after, North Iceland is your dream destination.
You'll be pleased to hear that statistically, North Iceland is also the driest and sunniest part of the country. Somewhat lower precipitation and fewer clouds make it a bit more pleasant than the rest of the country. Though even the summer months are slightly cooler than elsewhere, the sunnier weather and longer days make it glorious. Unlike in the southerly regions, you may even be able to see the midnight sun: a true Arctic Circle experience.
Geology and Landscape
Iceland is a latecomer to Europe, forming over 100 million years later than the continent, about 26-44 million years ago. The entire country lies directly on top of a geological hotspot; hence it is well-known for geothermal heat and volcanic activity.
North Iceland is divided in two by an active volcanic zone, a fissure in the Myvatn area, which runs from north to south and is part of the Mid-Atlantic Ridge. This accounts for the volcanic system of the region. It includes two central volcanoes, Askja in the eastern Highlands and Krafla in the North, associated eruptions, high-temperature geothermal fields, lava flows, and rhyolite and silicic rocks. So the dramatic and unusual landscape was formed by that very Krafla-Námafjall fissure, which has erupted many times for centuries.
The most famous eruption in the area is known as the Mývatn Fires, which occurred from 1724-1729. Many different fissure vents opened simultaneously, creating a lava flow that destroyed farms near Reykjahlíð, thankfully with no fatalities. The event caused lava fountains to be observed from the country's south.
In December 1975, one of the largest modern Icelandic eruptions began, lasting almost nine years. The "Fires of Krafla" as it is known, saw the eponymous volcano erupt nine times over that period, taking a break now and then in between. By the time it was finished, a lava field measuring 36 square kilometers, or 13.9 square miles, had been formed.
There have been no further eruptions since 1984; nonetheless, a hot geothermal field remains inside Krafla's crater, and the area continues to be replete with powerful volcanic activity. This is very useful for nearby communities that harvest geothermal power for electricity and hot water for their homes and swimming pools.
The famous Blue Lagoon in the south is matched by the northern Myvatn Nature Baths, a gift from all the geothermal activity to balance the risks. Lake Mývatn is part of the system and is surrounded by many great geological beauties, such as picturesque lava fields and pseudo-craters.
But the region offers more than 'just' volcanoes and volcanic offspring. It also contains incredible mountains, some snow-capped throughout the year, with the mountainous Highlands of central North Iceland hosting small cirque and rock glaciers. You can find those tall mountains on the Tröllaskagi Peninsula, which is an essential destination in summer or winter if you love hiking or skiing.
The incredibly varied and fascinating geological features of North Iceland are born of a complex interaction between fluctuating sea levels, glacial rivers, glaciers, lakes, and volcanic activity. It is, therefore unique, not just in the world but even in comparison to the landscape you'll find in the east, south, or Westfjords of Iceland. And in addition to all of that, you can observe the boundaries between the Eurasian and North American tectonic plates. There's nowhere else like it.
Things to Do in North Iceland
Exploring
With so many astonishing sights and exhilarating activities in this most unique of countries, taking your time to travel extensively will make the most of it and leave you with far more memories and experiences than a flying visit. Exploring North Iceland thoroughly, whether self-driving or touring, is something you'll never regret.
Start road-tripping by following the Ring Road northwards out of Reykjavík, but take detours as you go to explore the peninsulas we've described above. In a city, a detour is often a negative experience caused by roadworks; the opposite is true here.
Stop at every village possible for a coffee, which is a very important beverage in Iceland. Explore each place and enjoy what's there, whether strolling in a harbor, chatting with local people, learning from a historical site, or trying a local specialty. Even the smallest and most remote villages are prepared for visitors, and you can expect warm welcomes.
We listed North Iceland's must-visit attractions in this separate article.
You don't have to feel rushed or regimented. Remember to breathe deeply in the crisp air, listen to the birdsong, watch the skies change, and relax as you soak in the plethora of geothermal pools.
If you're touring in winter, be sure to have a suitable vehicle, and check weather and driving conditions frequently. Remember that if you don't have winter driving experience, it's easy to book a guided tour and put yourself in the safe hands of a local who knows the roads and meteorology.
The Ring Road is closed only occasionally when the weather is truly bad and rarely for longer than a few hours. While smaller roads may be difficult to drive or entirely inaccessible in winter, it's always possible to get to Akureyri as long as the Ring Road is passable. In summer, however, it's safe and simple to drive in North Iceland, though do consider a four-wheel drive vehicle if traversing the Highlands.
Hiking
North Iceland is a paradise for people who love hiking in nature. Great trails can be found in the mountains near Akureyri, in the areas of Myvatn and Krafla, and on the peninsulas with their fascinating cliffs. But the best destination for hiking is probably Ásbyrgi Canyon because it is so unique in Iceland and the world.
Different paths crisscross the small but dense forest between the massive canyon walls. The trails end at an impressive wall 100 meters (328 feet) high, at the foot of which is a small turquoise and green pond, sometimes with birds floating calmly on it. It's like stumbling across a colorful jewel at the foot of a castle. The most appealing thing about that place is the acoustics, which magnifies sounds. The ducks still quack away, but human visitors find themselves whispering, so they don't disturb the peace or perhaps to avoid disturbing any 'little people.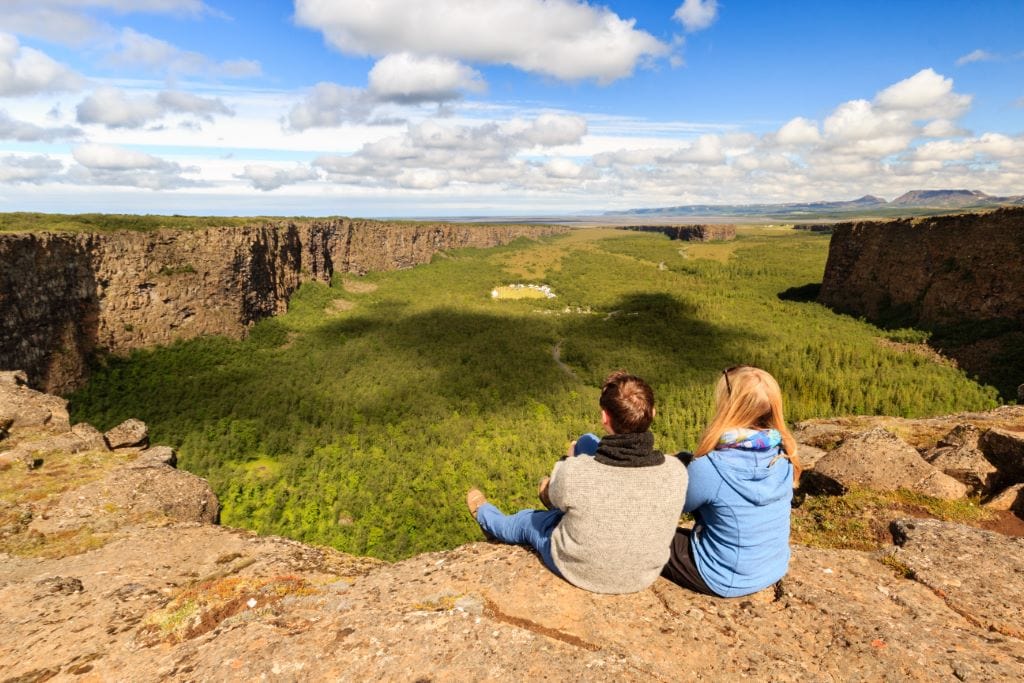 Kayaking and Sailing
The fjord waters of North Iceland are generally safe and calm to paddle around, especially for experienced kayakers, so exploring and viewing the landscape from the water is highly recommended. If you have little or no experience with paddling or sea travel, you can gain some by booking a guided boat or kayak tour available in many villages. Some boat tours even give you the option of traveling to more remote islands and within the Arctic Circle, which also provides the bonus of possibly spotting such sealife as dolphins, seals, and even whales.
Skygazing
No matter what time of year you visit Iceland, heading north gives you the best chance of experiencing the unforgettable phenomena known as the northern lights and the midnight sun.
The northern lights can be seen between late August and late March. North Iceland is the ideal location to gasp and gaze at them due to its longer nights and clearer and less cloudy skies than the south. To maximize your chances, use apps and websites to track predictions of aurora activity and weather conditions, avoid city lights and a full moon, stay up late (there is statistically more activity from midnight onwards), look to the northern horizon, and look out for them on more than one night.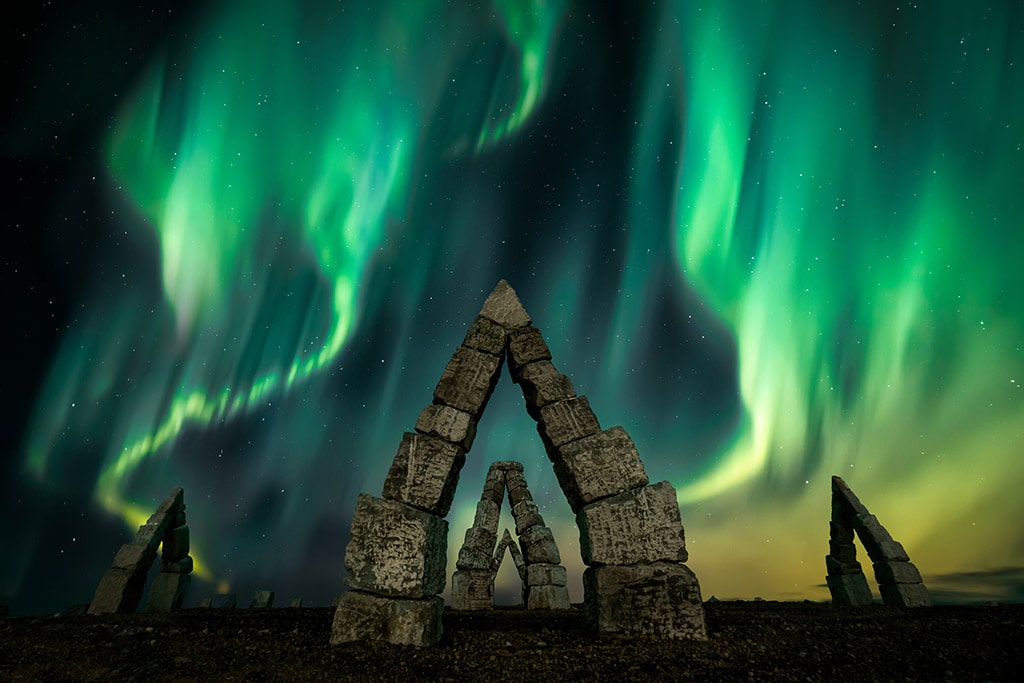 Northern Iceland is also best for seeing the midnight sun due to its proximity to the Arctic Circle. This unending sunset can be observed in June and July and only from a few places up north. So don't try it from Reykjavik, and plan.
Bathing
The GeoSea Baths mentioned above, set on a high cliff in Húsavík, have an idyllic viewpoint over the North Atlantic and opening times that make it possible to bathe and relax while witnessing the northern lights or the midnight sun as well as taking in the landscape.
It would be hard to find a more scenic spot to enjoy geothermal pools than this North Icelandic heaven. Having said that, the pool in Hosfós has just as beautiful a view, though it is perhaps a little less luxurious. Try them both and see which one is the favorite to which you'll long to return.
The Mývatn Nature Baths are often referred to as the northern counterpart of the world-famous Blue Lagoon Spa. Its water has very similar characteristics to the Blue Lagoon. However, the facilities are less luxurious, but the entrance fee is also much cheaper. It's the only pool of its size in the area and is ever-increasing in popularity.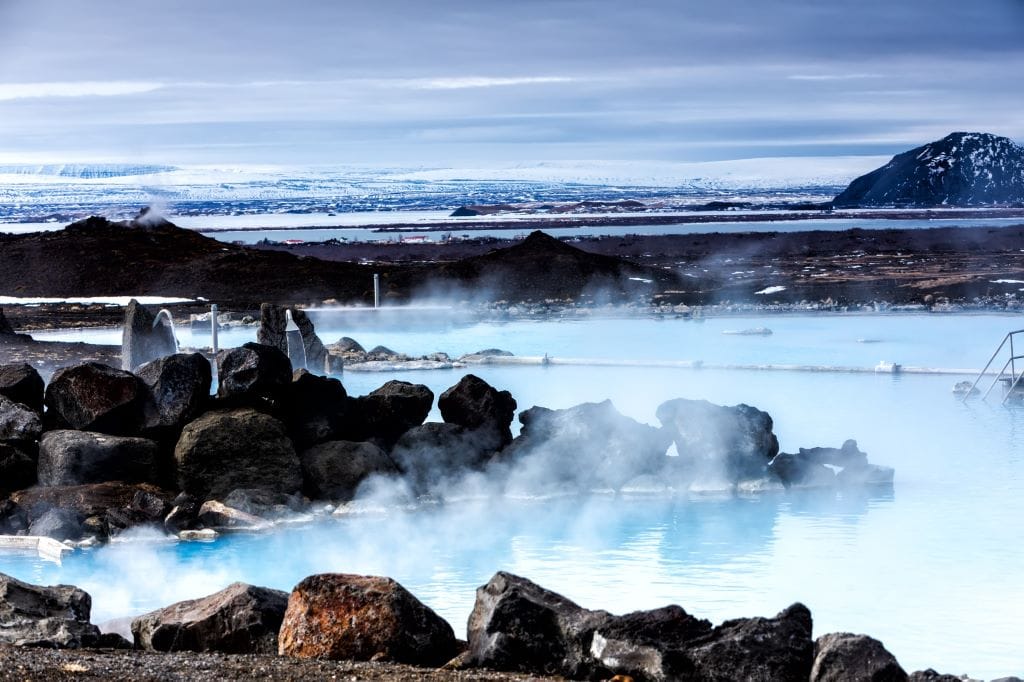 Whale Watching
As with sky watching, you're better off dolphin, porpoise, and whale watching in North Iceland, as it's the best part of the country for successful sightings of the marvelous creatures. You can take tours from the Snaefellsnes Peninsula and Reykjavík, but the success rate in North Iceland is nearly 100% in the summer months. The proof is that northern companies offer a free second trip or a guaranteed refund if you see no cetaceans.
Iceland's waters are host to over 20 species of these incredible creatures, some seen more frequently than others. Tours in the north tend to light upon eight cetacean species in particular. Humpback whales are naturally curious and friendly, so there's a good chance of seeing those, as well as harbor porpoises and white-beaked dolphins. Minke and pilot whales are seen less often but not uncommonly. While shyer, the stupendous blue whales are seen at least a few times each summer season. Why not try your luck?
As for wintertime, there are still whale-watching tours in operation; it's just that your chances of sightings are lower, at around 90–95% of North Iceland-based trips. But going whale watching at any time of year is more than just an adventure and often a delight. It also supports an economy that arose as an alternative to hunting and killing whales. For this reason, the Icelandic whale-watching industry motto is, "Meet us, don't eat us!"
Skiing, ski touring, and heli-skiing
The ski areas in North Iceland offer especially breathtaking views and diverse landscapes. Seven well-equipped ski resorts in the region are open from mid-November to May. Offering ski rentals and ski schools for everyone, the slopes are suited to children and adults. Whether a beginner or an extreme skier, you'll find what you're looking for!
Experienced skiers can immerse themselves in backcountry skiing; the opportunities are endless. The most popular skiing destination is Troll Peninsula, where long runs can reach up to 1,500 meters (4 921 ft) vertical. With upwards of about 100 mountains to discover on the Troll Peninsula, there is an endless amount of untouched snow. The peninsula is surrounded by the Arctic Ocean, so you can ski down right to the coast. The terrain looks as if it had been specially created for ski touring, snowboarding, and heli-skiing, all of which are available activities for the avid skier.
Backcountry skiing on virgin slopes requires special snow conditions; therefore, the season differs from the regular ski season. In North Iceland, snow conditions usually remain favorable well into spring, the season lasting from mid-February to the end of June.
We've covered the most interesting facts and most exciting activities regarding North Iceland in our article. In this separate article, you can read about what to see in the region. Contact us for your tailor-made vacation package, and a local professional will personally help you to plan your perfect North Iceland holiday.