Borgafjörður is a remarkable region in the west of Iceland; it deserves more attention than it gets. Its attractions can be visited on a single-day trip from Reykjavík, making it an especially convenient travel destination, no wonder why it has its own beautiful name: the Silver Circle.
Borgafjörður is a fertile valley where agriculture is the main activity; hence you will see plenty of farmland and greenhouses. Sheep and horses are the common livestock, with lamb a popular meat with Icelanders. Lonely Planet picked the region as one of its "Top 10 Regions To Visit in 2016."
The locals head here because of the beautiful setting and the numerous hiking trails. They often spend weekends and their main holiday here and have done so for many years. As a result, there is plenty of accommodation available. Yet, you would still need to book in advance because of its popularity.
If you read on, you will learn more about the most remarkable attractions of this region we recommend you visit!
Deildartunguhver Hot Spring
Deildartunguhver, Europe's most powerful hot spring, provides 180 liters (47.5 gallons) of boiling hot water every second. It is used for domestic heating across the region, in the towns of Borgarnes and Akranes, as well as surrounding farms. So if you are within 65 kilometers (40 miles) and take a shower, you will already have bathed in the springs' hot water.
Hraunfossar and Barnafoss Waterfalls
Hraunfossar, known as "the Lava Falls," is a beautiful natural phenomenon, rare even by Icelandic standards. Cold glacial water emerges from the lava, creating several tiny waterfalls and rapids pouring down into the blue river below. The waterfalls stretch across cliffs around 900 meters (2950 feet) long. The water comes from the Langjökull glacier and joins the Hvítá River, the source of the famous Gullfoss Waterfall.
A few minutes walk from Hraunfossar, a series of rapids are on the river called Barnafoss (children´s fall). It has a sad history, as the waterfall was named after a tragic accident that happened here centuries ago. According to the legend, two children of a widow fell into the waterfall and disappeared.
One day the widow went to a Christmas mass but left her children at home. When she returned from the evening service, her children had disappeared. Local people searched and found their footsteps leading to the stone arch over the river. Once, a large natural bridge spanned across the river over the rapids, and the children liked to play there. The mother later destroyed the arch, ensuring no one would ever cross the falls again.
Reykholt Village
Reykholt is a small village with a considerable history. Once the largest cultural center of Iceland, it was the birthplace of Snorri Sturluson, the most popular Icelandic poet, writer, chieftain, and law speaker from the 13th Century. His most famous book is Eddas, and his contribution to our knowledge of the Vikings through his writings is priceless.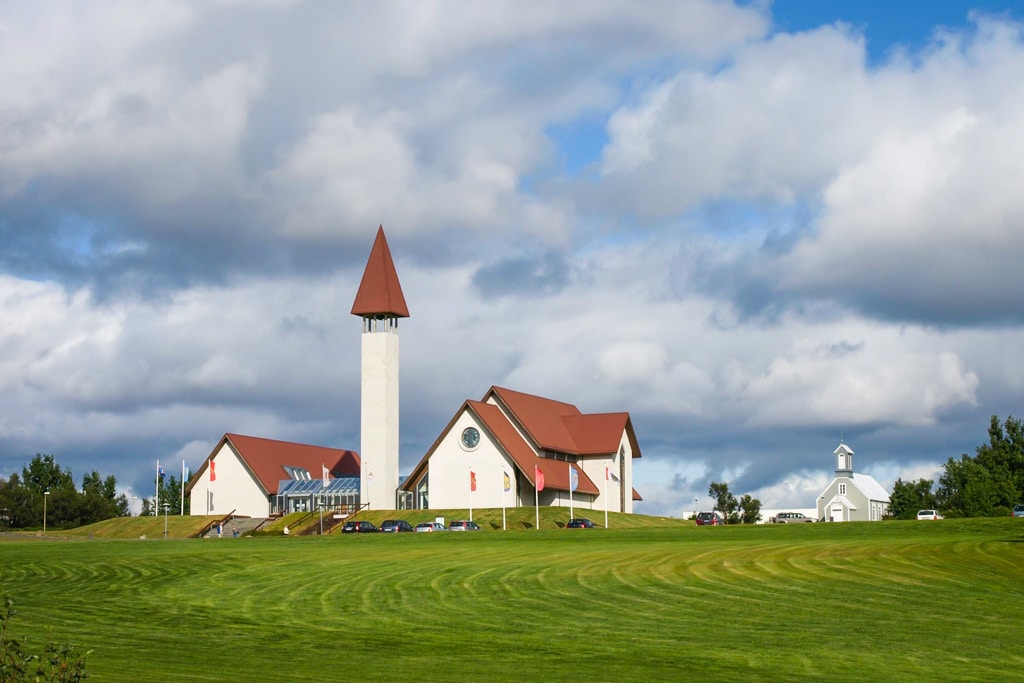 In honor of Snorri's life and works, Reykholt is home to Snorrastofa, a center to maintain his legacy and contribution to medieval studies. You will love Reykholt as it is today, a tiny village worth some of your time. It has a nice church, built in the 19th century, and the today-protected Snorralaug hot spring, one of the oldest man-made structures in Iceland.
Vidgelmir Cave
Víðgelmir Cave is the biggest lava cave in all of Iceland, measuring 148,000 cubic meters (3.55 cu miles). There are few to match it anywhere in the world. You will be amazed by the ice formations, lava stalactites, and stalagmites on entry.
Some Viking-age jewelry and bones were found in the cave during an archaeological study in 1993. Subsequently, entry to the cave has been limited, so your only choice is to join a guided tour, either lasting 90 minutes or 4 hours. Scientists consider Víðgelmir among the best examples of its kind, so make sure to add it to your plans!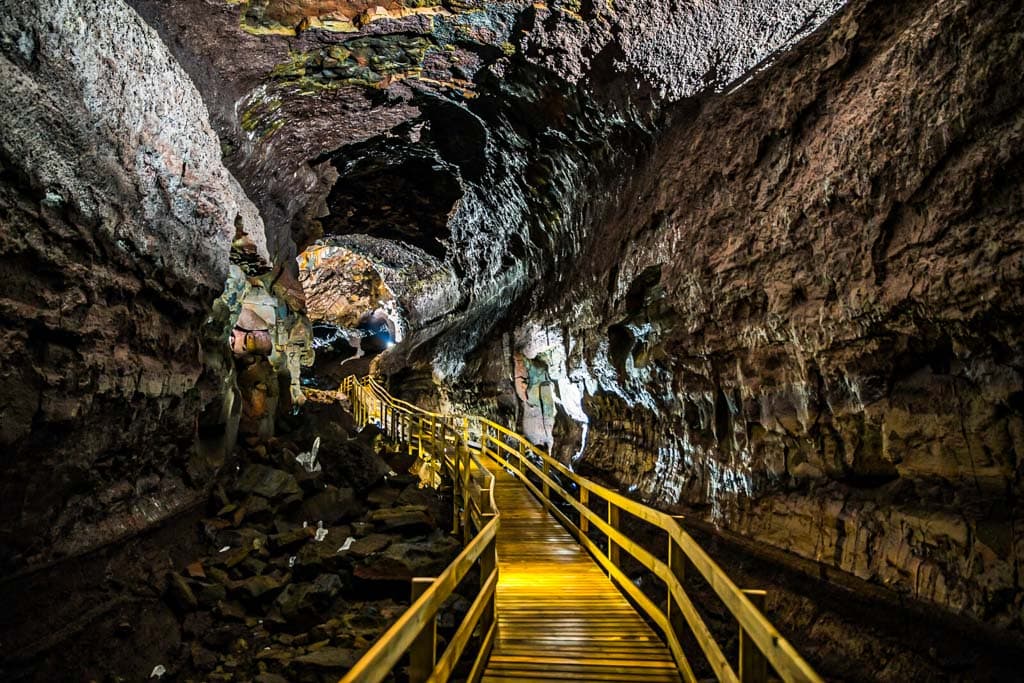 Husafell
Húsafell's fame comes about because of its wonderful hiking trails and the pleasant microclimate it experiences. Mountains provide shelter from the worst of the wind. Langjökull Glacier towers above, Iceland's highest temperatures are regularly recorded in Húsafell. The immediate area around Husafell offers waterfalls and glaciers, clear springs, dense forests, and colorful wildflowers.
The settlement served as a place of retreat for weary travelers in the old times when people traveled on horseback and foot. Húsafell was one of the few places en route where they could comfortably find refuge and food.
Today, Húsafell is still a beloved place for hikers and travelers. It's an excellent camping location as it offers plenty of campsites and bungalows for rent, and there is also a new hotel there.
The beautiful birch forest, called Húsafellsskógur, features the tallest native trees in Iceland, reaching up to four meters (13 feet) tall, which is highly unusual. Due to the force of the wind, Icelandic birch doesn't grow high; it tends to form more like a gnarled bush.
The wonderfully varied landscape of West Iceland offers visitors countless attractions to explore. Read our articles on West Iceland and other regions: The Snaefellsnes peninsula, The Golden Circle, and the Reykjanes peninsula.