Iceland is known for many things – a countless number of stunning waterfalls if one of them! It seems that no matter where you go, you will be able to spot a beautiful waterfall on your way there (the city center of Reykjavík perhaps being one of very few exceptions…).
The North Atlantic climate and the gulf stream produces frequent rains and snow, large glaciers melt in the warmer months, fresh groundwater seeps through the coarse lava… all these things help in creating the perfect landscape for waterfalls. Much like Britain has their ABC (Another Bloody Castle), Iceland has ABW (Another Bloody Waterfall…. they are literally everywhere!!!)
On the popular Golden circle tour alone, you can spot at least 3 noteworthy waterfalls:
Beginning with Þingvellir National Park, unique for it's history and geology alike. This is where you can spot Öxarárfoss waterfall. It flows from river Öxará, over the edge of Almannagjá and into the ravine where the Icelandic parliament was held in it's early days.
Faxi waterfall is popular with whitewater kayakers and a good location to practice waterfall boofing. It is not located at a very typical part of the Golden circle route, but is a popular "additional stop" for many guides.
Gullfoss waterfall
Gullfoss waterfall is perhaps the most well known waterfall of the Golden circle and may even be the main reason for why people join that tour. Know mostly for it's majestic beauty, Gullfoss rushses forward from the Hvítá river, which in turn has it's source in Langjökull glacier. So in viewing Gullfoss, you will truly witness the immense power the glaciers have and how they can affect the landscape in a myriad of ways.
In Þjórsárdalur valley, a well-kept gem in the south of Iceland, you will witness even more beauty. Hjálparfoss is located just by the main road, easy to spot and has a good place to park the car. Surrounded by amazing lava formations, including columnar basalt, which Iceland is well known for.
Also in Þjórsárdalur, and not so far from volcano Hekla, waterfall Háifoss is one of the most stunning sights. Located in a beautiful cove, which is truly a weather paradise, this 1.500 m high waterfall is hidden. It is the third highest waterfall in Iceland, right after Glymur and Morsár waterfalls.
Glymur waterfall is almost 200 m high and was considered to be the tallest waterfall in Iceland, until new measurements in 2011 knocked it out of it's place. It runs in the river Botnsá in Hvalfjörður and the hiking path to reach is is absolutely stunning.
Further west, in Borgarfjörður district, rivulet waterfalls Hraunfossar and Barnafoss are a stunning sight. These waterfalls also stem from Langjökull glacier, much like Gullfoss waterfall, but are located on the opposite side of the glacier.
Even further west, we will find Kirkjufellsfoss waterfall in Snæfellsnes peninsula. This waterfall stems from another glacier, Snæfellsjökull, and is a 3 tiered waterfall of only 5 meters. In spite of it's small size, it is a topic of many photography stops. Kirkjufell mountain looms right over the waterfall and combined with the amazing energy from Snæfellsjökull glacier, this photo topic is well worth the stop.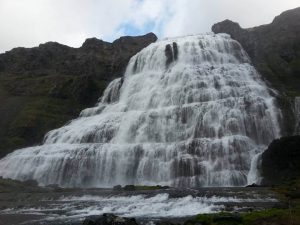 In the westernmost part of Iceland, the Westfjords, you can find even more waterfalls. The most noteworthy perhaps is Dynjandi waterfall, which spreads itself 30 meters wide at it's most narrow, to 60 meters wide to it's widest part. Dynjandi is a curtain waterfall, meaning that it it spreads wide and flows gracefully, as opposed to with intense force over vertical cliffs.
When you reach the north of Iceland, a visit to Vatnajökull national park is well worth a stop. This is where you will spot Dettifoss waterfall – the most powerful waterfall in Europe! This fall is also a part of a glacier river, which collects it's volume from a wide area spread over the highlands. Dettifoss is about 100 meters wide and drops about 45 meters into Jökulsárgljúfur canyon, with an average water flow of 193 cubic meters per second (which is about 193.1000 liters per second!!!).
You cannot leave north Iceland without visiting Goðafoss waterfall first. Much like Faxi, this waterfall is also quite popular with kayakers who want to test their limits waterfall boofing, although not suitable for beginners! The waterfall gets it's name from an important moment in Icelandic history, but after the Icelandic people converted to Christianity in the year 1000, an important official threw his statues of the Norse god into the waterfall to cleanse himself of his old ways.
On the opposite end of Vatnajökull national park, waterfall Svartifoss will take your breath away. It is surrounded by dark basalt columns, which are the reason for the name Svartifoss – Black falls.
The most popular waterfalls of the south coast would be Skógafoss and Seljalandsfoss; both waterfalls are a stop on the popular day tour of the South coast. Skógafoss is the start of a very popular hiking route of Fimmvörðuháls and Seljalandsfoss is spectacular in the way that you can in fact walk behind it. Both waterfalls, and many more places in Iceland, are also featured in music videos, starring Justin Bieber and Shah Rukh Khan.
This is just a tiny example of all the stunning waterfalls you will find in Iceland. So…if you are a waterfall buff, or if you just want to witness the awe inspiring beauty of Iceland in general, you should book your trip now! We will help you set up the most amazing holiday of your life!