Discover the hidden gems of the Westman Islands on this exciting speed boat excursion! On this tour, you will witness caves, monoliths and coastal beauty of the Westman Islands and explore this little-traveled part of Iceland. This tour is perfect for families, friends or solo travelers.
Why you'll love this tour
You will spend an hour exploring the Westman Islands by a speedy RIB boat and get the essential Icelandic experience and get to know more about the area and local history.
You will visit coastal caves, which some can only be entered on a Rib Boat.
You will visit the famous "Elephant" rock formation
If you take this tour before September, you will see thousands of Puffins and you will be able to approach them very closely.
You will have a good chance to spot whales on your trip.
Many of our guests have told us that this unique day tour is one of the most memorable experiences of their entire Iceland vacation.
Activities and gear
✔️ Guided small group rib boat tour
Transportation
❌ Transportation not included. This is a meet on location tour.
Staff & experts
✔️ English speaking local expert guides
Meals
RIB boat experience

Caving

Bird watching
Whale watching

Vestmannaeyjar
* Sights can vary according to the passengers' fitness and the conditions.
This tour begins at the harbor on Heimaey, Westman Islands.
You guide will provide you with a life jacket and a floatation suit before boarding a speedboat and setting out for your hour-and-a-half long boat adventure.
You will visit stunning sites very few others have the chance to see as you whizz across the waters of the Atlantic Ocean. You will visit coastal caves, which some can only be entered on a Rib Boat. You will also visit the famous rock formation in a cliff that resembles the face of an elephant.
If you take this tour before September, you will see thousands of nesting Atlantic Puffins. The Westman Islands have the highest proportion of these birds in the world. You will see them on the isles and rocks and in the waters, where they are feeding.
You will be able to approach the puffins very closely without being a disturbance, so you can properly admire their charming, colorful features.
You will have a good chance to spot whales on your trip. The Westman Islands have bountiful waters, with a lot of life, drawing Orcas, Dolphins, Blue-, Minke-, and Humpback Whales as well as Fin Whales, the second-largest species ever to live on earth.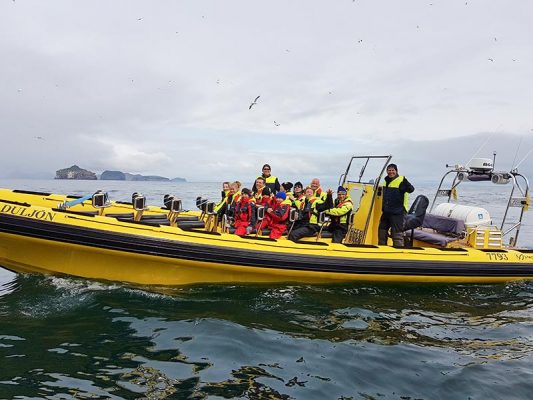 The following is important information applicable to our rib boat tours. If you have any questions please don't hesitate to contact us by email or phone, we are here to make your tour exceptional!
Operation:
This tour is operated by our trusted partner.
Meet on the location:
Please be at the tour start location in good time before departure. As much as possible be prepared and ready to go.
Limitations:
Children under the age of 6 are not allowed on the tour.
Booking:
Our day tours are very popular and we have many days when all available seats are booked out. Please book your tour early to avoid disappointment. You can book this tour online using the booking form or just call our office. We typically respond to phone calls from 8:00 AM to 17:00 PM GMT – if you do not reach us, please send an email and we will reply your message as soon as possible.
Prices:
All prices are per person. We accept payment by major credit and debit cards with no additional fees. Gratuities are not included.
Tour itinerary changes:
At all times your safety is our first priority. You can expect any kind of weather in Iceland. For this reason, the tour itinerary may be subject to change the sights without notice or the tour might be canceled due to weather, or other unforeseen circumstances. If the timing changes, we will need your valid mobile phone number to contact you and inform you of the time change. Please don't forget to fill out your phone number on the booking form. If the tour is canceled, you can choose to receive a full refund or to reschedule your tour for another day. We make every effort to avoid any such changes wherever possible.
What to bring:
Since the weather is unpredictable, always bring comfortable outdoor clothes, warm layers, with waterproof and windproof outer-layers. Waterproof jacket and shoes and a warm sweater are highly recommended. It's best to wear waterproof boots.  Bring your personal daily medications if required.
Medical conditions:
Please let us know of any allergies or medical conditions that you may require assistance with.
Payment and cancelation:
Full payment is required at time of booking to secure your place. We require 24 hrs notice of cancellation for a refund. Any cancellation made within less than 24 hours prior to departure will be fully charged.
From
12.900 ISK
All prices are per person.
Get a Question? We can help.
Do not hesitate to give us a call or send a message. We'll find you the best option.
Instant confirmation
Electronic Voucher
Fast and Secure Payment
Great Customer Service
Hand-picked Tours & Activities
Trusted Tour Operator