Discover the hidden gems of West Iceland on this adventurous super jeep excursion! On the silver circle tour, you will witness some of the most beautiful places in the western part of Iceland, including hot springs, waterfalls and glacial vistas.
This tour is perfect for families, friends or solo travelers.
Why you'll love this tour
You will spend an amazing day visiting the best sights of West Iceland and other less-known hidden gems, get the essential Icelandic experience and get to know more about local history and culture.
You will see Deildartunguhver, Europe's most powerful hot spring, the impressive Hraunfossar and Barnafoss waterfalls, Hvalfjordur fjord, a beautiful woodland in Húsafell.
If the conditions allow, you will drive on Kaldidalur the highest mountain road in Iceland towards Thingvellir National Park.
You will have the opportunity to see Langjokull, the second largest glacier. Seeing one of Iceland's glaciers is one of the most special experiences available in Iceland.
You can add an entry to the amazing Into the glacier ice tunnel on Langjökull glacier. This is a once-in-a-lifetime opportunity to experience the magnificent glacier landscape from the inside out.
You will have some off-road super jeep action getting to your destinations.
This day tour includes a complimentary super jeep transfer service from Reykjavík.
Many of our guests have told us that this unique day tour is one of the most memorable experiences of their entire Iceland vacation.
Activities and gear
✔️ Guided small group sightseeing and walking tour
Transportation
✔️ Super Jeep transport from Reykjavík
✔️ Free 4G WiFi and iPad on the board
Staff & experts
✔️ English speaking local expert guides and drivers
Meals
Super Jeep experience

Glacier excursion

Hvalfjordur fjord

Borgarfjordur

Húsafell woodlands

Deildartunguhver geothermal area
Langjokull glacier

Hraunfossar waterfall

Barnafoss waterfall

Thingvellir National Park

Kaldidalur mountain road
* Sights can vary according to the passengers' fitness and the conditions.
We start the day by picking you up at your accommodation in Reykjavik in our modified super jeep. We drive you towards Hvalfjordur fjord on our way to Borgarfjordur, where we will visit Deildartunguhver, Europe's most powerful hot spring.
After that, we drive further inland to Hraunfossar and Barnafossar waterfalls, and on through to Husafell woodlands, where we will make a short stop for lunch (not included).
After Husafell, we will take you off the main road and take the highland trail to Iceland's second largest ice field, Langjokull glacier. Now it is time to put our super jeep to the test by driving on the glacier.
On the way back to Reykjavik, if the conditions allow, we take you over the highest mountain road in Iceland, the "cold Valley" or Kaldidalur, which will lead us back down to Thingvellir National Park, one of the most beautiful and historical places in Iceland.
If you want to take the tour up a notch, you can add an entry to the amazing Into the glacier ice tunnel on Langjökull glacier. This is a once-in-a-lifetime opportunity to experience the magnificent glacier landscape from the inside out, with an expert guide by your side.
The silver circle is the perfect tour for those who wish to experience Iceland at it's best.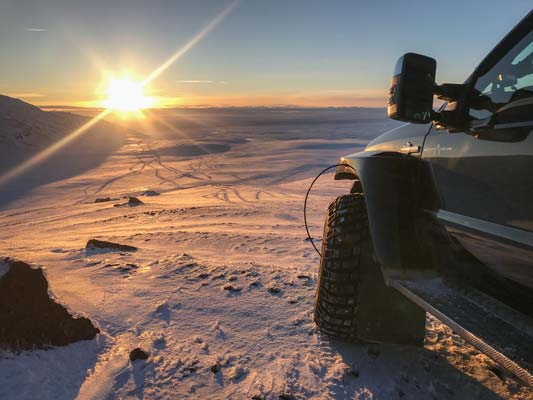 The following is important information applicable to our super jeep tours. If you have any questions please don't hesitate to contact us by email or phone, we are here to make your tour exceptional!
Operation:
This tour is operated by Activity Iceland.
Pick up:
Please note that Activity Iceland offers pick-up service from authorized pickup points in Reykjavik downtown area. We can unfortunately not offer pick-up service from Airbnb or private apartments, nor Keflavik Airport for our tours. If your pick-up location is not on our pick up list in the booking form then we kindly ask you to locate the closest pick-up point to your accommodation. It might take up to 30 min for our guides to reach your pick-up point, so please wait patiently for us to arrive. As much as possible be prepared and ready to go.
Booking:
Our day tours are very popular and we have many days when all available seats are booked out. Please book your tour early to avoid disappointment. You can book this tour online using the booking form or just call our office. We typically respond to phone calls from 8:00 AM to 17:00 PM GMT – if you do not reach us, please send an email and we will reply your message as soon as possible.
Prices:
All prices are per person. We accept payment by major credit and debit cards with no additional fees. Gratuities are not included.
Tour itinerary changes:
At all times your safety is our first priority. You can expect any kind of weather in Iceland. For this reason, the tour itinerary may be subject to change the sights without notice or the tour might be canceled due to weather, or other unforeseen circumstances. If the timing changes, we will need your valid mobile phone number to contact you and inform you of the time change. Please don't forget to fill out your phone number on the booking form. If the tour is canceled, you can choose to receive a full refund or to reschedule your tour for another day. We make every effort to avoid any such changes wherever possible.
What to bring:
Since the weather is unpredictable, always bring comfortable outdoor clothes, warm layers, with waterproof and windproof outer-layers. Jeans are not suitable clothing; waterproof jacket and shoes and a warm sweater are highly recommended. It's best to wear waterproof boots. Bring some snack or packed lunch. Bring your personal daily medications if required.
Medical conditions:
Please let us know of any allergies or medical conditions that you may require assistance with.
Payment and cancelation:
Full payment is required at time of booking to secure your place. We require 24 hrs notice of cancellation for a refund. Any cancellation made within less than 24 hours prior to departure will be fully charged.
From
39.900 ISK
All prices are per person.
SAVE 15%
GET 15% OFF AT CHECKOUT
PROMO CODE: THOR15
Get a Question? We can help.
Do not hesitate to give us a call or send a message. We'll find you the best option.
Instant confirmation
Electronic Voucher
Fast and Secure Payment
Great Customer Service
Hand-picked Tours & Activities
Trusted Tour Operator