[nectar_icon icon_family="fontawesome" icon_style="default" icon_color="Accent-Color" icon_padding="0px" icon_size="24″ margin_top="20″ margin_bottom="-3px" icon_fontawesome="fa fa-hourglass"]
[nectar_icon icon_family="fontawesome" icon_style="default" icon_color="Accent-Color" icon_padding="0px" icon_size="26″ margin_top="20″ margin_bottom="-3px" icon_fontawesome="fa fa-calendar"]
[nectar_icon icon_family="fontawesome" icon_style="default" icon_color="Accent-Color" icon_padding="0px" icon_size="26″ margin_top="20″ margin_bottom="-3″ icon_fontawesome="fa fa-battery-quarter"]
[nectar_icon icon_family="fontawesome" icon_style="default" icon_color="Accent-Color" icon_padding="0px" icon_size="26″ margin_top="20″ margin_bottom="-3″ icon_fontawesome="fa fa-bus"]
[nectar_icon icon_family="fontawesome" icon_style="default" icon_color="Accent-Color" icon_padding="0px" icon_size="26″ margin_top="20″ margin_bottom="-3″ icon_fontawesome="fa fa-child"]
[nectar_icon icon_family="fontawesome" icon_style="default" icon_color="Accent-Color" icon_padding="0px" icon_size="26″ margin_top="20″ margin_bottom="-3″ icon_fontawesome="fa fa-map"]
Discover the hidden gems of East Iceland on this exciting horse riding adventure! This is the perfect opportunity for those looking to experience the Icelandic countrysides by one of the most authentic means possible, on the saddle, as well as all those looking to meet the Icelandic horses.
This tour is recommended for families, friends or solo travelers.
Why you'll love this tour
You will have the opportunity to meet the Icelandic horse and take a scenic ride in East Iceland.
This gentle horse riding tour takes you on an unforgettable adventure along amazing back-country trails with beautiful scenery.
You can try your hand at the traditional cableway over the glacial river, Jökulsá, winching yourself across the water.
Enjoy maximum flexibility to combine this self-drive tour with your own travel plans in Iceland.
Many of our guests have told us that this unique day tour is one of the most memorable experiences of their entire Iceland vacation.
Activities and gear
✔️ Guided horse riding tour
✔️ All necessary riding gear
Transportation
❌ Transfer not available. This is a meet on location tour.
Staff & experts
✔️ English speaking local guides
Meals
Riding the amazing Icelandic horse

Experiencing nature from horseback

East Iceland
Lagarfjlót

Wilderness Center
* Sights can vary according to the passengers' fitness and the conditions.
[toggles style="minimal_small"][toggle color="Default" title="Open for details"]
Your tour will begin in East Iceland, at a farm by the edge of the Highlands. This is an active farm, home to horses, sheep, dogs, and chickens.
Here, you will meet your experienced and friendly horse riding guide who will proceed to take you through the horse riding process step by step.
Horses will be chosen out specifically for each rider, and you will be provided with all of the necessary horse riding gear for your tour.
When you are finally ready to begin your adventure, you'll take off into some of the most beautiful countrysides in East Iceland. With beautiful distant mountainscapes, glacial rivers, waterfalls, and steep cliffs, this tour will be an adventure that you'll never forget. The pace of this tour is a gentle gallop, meaning you will have plenty of opportunities to admire the amazing landscape and your gorgeous surroundings.
As an added extra, you can try your hand at the traditional cableway over the Jökulsá river, winching yourself across the water in what promises to be one of the most exhilarating parts of the trip.
At the end of your trip, you will return to the farm. You are welcome to try some authentic Icelandic food at the homestyle restaurant or set out to explore the area with many hiking trails.
[/toggle][/toggles]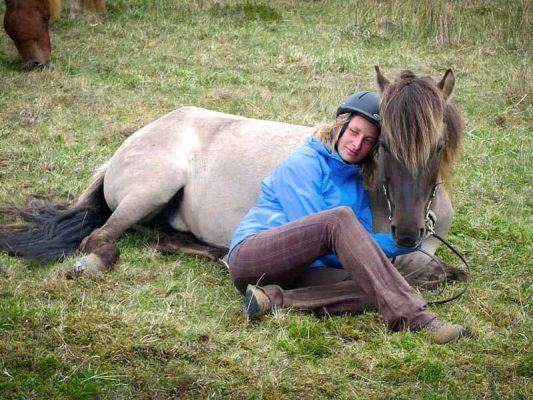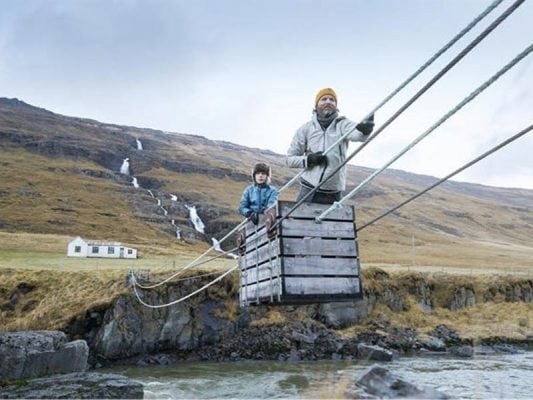 [toggles style="minimal_small"][toggle color="Default" title="Open to read"]
The following is important information applicable to our tours. If you have any questions please don't hesitate to contact us by email or phone, we are here to make your tour exceptional!
Operation:
This tour is operated by our trusted partner.
Pick up:
This tour is a meet on location tour and doesn't include pickup.  Please always aim to arrive at the meeting location prepared for the tour. As much as possible be prepared and ready to go.
Booking:
Our day tours are very popular and we have many days when all available seats are booked out. Please book your tour early to avoid disappointment. You can book this tour online using the booking form or just call our office. We typically respond to phone calls from 8:00 AM to 17:00 PM GMT – if you do not reach us, please send an email and we will reply your message as soon as possible.
Prices:
All prices are per person. We accept payment by major credit and debit cards with no additional fees. Gratuities are not included.
Tour itinerary changes:
At all times your safety is our first priority. You can expect any kind of weather in Iceland. For this reason, the tour itinerary may be subject to change the sights without notice or the tour might be canceled due to weather, or other unforeseen circumstances. If the timing changes, we will need your valid mobile phone number to contact you and inform you of the time change. Please don't forget to fill out your phone number on the booking form. If the tour is canceled, you can choose to receive a full refund or to reschedule your tour for another day. We make every effort to avoid any such changes wherever possible.
What to bring:
Since the weather is unpredictable, always bring comfortable outdoor clothes, warm layers, with waterproof and windproof outer-layers. Jeans are not suitable clothing; waterproof jacket and shoes and a warm sweater are highly recommended. It's best to wear waterproof boots. Bring some snack or packed lunch. Bring your personal daily medications if required.
Medical conditions:
Please let us know of any allergies or medical conditions that you may require assistance with.
Payment and cancelation:
Full payment is required at time of booking to secure your place. We require 24 hrs notice of cancellation for a refund. Any cancellation made within less than 24 hours prior to departure will be fully charged.
[/toggle][/toggles]
From
15.000 ISK
All prices are per person.
Get a Question? We can help.
Do not hesitate to give us a call or send a message. We'll find you the best option.
Instant confirmation
Electronic Voucher
Fast and Secure Payment
Great Customer Service
Hand-picked Tours & Activities
Trusted Tour Operator