This incredible tour will take you to the foot of the Sólheimajökull Glacier, one of the most majestic places in Iceland. You will be able to glide across the icy waters, weave in and out of the icebergs and enjoy incredible views of the majestic glacier outlet.
This tour is perfect for families, friends or solo travelers.
Why you'll love this tour
You will spend an amazing hour visiting the hidden gems of a glacier lagoon at the foot of the of Sólheimajökull glacier in a gentle, but incredibly fun kayaking tour.
You will have the option to ride in a kayak alone or go with your buddy.
You will ride a very safe sit-on-top kayak, a particular type that is far wider than usual, thus more stable.
On the tour, you'll paddle among the huge icebergs in a small group away from the crowds.
Many of our guests have told us that this unique day tour is one of the most memorable experiences of their entire Iceland vacation.
Activities and gear
✔️ Guided small group glacier kayaking tour
✔️ All necessary kayaking equipment
Transportation
❌ Transfer not available. This is a meet on location tour.
Staff & experts
✔️ English speaking certified kayak guides
Meals
Glacier kayaking experience

Glacier excursion

Sólheimajökull glacier
Small group experience

Suitable for beginners
* Sights can vary according to the passengers' fitness and the conditions.
This tour is operated by our trusted partner.
Meet your group and your friendly guide in the Sólheimajökull glacier parking lot. You will be equipped with a dry suit and a life vest and shown the basic technique needed to maneuver the kayak. We use sit-on-tops kayaks, that are very stable and easy to steer.  You don't need to have previous kayaking experience.
As you push away from the shore, you will enter the amazing world of the iceberg-filled glacier lagoon. Your guide will lead you around the glacier between the icebergs and tell you all about the area's history and future. You will have the opportunity to admire these natural wonders from a perspective that can only be seen while on the water. After 1,5 hours of gliding along the still surface of the lagoon, you'll head back to shore with a lifetime of memories.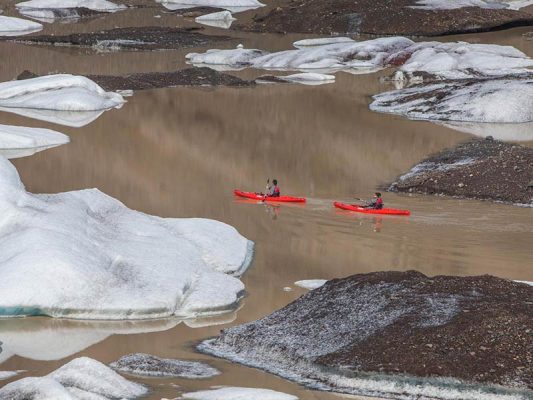 The following is important information applicable to this tour. If you have any questions please don't hesitate to contact us by email or phone, we are here to make your tour exceptional!
Operation:
This tour is operated by our trusted partner. 

Arriving:
Arrive at least 15 minutes prior to the tour departure to allow time to register, and meet your guide, and so that you do not delay other guests in your group. As much as possible arrive prepared and ready to go.
Booking:
Our day tours are very popular and we have many days when all available seats are booked out. Please book your tour early to avoid disappointment. You can book this tour online using the booking form or just call our office. We typically respond to phone calls from 8:00 AM to 17:00 PM GMT – if you do not reach us, please send an email and we will reply your message as soon as possible.
Prices:
All prices are per person. We accept payment by major credit and debit cards with no additional fees. Gratuities are not included.
Tour itinerary changes:
At all times your safety is our first priority. You can expect any kind of weather in Iceland. For this reason, the tour itinerary may be subject to change the sights without notice or the tour might be canceled due to weather, or other unforeseen circumstances. If the timing changes, we will need your valid mobile phone number to contact you and inform you of the time change. Please don't forget to fill out your phone number on the booking form. If the tour is canceled, you can choose to receive a full refund or to reschedule your tour for another day. We make every effort to avoid any such changes wherever possible.
What to bring:
Since the weather is unpredictable, always bring comfortable outdoor clothes, warm layers, with waterproof and windproof outer-layers. Jeans are not suitable clothing; waterproof jacket and shoes and a warm sweater are highly recommended. It's best to wear waterproof boots. Bring some snack or packed lunch. Bring your personal daily medications if required.
Medical conditions:
Reasonable fitness is required for this tour. Overweight people can expect to have problems fitting the drysuits, and therefore not being able to participate. Please let us know of any allergies or medical conditions that you may require assistance with.
Payment and cancelation:
Full payment is required at time of booking to secure your place. We require 24 hrs notice of cancellation for a refund. Any cancellation made within less than 24 hours prior to departure will be fully charged.
From
12.900 ISK
All prices are per person.
Get a Question? We can help.
Do not hesitate to give us a call or send a message. We'll find you the best option.
Instant confirmation
Electronic Voucher
Fast and Secure Payment
Great Customer Service
Hand-picked Tours & Activities
Trusted Tour Operator