This lava caving tour will take you to one of the largest and most beautiful caves in Iceland. Explore the breathtaking subterranean world of the Víðgelmir lava cave, walk through this incredible underground natural wonder on an unforgettable tour the whole family can enjoy.
Why you'll love this tour
You will explore one of the largest and most impressive lava caves in Iceland.
You will descend into the vast and colorful lava tunnel and learn about volcanoes and volcanic activity.
You will have the opportunity to admire the colorful rock formations and sparkling icicles (in winter).
You will have the opportunity to experience the total darkness and silence inside the cave.
Many of our guests have told us that this unique day tour is one of the most memorable experiences of their entire Iceland vacation.
Activities and gear
✔️ Guided small group caving tour
✔️ Caving equipment (helmet and headlamp)
Transportation
❌ No pickup available
Staff & experts
✔️ English speaking local expert guides
Meals
Lava caving experience

One of the largest cave in Iceland

Sparkling icicles in the winter

Colorful rock formations
Hallmundarhraun lava field

Rainbow-colored walls

The brief experience total darkness

Easy and family friendly tour
Víðgelmir is around 1600 meters long has an area of  150,000 cubic meters (m³) making it one of the largest lava caves in the world. The cave is located beneath the Hallmundarhraun lava field in Iceland's highlands.
At the base camp, your friendly caving tour guide will provide you with all the equipment that you need for the tour and give you a quick safety briefing. Then you will begin your descent into the incredible Víðgelmir lava cave, an amazing subterranean wonderland replete with sparkling colorful rock formations and sparkling icicles.
The descent begins through a narrow tunnel. This is the only tight space you'll encounter in Víðgelmir. The cave then opens out into a spectacular hall, with incredible colorful rock formations. In winter you can see countless icicles and beautiful ice formations as well.
The walkway is lit with strategically placed lights so you can admire the incredible rock formations and the rainbow-colored walls that are truly breathtaking. At the end of the cave, your guide will turn off the lights in the cave, so you'll be able to experience the total darkness and the huge contrast between the light and the darkness.
Your knowledgeable expert guides will tell you everything that you need to know about the lava cave and the volcanic forces that helped to create it. They will also tell you about the legends that are woven into the fabric of the area.
This lava field was formed during the Viking age, over 1100 years ago, when volcanic craters from under Langjökull glacier erupted. Formed by flowing lava moving under a hardened surface, Víðgelmir lava cave is one of Iceland's hidden treasures that is well worth seeing.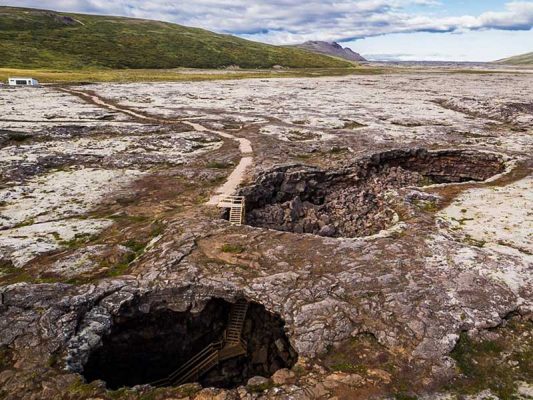 The following is important information applicable to our caving tours. If you have any questions please don't hesitate to contact us by email or phone, we are here to make your tour exceptional!
Operation:
This tour is operated by our trusted partner.
Meet on the location:
Please be at the tour start location at least 30 minutes before departure. As much as possible be prepared and ready to go. The Cave is located in West Iceland, in Borgarfjordur, not far from Hotel Húsafell. It takes around 2 hours to drive there from Reykjavik. The cave is accessible by all vehicles and clearly marked on nearby roads. Look for Fljótstunga, The Cave or Víðgelmir. Click here for location on a map.
Booking:
Our day tours are very popular and we have many days when all available seats are booked out. Please book your tour early to avoid disappointment. You can book this tour online using the booking form or just call our office. We typically respond to phone calls from 8:00 AM to 17:00 PM GMT – if you do not reach us, please send an email and we will reply your message as soon as possible.
Prices:
All prices are per person. We accept payment by major credit and debit cards with no additional fees. Gratuities are not included.
Tour itinerary changes:
At all times your safety is our first priority. You can expect any kind of weather in Iceland. For this reason, the tour itinerary may be subject to change the sights without notice or the tour might be canceled due to weather, or other unforeseen circumstances. If the timing changes, we will need your valid mobile phone number to contact you and inform you of the time change. Please don't forget to fill out your phone number on the booking form. If the tour is canceled, you can choose to receive a full refund or to reschedule your tour for another day. We make every effort to avoid any such changes wherever possible.
What to bring:
Bring comfortable outdoor clothes, warm layers, with waterproof and windproof outer-layers. Jeans are not suitable clothing; waterproof jacket and shoes and a warm sweater are highly recommended. It's best to wear waterproof boots. It's cold in the cave so, please bring gloves and a hat with no brim. Don't forget to bring your personal daily medications if required.
Medical conditions:
Please let us know of any allergies or medical conditions that you may require assistance with.
Payment and cancelation:
Full payment is required at time of booking to secure your place. We require 24 hrs notice of cancellation for a refund. Any cancellation made within less than 24 hours prior to departure will be fully charged.
From
6.500 ISK
All prices are per person.
Get a Question? We can help.
Do not hesitate to give us a call or send a message. We'll find you the best option.
Instant confirmation
Electronic Voucher
Fast and Secure Payment
Great Customer Service
Hand-picked Tours & Activities
Trusted Tour Operator