Stags & hens, bachelors & bachelorettes or whatever you may want to call them… The season for it is now!!
We have been getting a lot of soon-to-be-married love birds to us for a thrilling weekend or part-of day, celebrating their upcoming nuptials.
There is so much you can do, for a short visit to Iceland. Here is a sample of what the stags, hens, bachelors and bachelorettes have been doing:
Horseback riding – we can custom make this for you or you can join the open daily departure – whatever you want!
Bubble ball – what better way to let your soon-to-be-married friend get a proper beating, without needing to deal with any consequences?
Buggy tours – whatever suits you best!! Some have opted for a 15 minute crazy ride,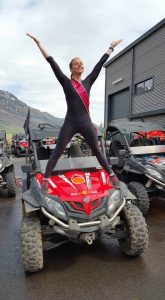 where the experienced guide drives the lovebird and takes them for an insane ride they will never forget! They will get on the tour a little tipsy, but come off it completely sober and soaked to the bone!
Others opt for a full buggy tour with their whole group of friends. In that case, they all drive themselves, but they still come back soaked to the bone. Only this time around they must start the tour completely sober as well.
Other available activities include snowmobiling, snorkeling, river rafting the Beast of the East, whale watching on RIB boats, glacier walking, ice climbing, paragliding, caving or simply sight seeing and relaxing!
And of course – it is not a proper bachelor / bachelorette weekend without a night out on the town!!
If you are planning on bringing a friend over to Iceland, before they lock the ball and chain, give us a call!!