Imagine you and your family or a few friends in a huge super jeep crossing over the raw and rugged Icelandic lava fields and wild glacial rivers. It sounds exciting, doesn't it?
As humans, we all have a thirst for adventure and excitement. Traveling off the beaten path provides you with a lot of opportunities for adventure. If you want to get the most out of your trip to Iceland and do something a little bit more exciting than the common tours, traveling in these mighty 4×4 vehicles is a great option for you.
A super jeep tour offers you an outstanding opportunity to discover the powerful and incredible beauty of Iceland as well as the ability to go to the off-road destinations deep in the raw and remote magnificent landscapes.
What is a Super Jeep?
These cars were born of necessity. As early as World War I, the U.S Army had been looking for lightweight and fast all-terrain vehicles. Later, during World War II, they put out a call to car manufacturers asking for this type of cars. According to soldiers, these vehicles were the vehicles that could go anywhere and do anything.
Even though no one really knows for sure, everyone has their own theory about how these vehicles got the name "jeep." In Iceland, the most popular version of the story is that the name comes from World War II when the US Army brought this general purpose vehicle over. The phrase "general purpose" or "GP" was slurred until the name stuck as "jeep." This name was translated to Icelandic as "jeppi." When the vehicles began to be modified with bigger tires, they called them "super jeeps."
So, super jeeps are large, highly modified, four-wheel drive, all-terrain vehicles equipped with massive suspension systems and tires ranging from 38″ to 46″ in size.
They have become very popular in modern tourism across the world, especially in Iceland. Their modifications allow jeeps to drive to those places which are impossible even for regular four-wheel-drive cars. These large jeeps are able to go through ice, deep snow, mud, or volcanic sand. They can cross the arctic torrents and pass through harsh lava fields to get into the highlands of Iceland.
The modification of jeeps and trucks is a popular industry. Iceland is currently sharing this knowledge and expertise with other countries that have very difficult terrain.
Besides using enormous tires, these vehicles have reshaped bodies to house the larger wheels, extended suspension, and a special lift kit to increase the ride height.
The reasons for these modifications are evident: they can drive over bigger road obstacles without getting stuck and through deep water crossings without getting wet. They are equipped with 4×4 drive for better traction and an engine-mounted air compressor. This is used to inflate and deflate the tires to adjust the pressure for different terrains.
Moreover, all super jeeps have a GPS navigation system, VHF long-range radio intercommunication with private channels, and a snorkel to reduce the likelihood of water reaching the combustion chambers of the engine. They are also equipped with a special front bumper for ice, a shovel, rope, and a winch in case they need to free a stuck vehicle.
What is the difference between 4×4, SUV, Super Jeep and Super Truck vehicles and tours?
If you are new to the world of off-road adventures, you may have seen terms like 4×4, SUV, jeep, super jeep, super truck, and monster truck before and have been left confused. In the following, we will quickly help you learn the meanings and differences between these terms and tours as easily as possible.
4×4 vehicles
Four-wheel drive (also called 4×4 (four by four) or 4WD) refers to any vehicle that has four wheels total and four wheels that are driven. This is rather a general category. It does not mean that all four-wheel-drive vehicles are suitable for going off-road, driving in deep snow, or crossing a deep river.
Tours by SUV vehicles
SUV is the abbreviated term for a sports utility car. This is used to describe any car that looks like a station wagon. SUVs are preferred by people looking for a spacious vehicle. These cars are made with comfortable interiors and better off-road capabilities to withstand difficult conditions and harder terrains.
Thus, they are ideal for small group tours, family tours, and multi-day tours in Iceland like Golden Circle tours, South Coast tours, or Ring Road tours.
It is important to mention that an SUV is not a true off-road vehicle and must not be driven on rocks or through water deeper than its ground height.
Jeep tours
Jeeps and super jeeps are four-wheel drive vehicles with 100% off-road capabilities. Modifications are what make the difference between jeeps and super jeeps. By definition, a jeep is not a super jeep if it has tires smaller than 38" in size. All super jeeps have been adapted for Iceland's unique geophysical conditions and are equipped with VHF radios, satellite navigation systems, and all the equipment necessary for making the tours across the rugged, unpaved roads, rivers, and deep snow comfortable and safe.
Super jeep adventures are tours that you will never forget. These tours will take you to lesser-seen parts of the remote areas that only the most powerful cars can enter safely. Traveling in these cars provides privileged access to the areas deep in the center of the highlands and on the glaciers. If you want to stay away from the crowd and explore Iceland at its best, super jeep excursions could be the best choice for you.
Tours on super trucks
Super trucks are modified buses and trucks which can carry up to 58 passengers. You can call them monster trucks, glacier trucks, or even ultra trucks as Japanese call them. These unstoppable glacier vehicles are sturdy and safe enough to cross glacier crevices and climb up icy, snowy hills. The increased capacity of super trucks allows them to transport larger groups through Iceland's wonderful landscape.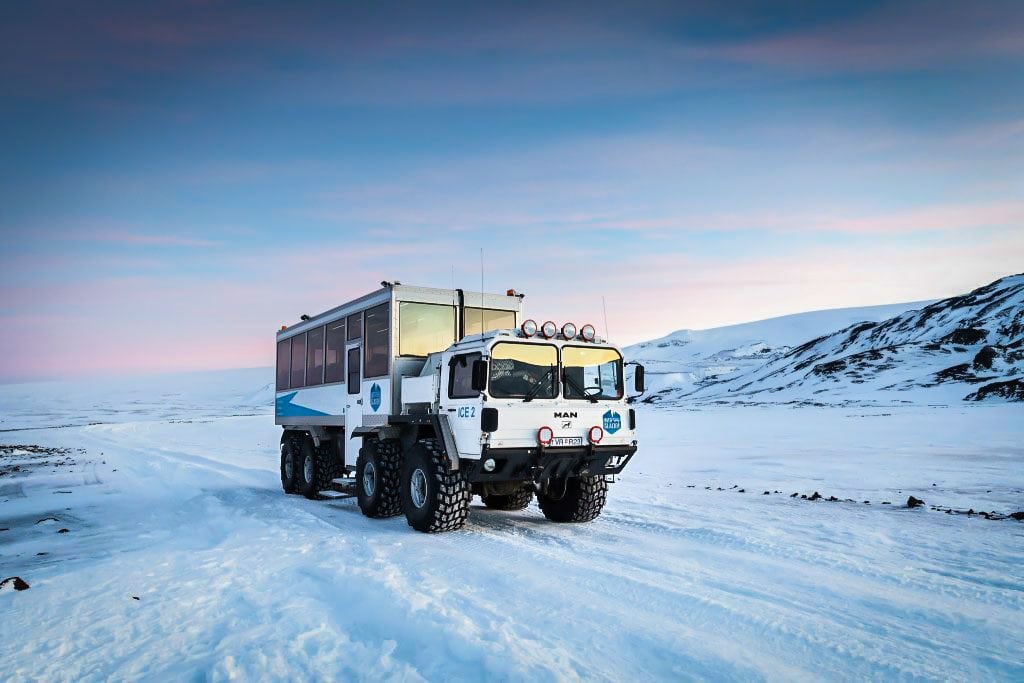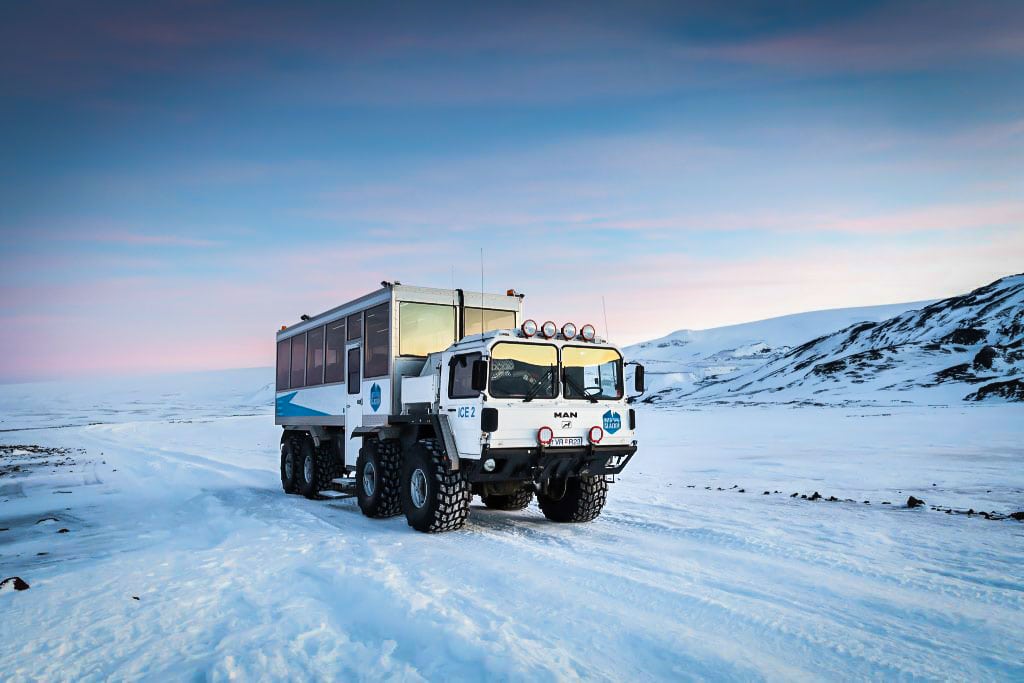 Which types of cars are most common on the super jeep tours in Iceland?
Toyota Hilux
The Toyota Hilux is often called the Swiss army knife of super jeeps because of its versatility, capability, and low weight. The pickup bed in the back can be used for luggage and equipment storage or to install a camper. It seats up to four passengers and is equipped with 38″ tires and a 2.5L turbo-diesel engine.
Land Rover Defender
You do not have to know anything about off-road cars to recognize the old school, classic Land Rover Defender. This car is a favorite expedition vehicle everywhere from the Dakar Rally to the Arctic Tundra. It is very popular among Icelandic tour operators and guides. The lightest super jeep of the group, it fits up to six people and is equipped with 38″ tires and a 2.5L turbo diesel engine.
Toyota Land Cruiser
Toyota Land Cruiser jeeps are very versatile and durable cars for driving on difficult terrain. Their great suspension and low weight make them one of the smoothest rides in the super jeep category. They seat up to seven people and can comfortably fit five adults. They come equipped with 38″ tires and a 3.0L turbo-diesel engine.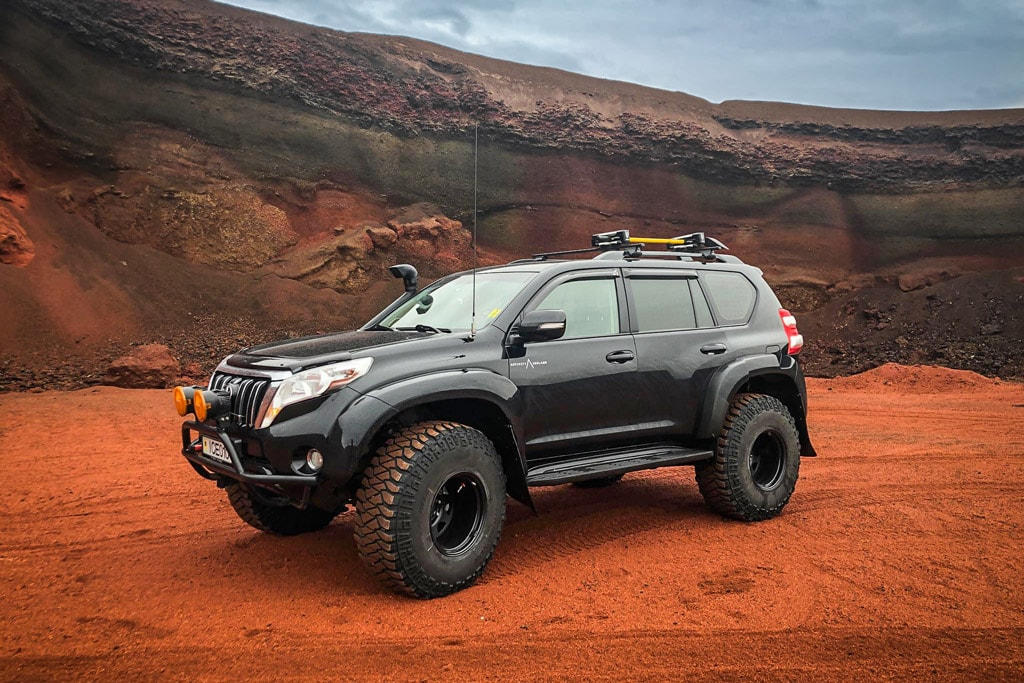 Nissan Patrol
These lightweight and reliable cars are great for all kinds of conditions and terrain. Nissan Patrols are the most spacious cars in the smaller super jeep category. They seat up to six passengers and are available with 38-44″ tires and a 3.0L turbo-diesel engine.
Ford Excursion
Ford Excursions come in different sizes, but in Iceland, they are usually black. They have a spacious interior and a lot of room for luggage in the back. Their 38" and 46" tires will get them through the deep rivers and over the highland roads while maintaining unique comfort on the longer tours. They have all the right equipment needed to travel through the highlands or glaciers. Leather seating combined with the comfort of the spacious interior makes these one of the best cars for any adventure.
A regular Ford Excursion seats a maximum of seven people and comfortably fits five adults plus the driver-guide.
The XL version is extra-long and comes with an extra row of seats and two more doors. This makes it one of the most accessible and luxurious of the higher capacity super jeeps. It comfortably fits 10 passengers and has bigger 46″ tires. Ford Excursions are equipped with 7.3L V8 turbo diesel engines.
Ford Econoline
Ford Econoline comes in two different sizes. The Econoline 46 has a large passenger capacity but is no less capable when it comes to difficult conditions. These jeeps have enough space to take from 10 to 14 passengers comfortably. The high roof and comfortable seats make it a comfortable environment to be in while traversing the highlands or traveling on the glaciers. They come equipped with massive 46″ tires and 3.7L V8 turbo diesel engines.
Mercedes Benz Sprinter
Mercedes trucks come in three sizes that fit up to 11, 14, and 17 people. This makes them ideal for big families and smaller groups. Their large windows, comfortable seats, and quiet engines make travel comfortable. The largest version is the most affordable and eco-friendly way to travel to the core of Iceland. These cars are equipped with 46″ tires and 3.0L V6 turbo diesel engines.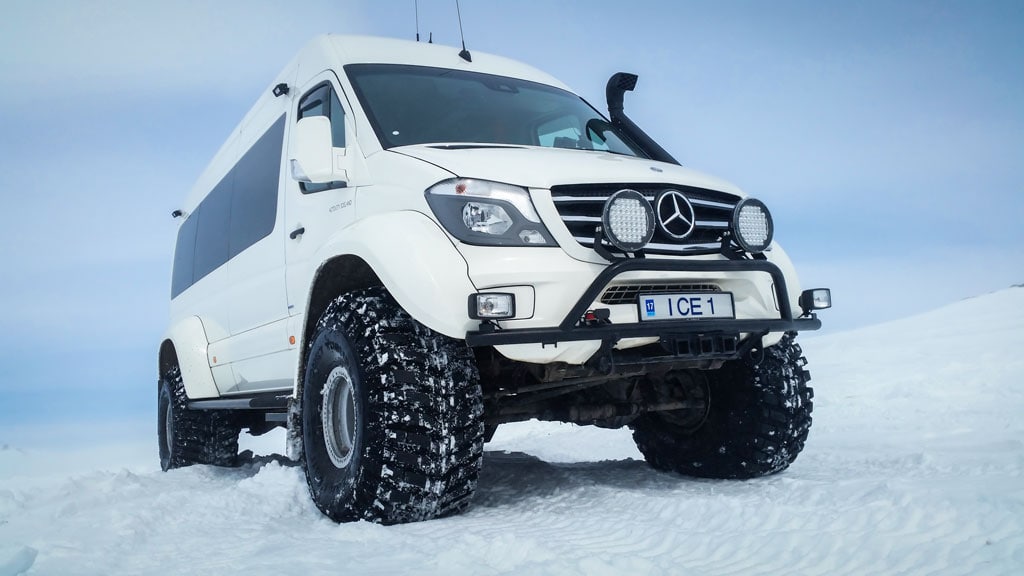 Why is a super jeep tour a better choice than a minibus tour or renting a standard 4×4 jeep?
Gazing out the window as your flight lands in Keflavík Airport, you may think, "This trip will be the journey of a lifetime." Vacation time is always invaluable and most people do not get enough of it. Iceland is full of breathtaking scenery and thrilling opportunities for adventure.
Bus tours are a cost-effective way to see the country, but super jeep tours have a number of advantages over bus or minivan tours. Buses often get overcrowded and easily become uncomfortable for group travel.
Get freedom. Go anywhere. Escape the crowds.
Iceland's most amazing and marvelous sites are located deep within the central highlands areas which are impossible to approach with buses or any standard vehicles. On an adventurous super jeep tour, you can avoid the crowds and visit the most remote locations on the country where few Icelanders even go.
These modified monster cars are well-equipped to deal with Iceland's rough and wild terrain. This means that you can travel to those places which are impassable for buses and even standard 4×4 jeeps. On a super jeep tour, the impossible becomes possible!
A super jeep tour – especially a private tour – will give you the chance to enjoy the wilderness with more freedom and only with those you choose, rather than being stuck on a crowded bus full of strangers. You will receive more personalized attention.
Moreover, there is no strict schedule to abide by. If you like a place and wish to stay longer or take more photos, there is no problem.
Get firsthand knowledge from local guides.
The information that you receive on the guided super jeep tours is one of the biggest values.
You do not have to listen to the prerecorded audio guide like on many bus tours. You are welcome to ask as many questions as you want. The very experienced local guides will tell you interesting and fun facts and stories about Iceland that you cannot find in guidebooks or on the internet.
You can sit back with your family and enjoy all the knowledge being shared with you and focus on the beautiful scenery and enjoy every moment of your travel.
Jeep tours are more family-oriented and more intimate. You will value those moments.
When and where can you take a super jeep tour?
Super jeep excursions can take you to those places which are in the middle of nowhere where you will experience the true power and beauty of nature. These locations are remote and peaceful. They will bring you into intimate contact with the raw nature of Iceland. With modified jeeps, you can travel year-round to almost anywhere, cross glacial rivers, drive in deep snow over glaciers, or climb up to the top of a mountain. The number of options is infinite.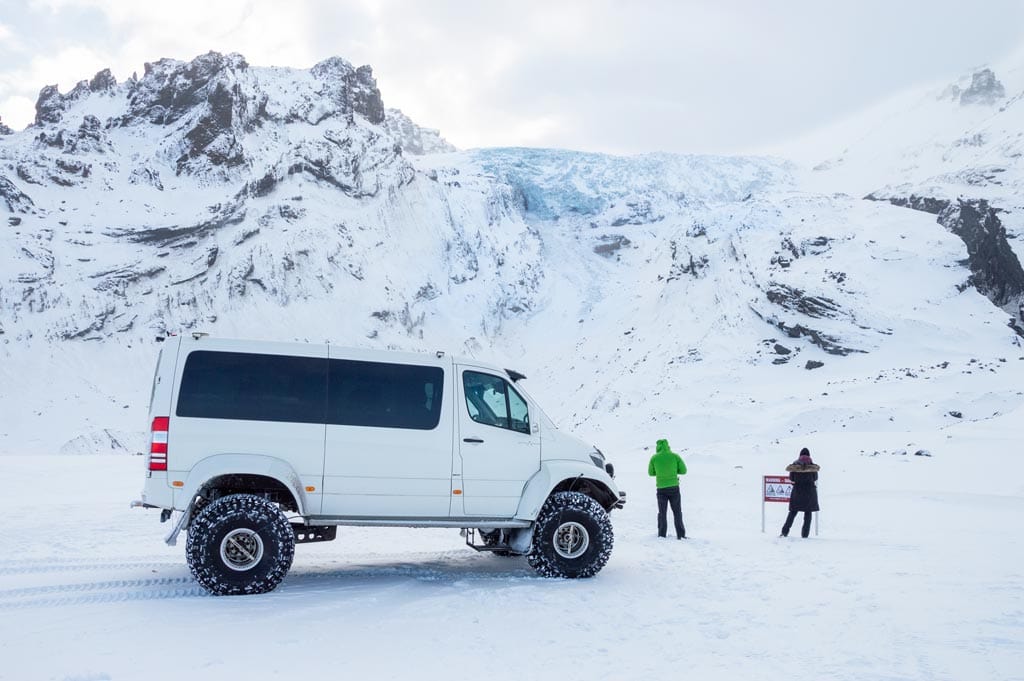 Here are just some of the breathtaking places you can go on a super jeep tour:
Landmannalaugar
Landmannalaugar is a famous area of unique beauty in the heart of the southern highlands. Its volcanic rhyolite mountains create a full spectrum of amazing color on the mountainside. It has a natural hot spring pool that is quite unique and an ideal bathing place year-round.
Thorsmork
Thorsmork is an amazing valley in South Iceland surrounded by awe-inspiring mountain ridges. It is located between three stunning glaciers: Eyjafjallajökull, Mýrdalsjökull, and Tindfjallajökull.
Hekla Volcano
Mount Hekla is the queen of the Icelandic volcanoes. It is possible to drive to a height of approximately 900 meters above sea level. The view from there is astonishing in all directions.
Eyjafjallajökull
The country's sixth-largest glacier, this is the world-famous Eyjafjallajökull volcano that erupted in 2010. You can expect outstanding, dramatic views with surrounding lava rocks and volcanic ash.
Langjökull Glacier
Langjökull is the second-largest glacier in Iceland. It is, of course, impassable by regular cars as the roads can be covered in deep snow, so large modified jeeps are the best option to get to the area safely. Langjökull glacier is a real ice cave paradise as it is the closest glacier to Reykjavík and it has more ice caves each season. It is also home to the largest man-made ice cave in the world where you can walk hundreds of meters deep into the glacier.
Sólheimajökull Glacier and Ice Caves
Sólheimajökull is an outlet glacier from Mýrdalsjökull and the southernmost glacier in Iceland. This area is a favorite spot for glacier walks and ice climbing tours.
Winter Northern Lights ToursWatching the northern lights in the beautiful Icelandic wilderness on a super jeep tour is a once in a lifetime experience. Northern lights jeep tours often take you to places which cannot be reached by normal cars or buses to give you a more intimate and relaxed atmosphere. Walking through the snow with the northern lights overhead is a very special experience!
Of course, super jeeps can also take you to the classic, famous Icelandic destinations including the South Coast, Golden Circle, Silver Circle, Lake Myvatn, the Snaefellsnes Peninsula, the East, or the Westfjords. Visiting these amazing places on a super jeep tour is always fun and certainly a very comfortable and luxurious way of traveling.
It is quite a challenge to access some of these places during the winter even in a standard 4×4 car, but with specially fitted super jeeps you can certainly do it! Iceland is simply gorgeous during the winter.
Off-roading vs. Off-road tours in Iceland
Travelers come to Iceland for its outstanding nature. This pure, pristine natural environment is very fragile. Because it is a sub-arctic environment, the plants and flowers here live under very harsh conditions and take a long time to grow or recover. Moreover, in many areas, the terrain is damp and very soft and therefore cannot bear the weight of cars.
Off-Road Driving is Illegal in Iceland
Many visitors expect that going on a super jeep tour means they will be traveling off-road. Off-roading, meaning going off a trail or road and onto the unspoiled terrain, is strictly illegal in Iceland and is met with huge fines. There are plenty of mountain trails available that are only suitable for super jeeps to give you the feeling of driving off-road without damaging Iceland's fragile nature.
There is a translation problem in Iceland when it comes to advertising jeep tours and off-road driving. Of course, it is possible to go off the common paved main roads to cross a river and do bumpy track driving. Icelanders call this off-road driving for the lack of a better word. But this is only means going off the paved road onto a gravel, ice, or snow trail to cross rivers and glaciers.
What should I wear on a super jeep tour?
For your safety and comfort, it is important to know the kind of shoes and clothing you will need for your tours in Iceland. If you are not planning on spending a lot of time outside, you do not really need extra warmth or protective layers. What you will need to bring depends on what excursions you are doing and the season. The following list will help you decide what items you should pack:
Short sleeved and long sleeved base layers
Wool or fleece mid-layers (Bring an extra warm layer in winter.)
Softshell pants or lightweight outdoor pants in summer
Insulated pants in winter
A rainproof and windproof jacket (Make sure that it is not just water repellent!)
A warm, waterproof down jacket or parka in winter
Sturdy, waterproof boots
A warm hat, gloves, and a scarf
A bathing suit and towel
Sunglasses
Daypack
Your camera
The most important thing is to dress in layers that you can put on and take off as needed. It is a good idea to bring a small backpack to store extra layers and snacks in with your camera and other items when out exploring.
Wearing comfortable clothes and hiking boots is highly recommended. Avoid wearing sneakers, high-heeled boots, or jeans!